Ducks Need To Turn The Tide
Devante Smith-Pelly has made an impact for the Ducks & knows he needs to continue his strong play to help them battle back against the Kings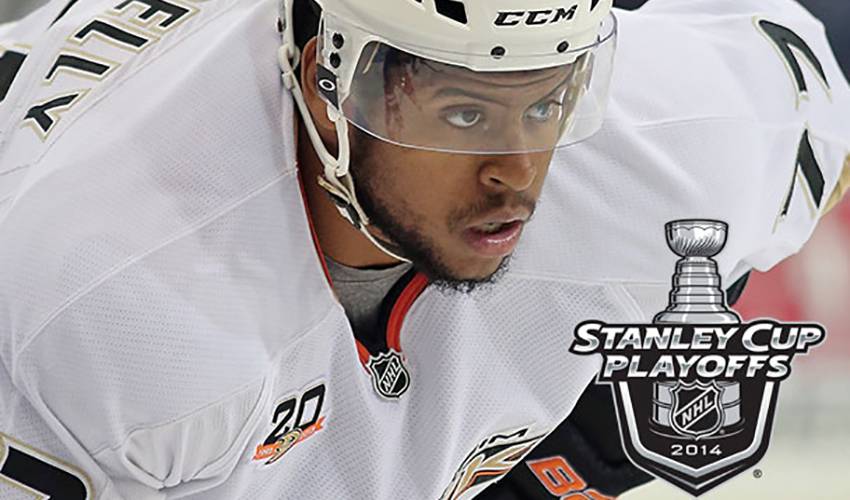 When Anaheim needed a big goal in Game 6 of their Eastern quarterfinal series against Dallas, Devante Smith-Pelly was just where he hoped he'd be with the game on the line.
With less than a minute to play and trailing by a goal, the Ducks were in desperation mode, pressing to net the equalizer against a formidable first-round opponent.
It was Smith-Pelly who played the role of regulation hero, scoring his second goal of the game with 24 seconds left, sending the contest to overtime.
Less than three minutes into the extra frame, Ducks forward Nick Bonino ended the game and the series.
For the 21-year-old Smith-Pelly, Anaheim's second-round pick in 2010, it was a night to remember.
"You always hope for that kind of opportunity, to be a player who is on the ice in the last 2-3 minutes of a game," said the 6'0", 220-pound left-winger. "It's the type of game that gives you lots of confidence."
It's also the type of game that is familiar to Smith-Pelly.
In 2009, when a member of the Ontario Hockey League's Mississauga St. Michael's Majors, it was his goal second goal that ended the second-longest game in OHL history, as the left-winger scored in triple-overtime to eliminate the Barrie Colts in the conference quarterfinals.
"That was the biggest goal of my career," said Smith-Pelly, who hails from Scarborough, Ontario.
Notice that he used the word 'was.'
"That goal in Game 6 against Dallas would trump that one," he admitted. "It just means a lot to know the coaches have faith in you, that you can be out there at important times."
It's not just the coaches who believe in the young forward.
"Whether it's Ryan Getzlaf, Corey Perry, Saku Koivu or Teemu Selanne, we have so many great veterans, talented players that you grew up idolizing," said Smith-Pelly, who had two goals and 10 points in 19 regular season games in 2013-14. "They've all been very supportive, encouraging me, giving me some really helpful advice. You realize early on just how lucky you are to have such amazing teammates."
Two days after moving on to the Western semifinals, Smith-Pelly was still catching up on the deluge of text and phone messages he received after Round 1.
Not that he's complaining. And he was certainly not complaining about having some time off before the Ducks faced-off against state rival Los Angeles.
"It's good to rest, re-energize and ready yourself for the next round," said Smith-Pelly. "But, that said, you want to get back out there and try to keep things rolling. I woke up the day after we won the series and it was a great feeling. It brings a smile to your face. But, you realize there is more work to do."
That is precisely what the Ducks have in front of them now, as they find themselves trailing the Kings 2-0 in their Western Conference semifinal series, after dropping the first two games on their home ice.
Anaheim will no doubt look for production and contributions from their younger support players, a group that includes Smith-Pelly, to battle back against Los Angeles.
Down, but not out, everyone in the Ducks dressing room understands what is at stake. For one of their emerging talents, it presents an opportunity to net another big-time goal and help turn the tide of the SoCal series in Anaheim's favour.
Something Devante Smith-Pelly certainly has a knack for.