Eyes On The Prize
Dominic Moore & the New York Rangers are enjoying playoff success in 2014 & remain focused on their ultimate goal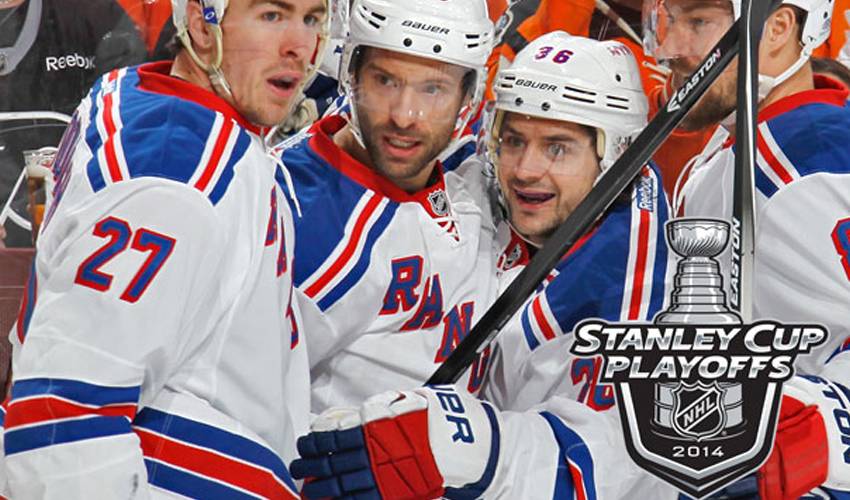 Whether it was the days leading up to the first round of the Stanley Cup playoffs or now, one step away from playing for hockey's most coveted team trophy, Dominic Moore has always kept his eyes on the silver prize.
"You don't really ever put it out of your mind, it's always there," said Moore, part of a New York Rangers squad that are leading the Montreal Canadiens 2-0 in the Eastern Conference final. "It's what we play for, to win the Stanley Cup. No matter what round you're in, you use it as motivation."
It's what Moore and the Rangers used to good effect in their East semifinal matchup against the Pittsburgh Penguins.
Down three games to one, and on the ropes, the Blueshirts fought back to even the series and then capped the comeback with a 2-1, Game 7 victory in Pittsburgh.
"You look at it and it's daunting in what you need to do," said Moore, who assisted on Brian Boyle's opening goal in the deciding game. "There is no margin for error. We simply looked at things from the view of the first shift of the next game, to do what we needed to do from the outset.
"We had a frustrating Game 4, knowing we were better than that," he continued. "The margin for error is so small. But, we knew if we were able to do the little things well, we'd give ourselves a chance to win."
Which is precisely what the multi-talented Moore, who has three points and is a +3 in the Eastern Conference Final series, has offered to the Rangers, a team looking to win their first Cup since 1994.
Combining excellent hockey sense, speed, and a solid two-way game, the 33-year-old's versatility has been integral in getting New York to this point, his contributions often noted by his teammates and those covering the sport.
Moore, however, is quick to pay it forward.
"'Hank' has been incredible," said the centreman, in reference to all-star goaltender Henrik Lundqvist. "Game 7 (against the Pens) was a vintage performance from him and certainly not a surprise."
Moore also pointed to Martin St. Louis, who dealt with the sudden death of his mother during the series.
"To understand what Marty and his family are going through, and how he was able to find a way to be resilient was something we all rallied around. But, again, it came down to everyone knowing what they had to do to get back into the series and to win it."
The East final represents a homecoming of sorts for Moore, who played 21 regular season games for the Canadiens in the 2009-10.
He also appeared in 19 playoff games with the Habs, helping the team reach the 2010 Eastern Conference Final. During his playoff-run with the Canadiens, he was often tasked with shadowing the top players in the games, including Washington's Alex Ovechkin and Pittsburgh's Sidney Crosby, assignments Moore handled with great success.
"I have fond memories of that time," recalled Moore, of Montreal's post-season run that ended in the conference finals. "It's a special time of the year and to have experienced that in Montreal, and now in New York, is something you cherish. As a player, you embrace those moments."
And you never lose sight of the ultimate reward.