Boyle Brings Blue Collar Approach
Brian Boyle plays the kind of style that the Rangers are going to need to get back into the Stanley Cup Final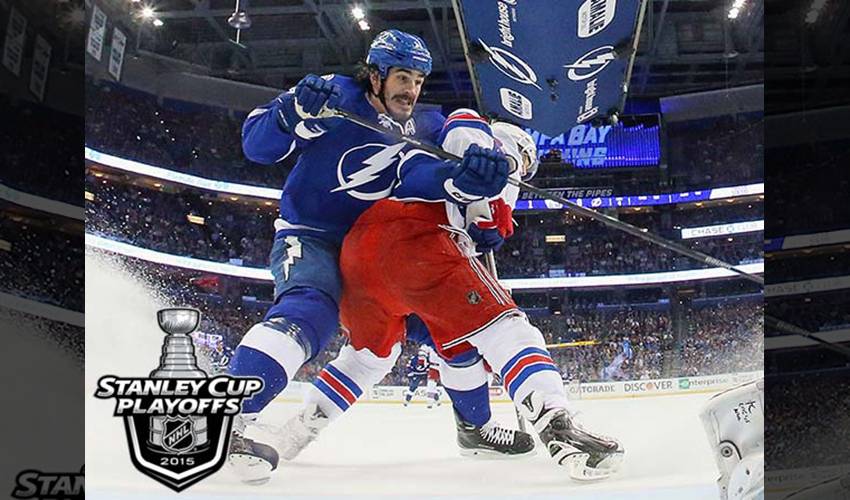 When Brian Boyle speaks of his big-league hockey career, the New York Rangers forward talks about the ups and downs he's been through. But, good times or bad, the hulking centreman has always found a way to stand tall in the big games.
At 6'7", the 29-year-old, who hails from Hingham, Massachusetts, is easy to notice when he's on the ice.
With seven points in the Stanley Cup Playoffs so far, Boyle isn't among the Blueshirts' offensive leaders.
But, the 245-pounder more than carries his weight through stellar defensive play, complemented by a willingness to undertake and embrace the gritty assignments.
Stepping in front of shots. No problem. Pressing a defenceman into a low-percentage pass. Check. Delivering a bone-rattling body check in open ice. He's on the case.
In 20:35 of ice time, 35 shifts, in Game 2 of the Cup Final against the Los Angeles Kings, a 5-4 double OT loss, Boyle had two shots on net, blocked two shots and dished out three hits.
The numbers are indicative of his efforts throughout the playoffs, a post-season where Boyle has been the consummate blue-collar performer.
For a player whose first NHL shift resulted in a sound face-off loss, the veteran of 391 regular season games has indeed come a long way.
Not that the road has always been an easy one.
"There have been times where you can see your career going one way or the other," said Boyle, who played four seasons with Boston College, earning Hockey East Tournament MVP honours in 2005. "The big thing is to believe in yourself and to stay positive. Of course, there are moments where you get down, but you just remind yourself to keep staying strong."
Which is precisely what Boyle did when he was dealt from the Kings, the team that drafted him 26th overall in 2003, to the Rangers, at the 2009 Entry Draft.
Over his five seasons in New York, he's experienced both good times and bad.
These days, though, Boyle is playing some of his best hockey, paired with Dominic Moore to form a highly effective penalty-killing duo.
"You always want to bring some offence to the team," offered Boyle, who followed the Boston Bruins as a kid. "But, when you get to this level of the game, you understand there are other positive contributions you can make. Whether it's being physical, putting your body in front of a shot, or turning the other team back when they are on the power play, you can always do something to help swing the game in your team's favour."
It's something the Rangers will need to rely on to get back into the series.
"You're asked to do the essential things like skating and fore-checking and being responsible defensively," said Boyle, of New York's game-plan. "Those are traits that our team likes to carry."
And ones that perfectly describe what Brian Boyle brings to the table.