Mitchell Moves On To Miami
Willie Mitchell is bringing his veteran poise & Stanley Cup experience to a young blueline in South Florida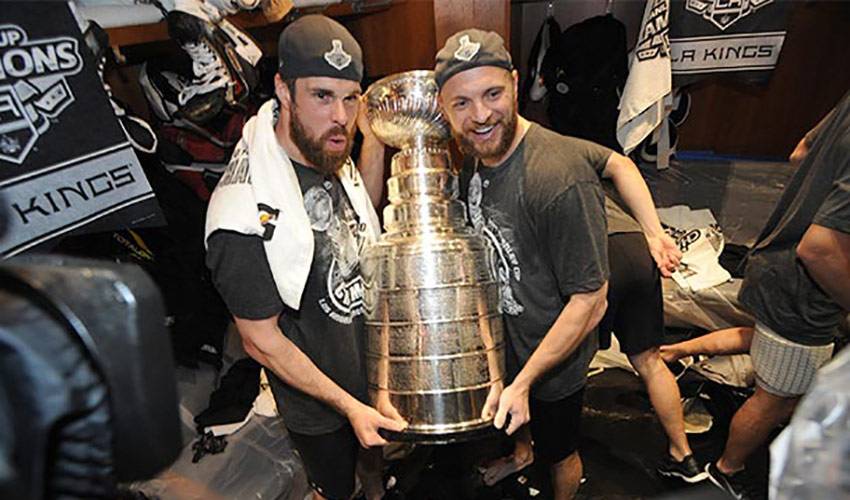 He took to Twitter to note, "I will now be taking my talents to South Beach," but two-time Stanley Cup winner Willie Mitchell isn't expecting to talk championships with former Miami Heat megastar LeBron James anytime soon.
The two-year unrestricted free agent deal Mitchell signed with Florida on July 2 will be a big boost to the Panthers blueline, a team that will benefit greatly from the 37-year-old's veteran poise and winning ways.
Mitchell's text response to the notion of sharing secrets to success with fellow unrestricted free agent LeBron James, who also recently inked a two-year-deal, his with the Cleveland Cavaliers.
'LMAO.'
While a meeting of the sporting minds is a long-shot at best, Mitchell is looking forward to netting success with his new teammates.
"It's a different challenge then I have had in my last four years," said Mitchell, who won the Cup in 2012 and 2014. "It's more of a mentorship role with the young 'D' on the team and to bring some stability to the back end. I'm looking to bring in a winning identity and grow the game in Florida."
Florida has struggled with playoff success since their inaugural season in 1993, with a trip to the finals in 1996 their biggest achievement to date.
The Panthers' last post-season appearance came in 2011-12 when they lost to New Jersey in the Eastern Conference quarterfinals. On March 25, 2011, Florida lost 4-2 to Buffalo and were mathematically eliminated from the playoffs for an NHL record 10th consecutive season.
"We are going to do some things the way you need to do to become a playoff team and elite team," said Mitchell, a veteran of 795 regular season NHL games. "My job is to show that and bring that to the rest of the group. I know from 2012 (LA was the eighth seed in the West and went on to win it all), once you're in, everyone's got a shot."
Mitchell's presence, on and off the ice, will undoubtedly help a team that finished 29th of 30 in 2013-14.
The chance to add another Cup to his resume is certainly enticing.
"I think all my peers have the same goals," offered Mitchell. "Just to play the game at the highest level is your first goal, then make a team, then play an important role on a team. Lastly, you want to win a Cup and play a significant role in that. I've been fortunate to do that twice."
Based on his recent resume, maybe Willie Mitchell doesn't need to talk shop with King James after all.