A Charitable Day in Pebble Beach
The 22nd annual NHLPA Golf Classic charity tournament took place on Tuesday, July 15th and donated $100,000 to players' charities.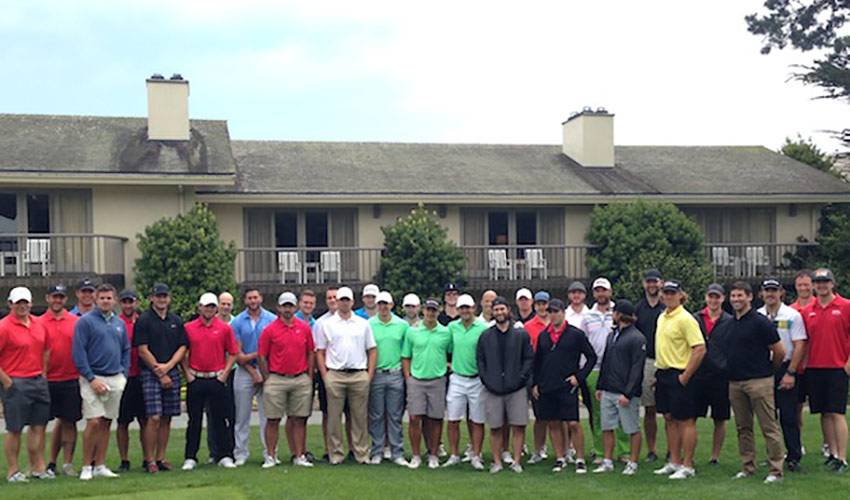 The 2014 NHLPA Golf Classic kicked off on Tuesday, July 15th at the iconic Pebble Beach resort on the Monterey Peninsula in California.
The 22nd annual charity golf tournament saw 6 teams of players - along with a group of corporate sponsors - compete on one of the most iconic courses in all of golf as they played to win a significant donation to their respective charitable organizations.
Team Alberta
Captain: Jason Chimera
John Scott, Jay Rosehill, Ben Scrivens, and Patrick Eaves
Team Canada East
Captain: David Desharnais
Alexander Killorn, Jonathan Huberdeau, Louis Leblanc, Simon Despres
Team Ontario #1
Captain: Kyle Quincey
Mike Weaver, Matt Beleskey, Matt Stajan, Cal Clutterbuck
Team Ontario #2
Captain: Brent Burns
John Tavares, Anthony Peluso, Kevin Westgarth, Manny Malhotra
Team Canada West
Captain: Steve Montador
Bracken Kearns, Troy Bodie, Jason Labarbera, Steve Webb
Team World
Captain: Kevin Shattenkirk
Chris Campoli, Connor Carrick, David Booth, Rob Zamuner


The Players donated $100,000 this year to the tournament this year, and the Charity Purse was broken down by team. Below are the dollar amounts, as well as the winning teams:
1st place: $35,000 donation (Team Ontario #1)
2nd place: $20,000 donation (Team Alberta)
3rd place: $15,000 donation (Team Canada East)
4th-6th place: $10,000 donation (Team Ontario #2, Team Canada West, Team World)
The tournament came to a close with an eventful reception that treated participants to a dinner, silent auction, cheque presentations for the selected charities. The players and guests also had the opportunity to take part in a night time Nike Par 3 Challenge, hitting glow in the dark golf balls to illuminated pins for the chance to win some fantastic prizes.
The links at Pebble Beach served as a striking setting for the 22nd annual NHLPA Golf Classic, providing an unforgettable experience for those in the tournament.
Below are some highlights from the day:
Group shot of #ThePlayers to kick off the 2014 NHLPA Golf Classic in Pebble Beach. #NHLPAPebble pic.twitter.com/C6Mcxxir5q
— NHLPA (@NHLPA) July 15, 2014
"Hats on backwards for this one boys!" #windy #NHLPAPebble pic.twitter.com/wDCH86vtqb
— NHLPA (@NHLPA) July 16, 2014