Prust Pours Positive Energy Into Charity
Prusty 4 Kids Charity Golf Tournament continues to make a huge difference for patients at the London Children's Hospital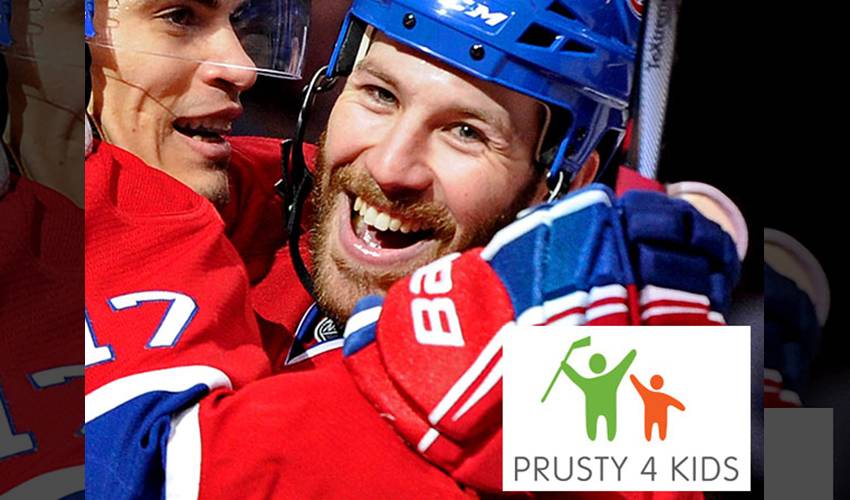 It should come as no surprise that Brandon Prust brings the same commitment and passion to his charity work that he does whenever he takes to the ice with the Montreal Canadiens.
He still remembers the days of walking into the London Children's Hospital, then as a member of the London Knights, shaking hands, signing autographs, and spending time with sick kids.
After nearly 400 NHL games, Prust hasn't forgotten what it meant to those he met, and to their families.
"It's always been very humbling," said the 30-year-old forward, who launched the Prusty 4 Kids Charity Golf Tournament in 2013. "To see kids struggling with serious illnesses, but finding a way to smile and be strong, it really affects you. It makes you want to help out, to give back, to do something positive for them."
Sixteen NHLPA members, including teammate PK Subban, Drew Doughty and Corey Perry, joined Prust for the second edition of his event held on July 29 at Redtail Golf Club in Port Stanley, Ontario.
The money raised will go to the to Kids Kicking Cancer program at London Children's Hospital.
Kids Kicking Cancer provides children, youth and their families from across southwestern Ontario and parts of northern Ontario the power to take back control of their lives and battle cancer. Through hands-on martial arts training and deep breathing techniques, Kids Kicking Cancer gives children the tools they need to build confidence and strength as they battle cancer.
This year, Prust was hoping the tournament would bring in close to $200,000. His calculations were off, but he's not complaining.
"We raised just over $272,000," said the left-winger, who signed with Montreal as a free agent in July of 2012. "It really blew away our expectations. The weather cooperated, and everyone seemed to have a great time."
There is no shortage of touching stories Prust speaks of when it comes to his connection with Children's Hospital.
"Liam is someone who has truly inspired me," noted Prust, of the boy diagnosed with cancer at the age of seven, who celebrated the end of his treatments in 2011, but still visits Children's Hospital for regular check-ups.
There's also Seth.
"He was the first one to use our program at the hospital," noted Prust. "Seth was at this year's event, and his mom got up and told his story the night before at the pre-tournament reception. That's why we do this."
And it's why the hard-nosed Prust pours all of his energy into making the event a success.
"You look back to the way you were brought up, watching your parents and how they did things for you and for others," said Prust. "You remember them always being there for you and being an inspiration for you to want to do the same."
Which makes the tournament that bears Brandon Prust's name the ideal way to carry on that message.
For more on the Prusty 4 Kids Charity Golf Tournament, visit the event website.