Mason Raymond Making His Mark
Flames forward gives back to Invermere, BC minor hockey with Goals & Dreams donation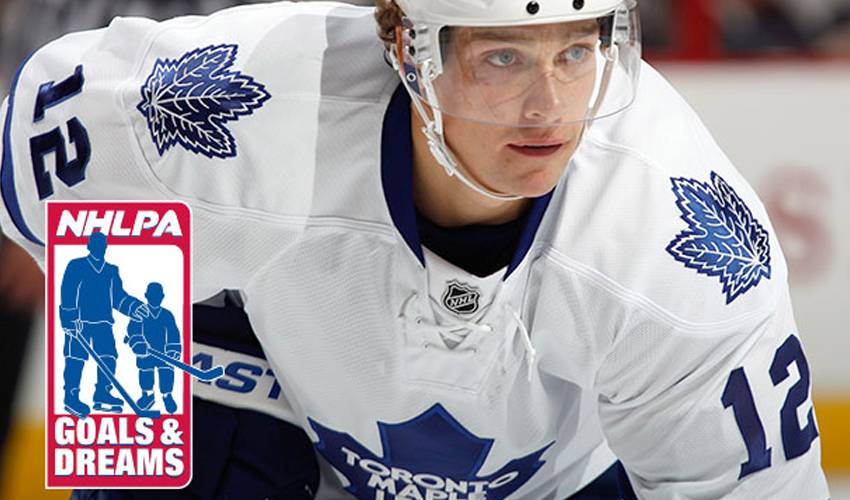 He's on the cusp of reaching a personal NHL milestone, finding himself a goal shy of the 100 mark, but for Mason Raymond, it's not only about making his mark on the ice.
"I just missed getting it last season, didn't I?" quipped Raymond when talking about ending his 2013-14 campaign with 99 career tallies. "Hopefully, it doesn't take too long to get there."
Before he turns his attention to hitting the century mark, Raymond, who signed a three-year free agent deal with the Calgary Flames this summer, will look back on the off-season with fond memories, highlighted by a special visit to Invermere, British Columbia.
It was there where the 28-year-old Albertan teamed up with the NHLPA's Goals & Dreams fund to deliver sets of brand new hockey equipment to local minor hockey players, in a meet and greet at the Eddie Mountain Memorial Arena.
It was a special moment for Raymond, who spends his summers in Invermere, a popular tourist destination near the border of Alberta.
"I was their age once and I always remember that feeling of freedom to do what you love," said Raymond. "It's an honour for me to be part of it. As a player, it's fantastic to have something like Goals & Dreams. To see the looks on the kids' faces, it's priceless."
They were also left a little speechless.
"I didn't get any direct questions from the kids," recalled Raymond, who had his "assistant" on hand, his 28-month-old son, Max. "They were quite shy. But, you could tell they were really happy about receiving the equipment."
The evening brought back memories of his minor hockey days.
"It definitely did," said the veteran of 456 NHL games. "You look at the kids and you remember that's where it all started for you. It was really satisfying to see how much it meant to them."
While he didn't get the opportunity to talk hockey on the night of July 22 in Invermere, Raymond relished the chance to speak about the upcoming campaign.
"I'm very thrilled," admitted the speedy left-winger, who had 19 goals and 45 points with the Toronto Maple Leafs in 2013-14. " I'm going to a young team that is very hungry. The one thing that you always took away from playing against Calgary was the work ethic they displayed.
"I really feel quite lucky to be part of it," continued Raymond. "I owe a lot to Toronto for believing in my abilities. Sometimes in your career, things happen, and you have to find a way to reinvent yourself. This is a great situation for me. I just want to be one more piece to the puzzle."
Raymond's first shot at reaching the 100-goal plateau comes against his former team, the Vancouver Canucks, on October 8 in Calgary.
For more on Goals & Dreams, click here: (http://www.nhlpa.com/giving-back/goals-and-dreams)