Teeing Up Success in St. Louis
TJ Oshie enjoys the game of golf, but his focus is the end of his tee-times and his return to the rink with the Blues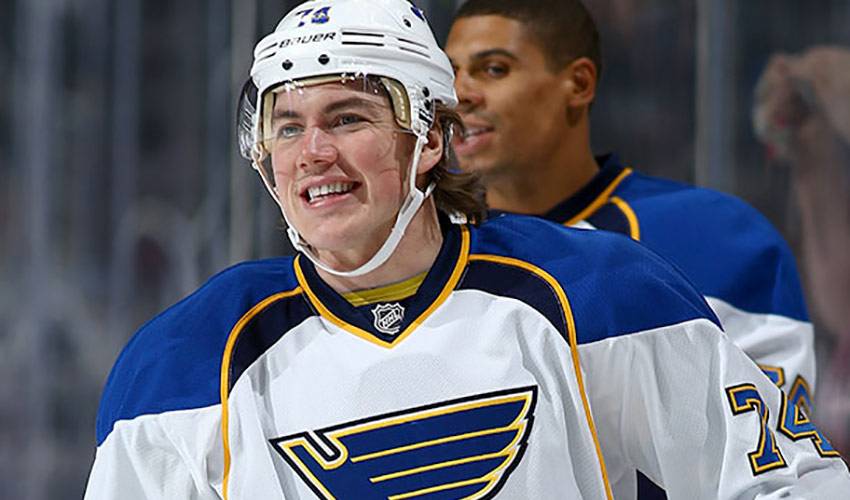 T.J. Oshie will tell you his off-season, highlighted by a meet and greet with some of golf's biggest names, was extremely gratifying. So, why exactly did the St. Louis star forward hope the summer went by quickly?
When you received an invitation to attend the prestigious PGA Championship as a guest of PGA of America president Ted Bishop, and sat at a table for the Champions Dinner that included 2013 PGA championship winner Jason Dufner and five-time major winner Phil Mickelson, you'll certainly have plenty to talk about when you catch up with your teammates prior to the start of the 2014-15 NHL season.
And while Oshie, the player who netted four shootout goals against Russia at the Winter Olympics in Sochi this February, will no doubt share recollections of his trip to the Valhalla Golf Club in Louisville, he'll also remember where the Blues left things off in April.
"I'm not turned into a fan very often, but with golf, it's a different story," said Oshie, who played varsity golf in high school in Minnesota. "Every weekend, I'm watching on TV. When they are making that walk down 18 on Sunday, I'm tuned in. So, I'll have a few good stories to tell the guys about."
When he walks through the dressing room doors at Scottrade Center for the first time since the summer, Oshie won't forget the last time he walked out of them.
"There's still a sour taste in your mouth," admitted the forward, of the Blues' opening round playoff ouster at the hands of the Chicago Blackhawks. "It was a terrible loss in Game 6 (Chicago won 5-1), especially the third period. What I remember in the aftermath was that no one was talking about heading to their respective hometowns, or going to the lake, or heading on a vacation. There was a real feeling that everyone wanted the summer to go by quickly so that we could get back at it."
No need to ask Oshie if he and his teammates are ready to roll.
"When I came into the league, I was used to the way it was when I played my collegiate hockey in North Dakota," said the decorated member of the Fighting Sioux, who led all players with eight points (four goals and four assists) in the 2006 NCAA Tournament. "You were with each other every day, all day. The best thing I can say about playing on this team is that it's that same type of college atmosphere I was used to. When anyone talks after a game, messages are always well received. You feel comfortable if you want to say something and that no one will be upset by it. The camaraderie and chemistry is amazing, which is huge when it comes to making this year the one we want it to be."
Oshie, who had an NHL career-best 60 points (21 goals) in 2013-14, wants to continue to make his presence known as an offensive catalyst.
"I'm a lot more comfortable when it comes to speaking my mind, but I still feel like a young kid out there," he said. "I want to be a sparkplug for my team and do what it takes to help the team win."
After a summer that included a golf experience of a lifetime, Oshie, whose best round to date is a 2-under-par 71, is eager to get into the swings of things on a squad setting their sights on Stanley Cup glory.
"I don't mind getting out on the golf course," he offered. "But, I'd prefer the first chance I'd have would come at the end of June. That would be a great way to start the summer."