NHL® and NHLPA Partner with EverFi to Launch Future Goals™ Digital Education Program
The multiyear, multimillion-dollar program will use hockey to train one million students in science, technology, engineering and math (STEM) skills.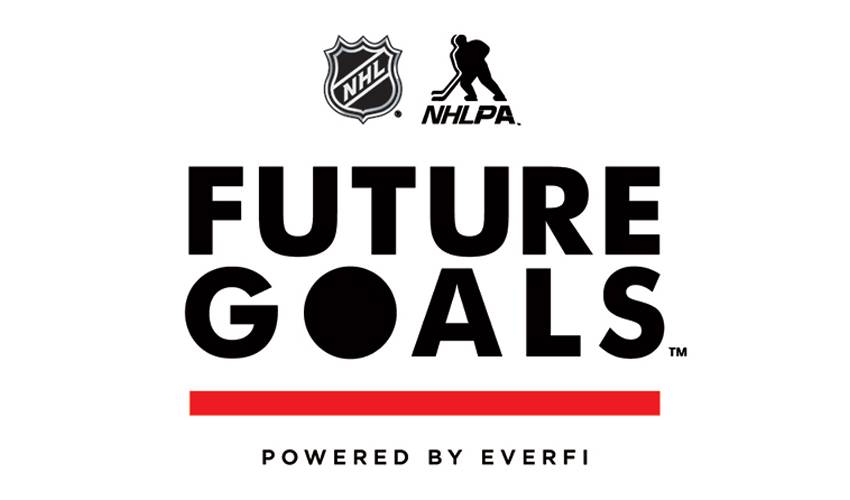 Program Will Use Hockey to Train 1 Million Students in Science, Technology, Engineering and Math (STEM) Skills
Multiyear, Multimillion-Dollar Initiative to Launch in Fall 2014
New York, NY (September 9, 2014) – The National Hockey League Players' Association (NHLPA) and the National Hockey League (NHL®) today announced the launch of the NHL & NHLPA Future Goals™ Program, a major North American initiative that will bring interactive education opportunities to each of the 30 NHL team markets in the United States and Canada as well as hundreds of additional communities. The digital learning initiative is an unprecedented partnership between a professional sports league and a players' association, and represents one of the largest programs supported through public-private partnership to be deployed in the United States or Canada. The program is being powered by Washington, D.C.-based EverFi, the critical skills education leader that has certified more than 7 million learners.
Students today have access to technology resources at an increasingly younger age and the Future Goals™ program will help them learn to leverage that technology in a safe and responsible way. Using the fast-paced, exciting game of hockey as a learning vehicle, students will be able to understand the real-world application of key science, technology, engineering, and math (STEM) topics. The program also introduces students to significant future career opportunities that exist in STEM-related fields.
"We are extraordinarily excited about the partnership on Future Goals," said NHL Commissioner Gary Bettman. "Our clubs and our players coming together to create an educational program that emphasizes the science, technology, engineering, and math curriculum, and uses the game of hockey as a platform to accomplish good social engagement – there could be no better cause for us to work on together."
"The players are proud to be part of the Future Goals educational program," said Mathieu Schneider, NHLPA Special Assistant to the Executive Director. "This program is designed to use technology and real life hockey examples as a way to teach kids the STEM curriculum. Our hope is that this program will give teachers a helping hand in the classroom by bringing these topics to life."
In conjunction with the start of the 2014-15 NHL season, elementary school students across North America will have free access to the Future Goals™ curriculum, which will be implemented with the direct support of teachers.
"The NHL and NHLPA are together making a historic investment in STEM-based education and we're excited to bring the strength of our North American network to power this initiative," said EverFi Co-Founder and Chief Strategy Officer Jon Chapman. "This program is going to bring much-needed digital learning tools to thousands of schools and help our teachers prepare today's students to be college-ready, career-ready and life-ready."
To announce the initiative, NHL Deputy Commissioner Bill Daly, NHLPA representatives Mathieu Schneider and Alex Dagg, and a host of marquee NHL players will host a launch event at Newark's Science Park High School on Tuesday, Sept. 9.NHL players in attendance will include Toronto Maple Leafs® goalie Jonathan Bernier, Florida Panthers® forward Nick Bjugstad, Anaheim Ducks® defenseman Cam Fowler, Buffalo Sabres® forward Brian Gionta, New Jersey Devils® defenseman Andy Greene, Detroit Red Wings® defenseman Niklas Kronwall, Philadelphia Flyers® forward Wayne Simmonds, Montreal Canadiens® defenseman P.K. Subban and New York Islanders® forward John Tavares. Also joining will be U.S. Olympians Julie Chu and Meghan Duggan. More than 800 students and district officials are expected to attend the event.
More information on Future Goals™ can be found at futuregoals.nhl.com.