JVR A Feature Player In Toronto
After experiencing TIFF, James van Riemsdyk wants to create the same kind of bigtime buzz in Toronto for the Maple Leafs.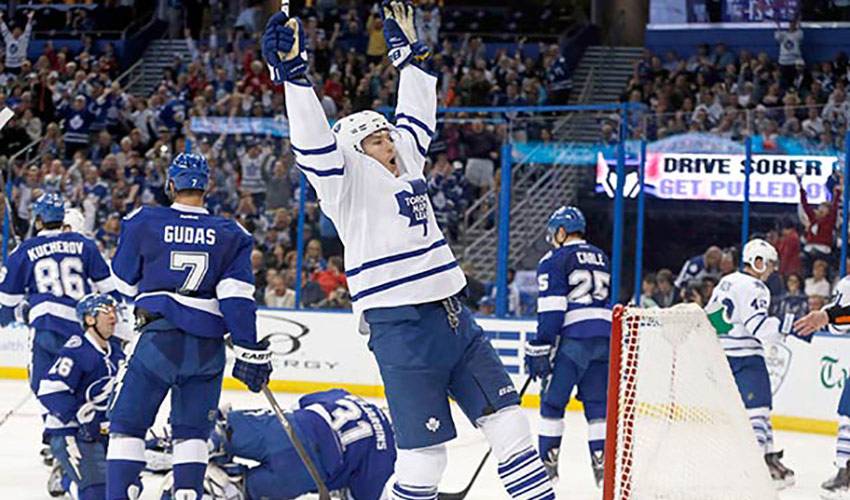 He wasn't the one featured on the big screen during the Toronto International Film Festival (TIFF), but James van Riemsdyk still managed to get the red carpet treatment.
It's not as though van Riemsdyk, who'll soon suit up for his third season as a member of the Toronto Maple Leafs, is unfamiliar with the Hollywood movie scene.
In 2012, the now 25-year-old had a small part in This is 40, a film starring Paul Rudd and Leslie Man. Van Riemsdyk was joined on-screen by former Philadelphia teammates Scott Hartnell, Ian Laperriere and Matt Carle.
Recently, van Riemsdyk, along with teammate Stephane Robidas (Wayne Gretzky was also in attendance), were at TIFF to see Red Army, a film that depicts the highs and lows of Soviet hockey in the '80s — at the movie's after-party.
"It was really interesting," said van Riemsdyk. "It wasn't just about hockey. You learned a lot about the way things were back then in the country, the way the game was viewed, and what happened on and off the ice."
For the New Jersey-born left-winger, it was also an opportunity to see Toronto in a unique setting.
"The buzz in the city was amazing," said van Riemsdyk, who hails from Middletown Township. "It was great to see Toronto on that type of scale, to have people from all over the world gathered at a major event. I haven't been in the city at this time of the year, so it was a really good experience."
He's hoping for a similar experience on the ice, as the Maple Leafs look to rebound from a 2013-14 campaign that saw them fail to make the playoff cut.
Toronto finished sixth in the Atlantic, sporting a record of 38-36-8.
The veteran of 324 regular season games will turn his attention to a starring role with an Original Six squad eager to get back into the post-season picture.
"It makes for a long summer," said van Riemsdyk, who set career-best marks in goals (30), assists (31) and points (61). "You want to get back out there as soon as you can. I'm feeling relaxed, recharged and ready to go. We've got passionate fans that always show us support and we want to win."
Toronto kicks off their 2014-15 season on October 8, a home game against their Original Six rival Montreal.
"The closer you get to the start of the season, the more pumped up you are," said van Riemsdyk, who scored five goals against the Habs in 2013-14. "It didn't go the way we wanted to last year. We certainly don't want a repeat of that."
A Hollywood-style ending would be much more preferable.