FOR THE LOVE OF HOCKEY: KRAFT TO LAUNCH CAMPAIGN IN SEARCH OF AMERICA'S MOST PASSIONATE HOCKEY TOWN
Kraft, NHL, and NHLPA Announce Multi-Year Renewal, Expansion of Partnership into U.S. Kraft Announces Agreements with NBC Sports Group and USA Hockey; Acclaimed "Kraft Hockeyville" Competition Coming to U.S., Prizes Include $150,000 in Arena Upgrades, Chance to Host NHL® Preseason Game in Hometown Arena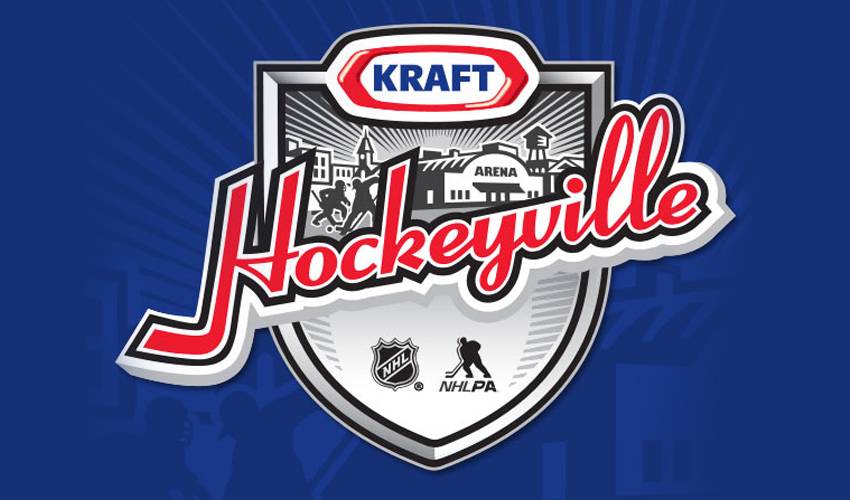 NORTHFIELD, Ill. – Sept. 29, 2014 – Kraft will celebrate the passion and unity of hockey communities like never before with the launch of Kraft Hockeyville 2015 on both sides of the border. For the first time, the award-winning program in Canada is expanding to help build better communities in the United States as well. Now, hockey towns in the U.S. can enter for a chance to win a $150,000 arena makeover courtesy of Kraft, have an NHL preseason game played in its local arena showcased on TV and earn the title "Kraft Hockeyville 2015."
As a highly successful, award-winning scale marketing program in Canada, Kraft Hockeyville has awarded more than $1.6 million towards local hockey arena upgrades to more than 40 communities over the last eight years.
"We are thrilled to bring Kraft Hockeyville to the States and leverage the scale of our portfolio to help support hockey at the local level," said Dino Bianco, Executive Vice President and President, Kraft Beverages. "As a lifelong hockey player myself, I know that the bonds families form through local sports make our communities stronger. That is why Kraft Hockeyville is not just an investment in local hockey rinks but in building better communities."
Kraft Hockeyville will now bring together a roster of all-star partners in the United States, including NBC Sports Group, the National Hockey League Players' Association (NHLPA), the National Hockey League (NHL®) and USA Hockey.
"Kraft has been an instrumental partner in our efforts to grow the game," said John Collins, Chief Operating Officer, National Hockey League. "We're thrilled to continue our 30-year relationship in Canada and expand our partnership with Kraft to the United States where together, through Kraft Hockeyville, we can celebrate the passion American communities have for our sport at all levels and reward their passion with an unforgettable experience as we bring an NHL preseason game to the winning community next fall."
"The players are pleased to see Kraft Hockeyville expand to the U.S. after the success of the program in Canada over the past eight years," said Don Fehr, NHLPA Executive Director. "Kraft Hockeyville 2015 will provide a great opportunity for NHL players to connect with the fans and give the winning U.S. community a chance to see their favorite players up close in their own rink."
Hockey arenas, like all sports facilities, are the gathering place for communities, where kids go to learn, play and compete. Hundreds of thousands of kids who enjoy the ritual of local and youth hockey at thousands of local arenas will have an opportunity to share in the excitement of this one-of-a-kind competition.
"Kraft Hockeyville brings a unique and special opportunity for our local associations, rinks and communities across the country to not only enhance their facilities, but also showcase their programs and generate excitement and visibility for their community," said Dave Ogrean, executive director of USA Hockey. "We look forward to working with our friends at Kraft, the NHL, the NHLPA and NBC Sports Group on this terrific program."
"As the exclusive U.S. home of the NHL, we're always excited to support a grass-roots program that is committed to growing the game," said Sam Flood, Executive Producer, NBC Sports & NBCSN. "As a kid, there's nothing like walking into a rink early in the morning and smelling hockey. The local rink is a special place that brings any adult who's played the game back to their childhood."
Marketing On Ice
This unique, fully integrated scale-marketing program will include TV, digital and in-store media support. Many U.S. retailers activate in-store promotions during hockey season and the launch of Kraft Hockeyville will help enhance their connection to hockey and their local community. The participating Kraft brands will include A1, Bulls-Eye BBQ Sauce, Cracker Barrel, Jell-O, Kraft Mac & Cheese, Kraft Mayo, Kraft Natural Cheese, Kraft Salad Dressings, Kraft Singles, Maxwell House, Miracle Whip, Oscar Mayer, Philadelphia, Planters, Stove Top and Velveeta.
In addition to Kraft Hockeyville, the newly expanded agreement makes Kraft an Official Sponsor of the NHL and the NHLPA in North America and an Official Partner of the NHL Winter Classic®, NHL Stadium Series™, NHL® All-Star Game, NHL Heritage Classic™, NHL Face-Off™ and the Stanley Cup® Playoffs. Kraft brands will also enjoy sponsorship exclusivity in more than a dozen food and drink categories, including Roast & Ground Coffee, Cheese, Snack Nuts, Enhancers, Packaged Cold Cuts, and Desserts, among others.
The puck will drop for Kraft Hockeyville in the U.S. with nominations beginning on January 1, 2015, during the Bridgestone NHL Winter Classic featuring the Chicago Blackhawks and Washington Capitals. Community nomination and contest details will be released in the coming months on www.krafthockeyville.com.
###
NHLPA, National Hockey League Players' Association and the NHLPA logo are trademarks of the NHLPA. © NHLPA.
NHL, the NHL Shield, the word mark Stanley Cup and NHL Winter Classic name are registered trademarks and NHL Heritage Classic name and logo, NHL Stadium Series name and logo, NHL Face-Off name and logo, are trademarks of the National Hockey League. All NHL logos and marks and NHL team logos and marks depicted herein are the property of the NHL and the respective teams and may not be reproduced without the prior written consent of NHL Enterprises, L.P. © NHL 2014.
ABOUT KRAFT FOODS GROUP
Kraft Foods Group, Inc. (NASDAQ: KRFT) is one of North America's largest consumer packaged food and beverage companies, with annual revenues of more than $18 billion. With the spirit of a startup and the soul of a powerhouse, Kraft has an unrivaled portfolio of products in the beverages, cheese, refrigerated meals and grocery categories. The company's iconic brands include Kraft, Capri Sun, Jell-O, Kool-Aid, Lunchables, Maxwell House, Oscar Mayer, Philadelphia, Planters and Velveeta. Kraft's 22,500 employees in the U.S. and Canada have a passion for making the foods and beverages people love. Kraft is a member of the Standard & Poor's 500 and the NASDAQ-100 indices. For more information, visit www.kraftfoodsgroup.com and www.facebook.com/kraft
ABOUT THE NHL
The National Hockey League (NHL®), founded in 1917, consists of 30 Member Clubs, each reflecting the League's international makeup with players from more than 20 countries represented on team rosters, vying for the most cherished and historic trophy in professional sports – the Stanley Cup®. Every year the NHL entertains more than 250 million fans in-arena and through its partners on national television and radio; more than 10 million fans on its social platforms; and more than 300 million fans online at NHL.com. In Canada, the 2014-15 season marks the beginning of a landmark 12-year broadcast and multimedia agreement with Rogers Communications, which includes national rights to NHL games on all platforms in all languages. In the U.S., the NHL is in the fourth season of its 10-year agreement with NBC and NBCSN, the 10th consecutive season both networks have served as national television partners. The NHL is committed to giving back to the community with programs including: Hockey is for Everyone™, which supports nonprofit youth hockey organizations across North America; Hockey Fights Cancer™, raising money for local and national cancer organizations; NHL Green™, which is committed to pursuing sustainable business practices; and a partnership with the You Can Play Project, which is committed to supporting the LGBT community and fighting homophobia in sports. The NHL received three 2014 Sports Business Awards: "Sports League of the Year," "Sports Executive of the Year" recognizing Commissioner Gary Bettman, and "Sports Event of the Year" for the 2014 Bridgestone NHL Winter Classic®. For more information, visit NHL.com.
ABOUT THE NHLPA
The National Hockey League Players' Association (NHLPA), established in 1967, is a labour organization whose members are the players in the National Hockey League (NHL). The NHLPA works on behalf of the players in varied disciplines such as labour relations, product licensing, marketing, international hockey and community relations, all in furtherance of its efforts to promote its members and the game of hockey. In 1999, the NHLPA launched the Goals & Dreams fund as a way for the players to give something back to the game they love. Over the past 14 years, more than 60,000 deserving children in 32 countries have benefited from the players' donations of hockey equipment. NHLPA Goals & Dreams has donated more than $22-million to grassroots hockey programs, making it the largest program of its kind. For more information on the NHLPA, please visit www.nhlpa.com.
ABOUT USA HOCKEY
USA Hockey Inc., founded on October 29, 1937, and headquartered in Colorado Springs, Colo., provides the foundation for the sport of ice hockey in America; helps young people become leaders; and connects the game at every level while promoting a lifelong love of the sport. More than one million strong, including players, coaches, officials and volunteers that span all 50 states, USA Hockey is the National Governing Body for the sport in the United States and has important partnerships with the National Hockey League, United States Olympic Committee and International Ice Hockey Federation. For more information, visit usahockey.com.