Applying Some Fatherly Advice
Jordan Eberle still hears his dad's words of wisdom and encouragement even as a bona-fide NHL star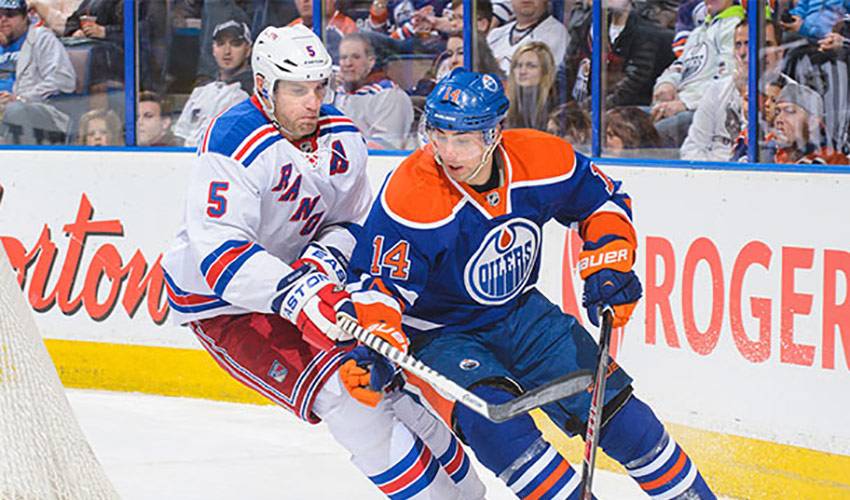 Jordan Eberle has never been the biggest player on the ice, but some fatherly advice helped him stand tall at every level of the game, even when others felt he couldn't.
Well before he made his mark with his hometown Regina Pats of the Western Hockey League, and years before he patrolled right wing with the Edmonton Oilers, Eberle, who stands 5'11' and weighs in at 183 pounds, had heard the question marks about his future at the sport's elite level.
"Some people wondered if I was too small for the NHL," recalled Eberle. "My dad (who coached him during his minor hockey days) just reminded me to focus on doing everything I could to work hard to realize the dream of making it. He just told me to believe in myself. I've been fortunate throughout my whole time in hockey to receive great advice, but that's one that I always recall."
Eberle, entering his fifth NHL campaign, has established himself as one of the league's top young stars. Last season, he recorded 28 goals and 65 points in 80 games.
The only glaring omission on his NHL resume is zero playoff experience, a stat he's eager to change.
Promoted to full-time alternate captain in 2013, Eberle is thrilled with the off-season additions the Oilers made, namely Teddy Purcell, Benoit Pouliot, Mark Fayne, Nikita Nikitin and Keith Aulie, players he believes can help turn around Edmonton's playoff woes.
"You start getting that jump in August, that feeling of wanting to get out there and get ready for the upcoming season," said Eberle. "The team brought in guys who have experience and know what it takes to be successful. I'm really excited about the new guys and what they'll be able to add."
Eberle is zoned in on doing his part to deliver the Oilers, whose last playoff appearance was 2005-06, when they lost the Cup final in seven games to Carolina.
"I fall into the lead-by-example category," he said. "I'm definitely not the rah-rah type of guy. We're lucky because we have the players that can provide that kind of leadership. I'm really focused on going out there, playing hard, and doing what I can to contribute to us getting the win. We all want to get back in the playoff picture."
Eberle knows there can't be any missteps along the way.
"You can't look beyond the next game you play," he offered. "You know just how tight things will be in the playoff race. There's no doubt that every single game is important."
And so, too, is the leadership Eberle brings to the rink.
"There aren't too many guys left over from my first year," he said. "We're very fortunate to have great leaders on this team. Everyone's approach might be a little different, but everyone's goal is the same."
Edmonton launches their 2014-15 regular season on October 9, a home game against provincial rival Calgary, the team Eberle scored his first NHL goal against on October 7, 2010, while also earning First Star honours. Fans voted his tally as Goal of the Year on the league's Facebook page.
In 275 career games, Eberle has 96 goals and 221 points.