Girgensons Feeling The Love
Zemgus Girgensons enjoys the rabid support of fans in both Buffalo & his native Latvia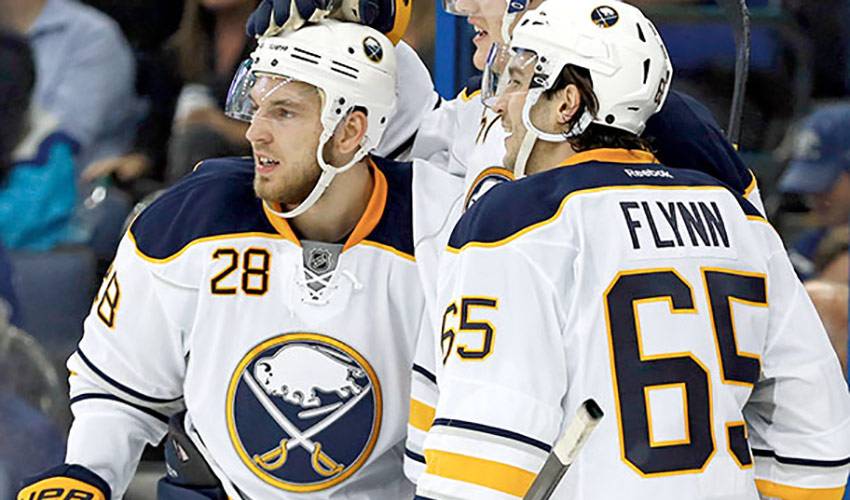 Zemgus Girgensons went home this summer to great fanfare. He came back to Buffalo an inspired man.
He anticipated a heartfelt response from family, friends and fans in his native Latvia during the off-season, a country that loves its hockey and the man who holds the distinction of being the highest-ever drafted Latvian.
After going 0-3 in the group stage at the 2014 Winter Olympics in Sochi, Latvia faced-off against a solid Swiss squad in the qualification playoff round, with seemingly little chance to advance.
Outshot 33-21, the upstart Latvians managed to pull off the upset, a 3-1 win, setting up a date with Canada in the quarterfinals.
It took a third period goal by Shea Weber to give the Canadians a 2-1 victory, a game that saw the eventual gold medal winners fire 57shots at Kristers Gudlevskis.
The initial disappointment of the loss eventually gave way to an appreciation for what was accomplished, not only in the present, but for the sport's future in Latvia.
"I think we did an amazing job as a team," said Girgensons, selected 14th overall by Buffalo in the 2012 Entry Draft. "Obviously, you are disappointed that you didn't go further. But, if we could show the kids back home how great the game is, to maybe inspire them to take interest in hockey, than that is very important to all of us."
Not surprisingly, Girgensons has a huge following in his native country. It's not uncommon for people to stay awake into the early morning hours to follow him and the Sabres.
"They love their hockey in Latvia," he said. "They'll stay up until 2 or 3 in the morning to catch the game. There have been lots of times when I'll hear my phone buzz at 5 in the morning. People will be emailing or texting me after the game's over."
Girgensons, who scored his first NHL goal on October 2, 2013, has also built up a strong support base in Buffalo.
"Fans here are crazy, the best in the NHL," said the 20-year-old forward. "If you are walking on the street, people will come up and congratulate you if you had a good game, or wish you good luck if you are playing that night."
He wouldn't mind more of those interactions in 2014-15, especially after a campaign that saw Buffalo finish last overall in the standings.
The addition of former Montreal captain Brian Gionta and Habs defenceman Josh Gorges, along with the return of Matt Moulson, are just a few examples of why Girgensons sees better days ahead for the Sabres.
"We'd like be that team that takes people by surprise," he noted. "I'm looking forward to being part of a team that can be like that. I think I'm just like everyone else here. It's about that overall improvement in your own game that can help the team succeed. Everyone is working to improve."
Putting up more points on a personal level is a focus for Girgensons.
"That's one thing I really want to achieve this year, to bring more offence," he said. "If I can do that, hopefully, that can go towards helping us in the standings."
Just the type of thing that could further heighten Girgenson's popularity in both Latvia and the Queen City.
"I'm pretty lucky," he said. "To have that kind of support is fantastic."