Back In Black & Gold
After battling a serious back injury last season, Chris Kelly is fired up to be back with the Bruins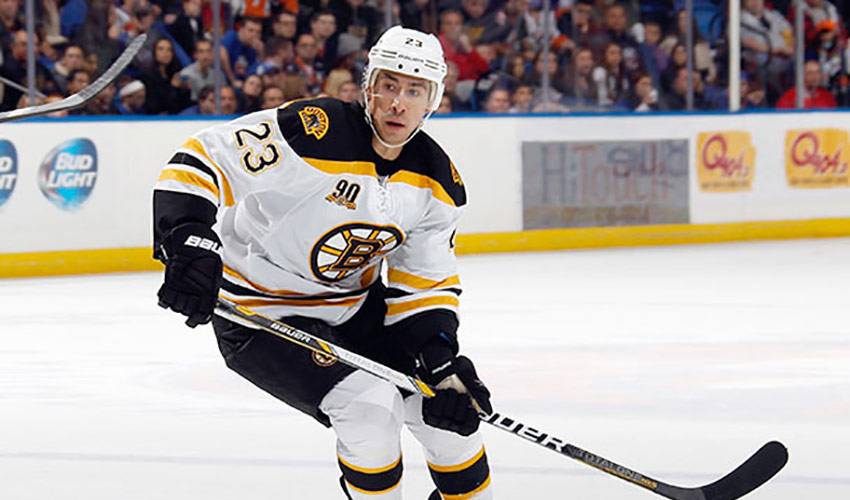 Chris Kelly had rather modest goals for his return to NHL action. The veteran forward, front and centre in Boston's opening night win, didn't mind exceeding his own expectations.
It's been a rough couple of years for Kelly, various ailments limiting him to 34 games in 2012-13 and just 57 contests last season. A back injury sent him to the sidelines for the Bruins' post-season, which saw Boston ousted by Original six rival Montreal in the Eastern Conference semifinals.
On Wednesday night, in front of an energetic home crowd, Kelly's comeback story couldn't have had a better ending. He netted the game-winning tally with less than two minutes left in the third period against Philadelphia, and was named First Star for his performance.
"I was really fired up to be back out there," said the 33-year-old. "I was thinking about it a lot in training camp, wanting that chance to just play again, to feel the speed of the game, the contact, just knowing how great it would be to play hockey again."
The Toronto native, who came to Boston via a trade on February 15, 2011, admitted it was at times unbearable to be a spectator last season.
"When I got hurt, it was an innocent play," he recalled. "I thought my back had just locked up. I thought that was it and I'd be playing the next night. Obviously, that wasn't the case. And to not be part of the team for the playoffs, that's about as tough as it gets."
There were moments in the post-season where Kelly couldn't watch. Literally.
"You have no input on the game, no impact whatsoever," he offered. "I couldn't watch overtime. I'd workout in the first period, watch the second period, and then a little bit of the third. It was far more difficult than I expected."
His efforts on October 8, a 2-1 Boston win, likely went a long way in helping erase those memories.
"The expectations are always so high here," he said. "We've done that to ourselves, in a good way. We played so well throughout the regular season last year. We won the President's Trophy. We were a very consistent team. Losing in the semis left a sour taste in our mouths. But, you have to give Montreal credit for how they played."
There's no need to talk incentive in 2014-15.
"No one was happy with how things ended," noted Kelly. "Everyone is focused on making this year a memorable one."
Kelly is hoping to play a big part in that quest.
"The best way I can describe not playing last season was like being on the back of a motorcycle," he said. "You'd rather feel the rush of being the one in the front."
So far, Chris Kelly likes where he finds himself.