All In This Together
Brooks Laich and the Capitals have an 'all-for-one' mentality as they chase success in 2014-15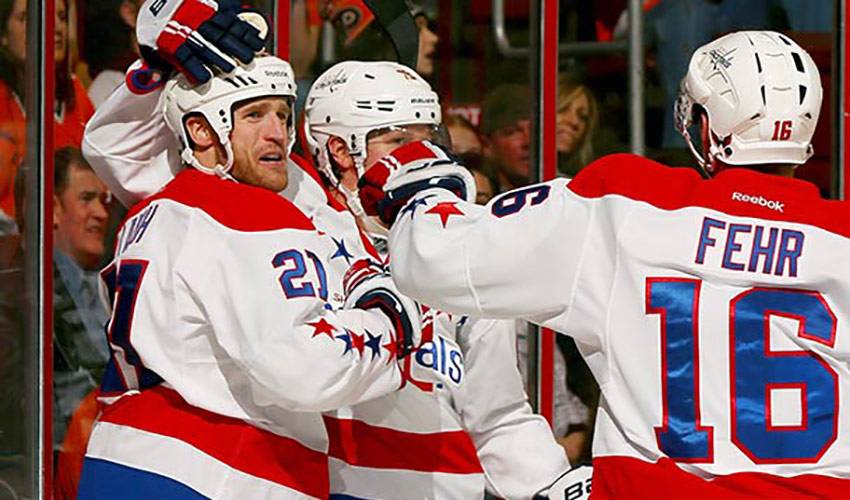 It wasn't Halloween, but Brooks Laich saw it as a real treat to don the garb of Abe Lincoln after a recent Washington Capitals win.
The veteran forward, who sacrificed his body by putting himself in front of a slap shot in the Caps recent 4-0 road victory over the Boston Bruins, was all smiles afterwards, posing for photos in a black stovepipe hat and fake black beard, in homage to the 16th president of the United States.
For his on-ice efforts that night, Laich was anointed the year's first "Honest Abe Players' Player of the Game."
And while it didn't have the same cache as being a Ted Lindsay Award recipient (the players' choice every season for the most outstanding player), the 31-year-old forward gladly accepted the honour, one his teammates vote on after the game is over.
"How about making it Honest, Awesome Abe?" joked Laich, of the costume purchased by Karl Alzner and presented by Alexander Ovechkin, the latter a three-time Lindsay Award winner. "We had a lot of fun with it."
Fun is the name of the game for a Washington squad eager to experience Stanley Cup success.
Past tensions are just that, according to Laich.
"I've been here a long time and there is a noticeable difference here," said the former 193rd overall pick of the Ottawa Senators in 2001, who was traded to the Capitals in 2003. "The culture has changed. Coach (Barry) Trotz uses words like 'team,' 'us,' 'we.' There is a real cohesiveness and unity to this team. And that has started from the top down. You sense a real difference, a real confidence and togetherness."
Laich doesn't expect that to change throughout the course of the 82-game season.
"The way things are, it's designed to get the best out of everyone, for every player to contribute," said the alternate captain, whose 2012-2013 and 2013-14 campaigns were both interrupted by injury. "It's the right way to go about things, that everyone feels good about their importance to the team.
"This is the best I've seen the locker room run," he continued. "We have that 'all for one' mentality."
Laich cherishes his role as a team leader.
"I appreciate the tenure that I have and the responsibility that comes with it," he said. "I've seen what has hindered and what has helped this team over time. We are fortunate to have such great leaders, character players here. We want to win together and the time to do it is now."
He won't need to be in an "Honest Abe" costume to deliver that message.
"We want to be an honest and open team," offered Laich. "We'll win as a team and lose as a team. The bottom line is that we are in this together."