Sticking With HIs Dream
Dennis Wideman continues to put together a solid NHL career after being told he didn't have what it took to play at the highest level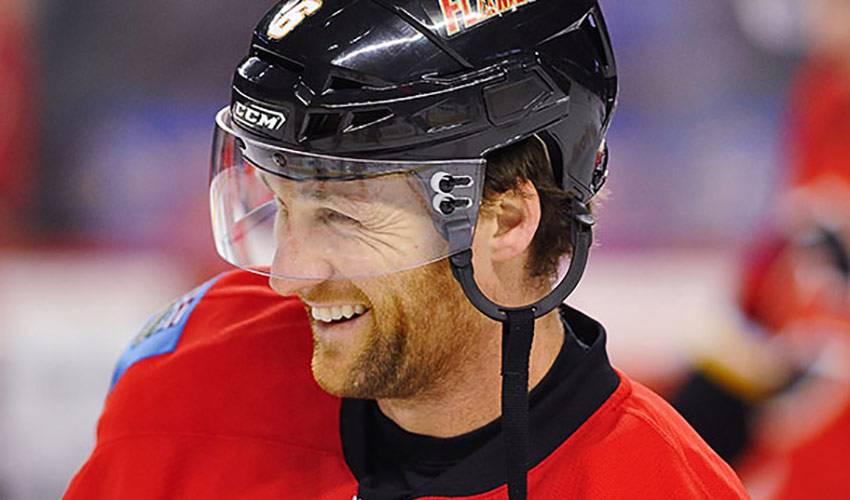 It's a good thing Dennis Wideman didn't put much stock in the scouting reports that said he wasn't big enough or fast enough to keep up in NHL circles.
There was no doubt that the defenceman from Elmira, a community located about 10 miles north of Waterloo, Ontario, was a good player.
In 2002, the year the Buffalo Sabres drafted him 241st overall, Wideman posted 69 points, 27 of which were goals, in 65 games with the Ontario Hockey League's London Knights.
In the two seasons that followed, Wideman posted 112 points in 115 games.
"My thought process back then was that I was likely destined to be a good minor league player," he recalled. "That's the way I was looking at things. I was looked at as being too small and too slow to make it in the NHL."
Yet, Wideman, who began his OHL career with the Sudbury Wolves in 1999-2000, wasn't about to throw in the towel when it came to taking his shot at skating at the game's top level.
It didn't pan put in Buffalo, but Wideman signed as a free agent with the St. Louis Blues at the end of June in 2004. After 79 games in the American Hockey League, a dozen contests into the 2005-06 campaign, he was called up to play his first NHL game.
"When you finally do get there, your first thought is that you want to stay," he recalled.
And that's precisely what happened to the rearguard that has now played in over 650 NHL regular season games, including the past two-plus campaigns with Calgary.
There have been stops in St. Louis, Boston (where he scored the franchise's 18,000th goal), Florida and Washington, prior to Wideman heading to Calgary. His rights were traded from the Caps to the Flames in June of 2012.
He then signed a five-year deal with Calgary, a team that last made a playoff appearance in 2008-09, when they lost in six games to Chicago in the conference quarterfinals.
"This is a hard-working team," said Wideman, who has played in 44 post-season games, 30 of those coming during his time in Boston. "Obviously, the goal is to make it to the playoffs and go from there. You want to be a team that faces the same amount of pressure of those ones that are expected to be in the playoffs. We've had a good start to the season. We need to sustain that."
For his part, the 31-year-old has been an effective contributor both offensively and defensively, while averaging over 23 minutes of ice time per game.
Wideman's also on pace to best his NHL career-best mark for goals in one season, 13, which he accomplished twice, in 2007-08 and 2008-09.
Not bad for a guy who was once a longshot for the NHL life.
"I just stayed with it and didn't give up on that dream," said Wideman. "This where I wanted to be and I just kept reminding myself of that."