Derek Stepan Is A Hometown Boy
Though his NHL career sees him on the marquee in New York City, Derek's heart is still in Hastings, Minnesota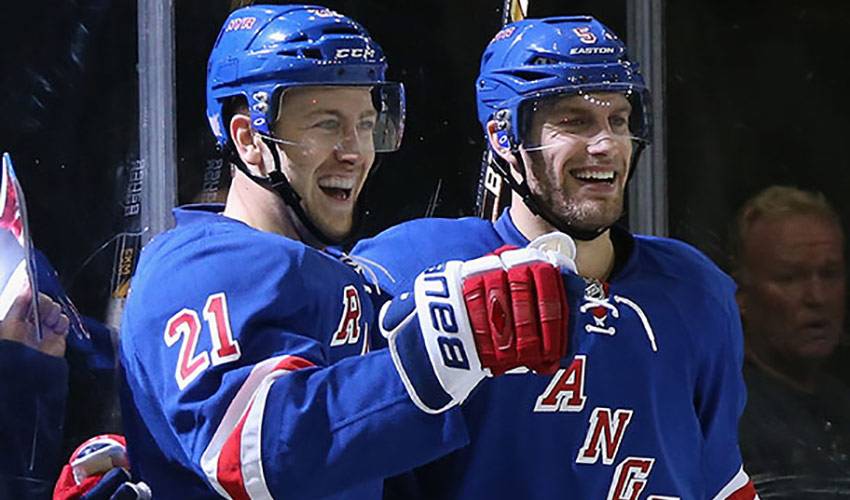 On most weekends during the NHL off-season in hockey-mad Hastings, Minnesota, it's not an unfamiliar scene to see one of the town's most famous figures taking in the action, happily chatting with parents and kids, and signing several autographs.
Even in a baseball hat, t-shirt, shorts and flip-flops, Derek Stepan, No. 21 for the New York Rangers, is an easily recognizable face in his hometown of Hastings, the place he heads to at the end of every NHL campaign, the same place that put him on the path to a big-league career.
"It was an ideal place to grow up in so many ways," said Stepan, who played several years in the Hastings Minor Hockey ranks. "It's a very tight-knit community. Hockey plays an important part of that closeness. There's a real passion for the game and for what it means to the town."
Closing in on 350 games into his NHL life, the 24-year-old hasn't forgotten his formative years in hockey.
"Obviously, you want to win," noted Stepan, who played two seasons with the University of Wisconsin from 2008-2010, recording 87 points in 81 games. "But, there are always so many great memories that you have outside of the wins and losses. You think about all those times you raced home so that you could grab your equipment and get to the rink. It was just as much about having fun."
While the stakes are far higher than they were during his minor hockey days, Stepan, who is averaging nearly a point per game in 2014-15 (he missed the first part of the season due to a leg injury), still has the same outlook he had as a kid.
"I was never the best player on my team," he continued. "Actually, I don't think I've ever been the best player on any of the teams that I've played on. But, the passion to play and to find ways to contribute has always been what's motivated me."
That approach has served Stepan well over his NHL career, one that started with 21 goal and 45 points in 2010-11. Selected 51st overall in 2008, the centreman certainly made sure his debut was one to remember, netting a hat trick against the Buffalo Sabres on October 9, 2010, becoming the first Blueshirt to achieve the feat, and just the fourth player in league history to do so.
Earlier that year, Stepan captained the U.S. side that won the World Junior Championships, taking gold courtesy of a thrilling 6-5 overtime win over host Canada.
"Those are the moments you truly appreciate," said Stepan, of the tournament that saw him lead all scorers with 14 points (Edmonton's Jordan Eberle and Taylor Hall were second and tied for third, respectively, in the category). "Obviously, you're very grateful to have those experiences. You really understand what it takes to win something that significant."
He's hoping the Rangers can take things one step further in 2014-15, after a campaign that saw them finish as Stanley Cup finalists.
Stepan can count on plenty of backing from the Hastings faithful.
"I'm very grateful for all the support I've received over the years," he said. "I'm very proud to call it home."