G&D15: A Paralympic Impact
Ben Delaney is a direct example of how the Players' Goals & Dreams program has impacted people in all areas of the game of hockey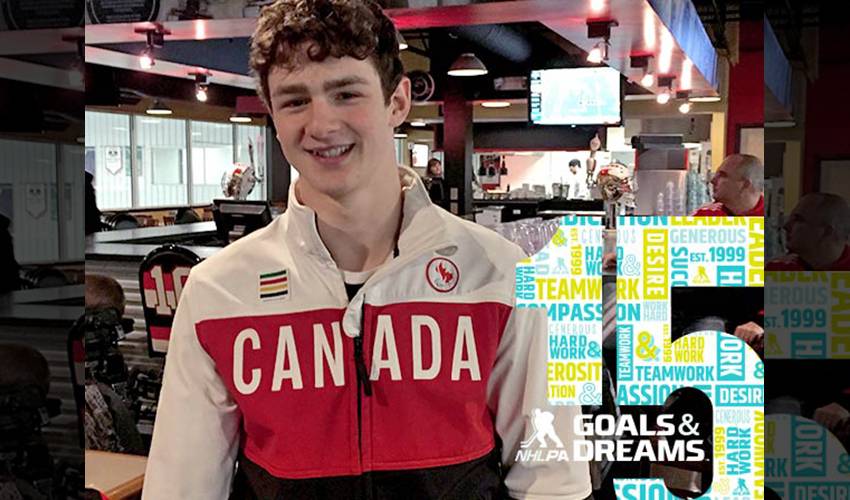 For Ben Delaney, a member of Canada's Paralympic medal-winning sledge hockey team, the second stop on the 15th anniversary tour of the NHLPA's Goals & Dreams (G&D) fund was as good as gold.
The youngest player on the Canadian side that took home bronze at the 2014 Winter Paralympics in Sochi, Russia, the 18-year-old Delaney was in Ottawa recently, along with representatives of Sledge Hockey of Eastern Ontario (SHEO), as the SHEO program received 10 sleds and 10 sets of equipment from G&D.
Established in 1999, the NHLPA's grassroots hockey program, the largest of its kind in the world, will have donated more than $22-million and have helped 70,000 children play hockey by the end of the 2014-15 NHL season.
"It's just been a great day, unbelievable, really," said Delaney, of the December 8 event that also saw Project North / Ottawa Inuit Children's Centre (OICC) receive 25 complete sets of hockey equipment. "It means a lot not only to me, but to everyone at SHEO, in having the NHLPA, Goals & Dreams and the players support us in the way they do."
At the age of 12, Delaney was diagnosed with osteosarcoma, the same cancer that afflicted Canadian hero Terry Fox. It required an above the knee amputation, but it didn't diminish his love for sports.
That passion for athletics led Delaney to take up sledge hockey four years ago when he joined the Ottawa Sledgehammers squad, and he personally was the recipient of a sled from G&D through a donation to SHEO in 2010.
"It is incredible to see a young man such as Ben who has been directly impacted by the Players' program", said NHLPA Goals & Dreams chairman, Devin Smith. "This story is a wonderful example of how Goals & Dreams has benefited people in so many areas of the game for the past 15 years."
Last August, just four days after his 17th birthday, he scored a goal in his first-ever game with Canada's National Sledge Team, a 3-1 win over the Czech Republic in the opening game for both teams at the Four Nations Tournament.
"Billy Bridges fed me the perfect saucer pass," recalled Delaney of his milestone moment. "It probably wasn't the prettiest goal that's ever been scored, but it was definitely one I won't ever forget."
Ben's play cemented his spot on the Canadian National Team, and he was a member of the team earlier this year in Sochi for the Paralympic Games. He and his teammates came home from the competition with a Bronze medal for Canada, an incredible accomplishment.
He also won't soon forget his latest experience with G&D, a day that brought out Ottawa Senators players Chris Phillips, Zack Smith, Colin Greening and Curtis Lazar.
"They are all great people," said Delaney. "I had met Chris a few years ago, so it was nice to catch up with him again. They are all interested in learning more about the sport. It was nice to have that opportunity to chat with them about hockey and lots of other things, too. They are very supportive of me and our sport."
A sport he loves and one he continues to excel at.
"I really enjoy it," said Delaney. "When I get out there on the ice, I'm there to play hockey and to give it everything I have. I'm a pretty small guy, but I suppose I'm the speedy little runt out there. It's just an amazing feeling to play for your country and to be part of a great group of guys."