RADEK DVORAK RETIRES FROM NHL AFTER 18 SEASONS
Forward played in 1,260 career games and reached the Stanley Cup Final twice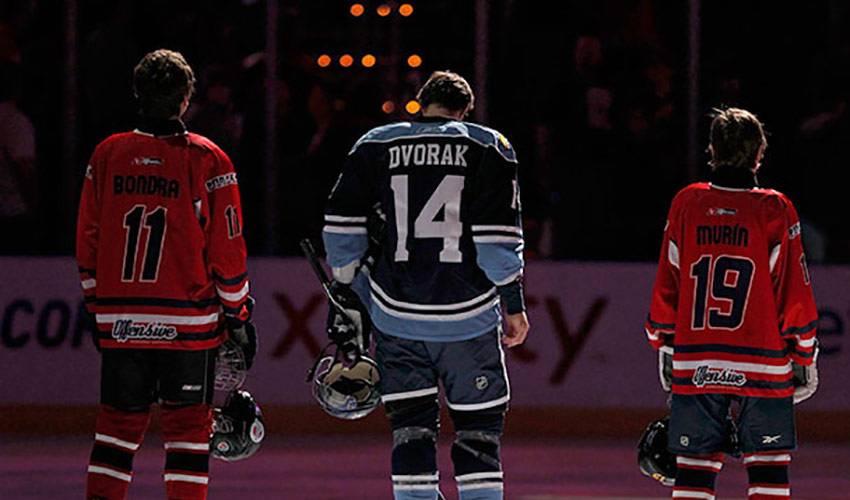 TORONTO (January 27, 2015) – Radek Dvorak has announced his retirement from the National Hockey League (NHL) after 18 seasons.
Dvorak played in a total of 1,260 career NHL games with nine teams: the Florida Panthers, New York Rangers, Edmonton Oilers, St. Louis Blues, Atlanta Thrashers, Dallas Stars, Anaheim Ducks and the Carolina Hurricanes. He played in nine seasons with the Panthers, over two stints, for his longest combined tenure with one team. Dvorak scored 227 goals and 363 assists for 590 points in his NHL career. Internationally, while playing for the Czech Republic, he was a part of three gold medal-winning World Championship teams (1999, 2001 and 2005).
"It was an honor for me to play in the best league in the world for 18 seasons," said Radek Dvorak. "I would like to thank to all the organizations, coaches and teammates I played for or with. Also, thank you to my parents, wife and kids who have always supported me and helped me throughout my whole career. At last I would like to thank to my fans who believed in and followed me all these years."
A native of Tabor, Czech Republic, Dvorak was drafted by the Panthers in the first round, 10th overall in the 1995 NHL Entry Draft. He played in 77 regular season games as a rookie, and scored his first NHL goal on November 2, 1995 versus Philadelphia. Dvorak's rookie season was capped off by Florida's postseason run to the 1996 Stanley Cup Final, when he played in 16 playoff games. In his sophomore season, he registered totals of 18 goals and 39 points over 78 games, and helped the club reach the playoffs. He played in all 82 games in his fourth NHL season and improved on his personal best totals – to that point – in goals (19) and points (43).
Partway through the 1999-00 season, he was traded from the Panthers and ended up with the Rangers where he finished the season strong by registering 33 points in the remaining 46 games. Dvorak's best offensive season was in 2000-01, when he set career highs in goals (31), assists (36), points (67), shots (230) and shooting percentage (13.5%), while he also had a four-goal game on March 29, 2001.
After playing for the Rangers in four seasons, he was traded to the Oilers in March of 2003. In 2003-04, Dvorak contributed the best of the two-plus seasons he played in Edmonton, scoring 50 points in 78 games and recording a career best plus-minus (+18). He returned to the Czech Republic during the 2004-05 owners' lockout to play for HC Ceske Budejovic – the club he played for prior to entering the NHL. In 2005-06, he enjoyed another long postseason when he played 16 playoff games on the Oilers' run to the Stanley Cup Final.
Dvorak signed as a free agent with the Blues in September of 2006 where he recorded 37 points over 82 games in his only season played in St. Louis. On July 1, 2007, he signed with Florida on the first day of free agency. He played in his 1,000th career game on December 7, 2009 against Edmonton. Dvorak led the Panthers in shorthanded goals in both the 2008-09 (4) and 2009-10 (3) seasons. He played in four seasons in his return to the Panthers, and remains the franchise's all-time leader in shorthanded goals (16) and currently sits second in games played (613).
The right winger was traded to the Thrashers in February of 2011. He signed with the Stars as a free agent on July 1, 2011, where he played 73 games and recorded 21 points in the 2011-12 season. Dvorak signed with the Ducks late in the lockout-shortened 2012-13 season, after starting the year with Davos of the Swiss league. He signed with the Hurricanes in October of 2013 where he played 60 games and scored four goals and nine points in his final NHL season.
Representing his country, he also played in the Olympics (2002) and the World Cup (2004), as well as a fourth time in the World Championship (2004) when he recorded the most assists in the tournament (7).
Throughout his career, Dvorak was a well-respected, dependable and valued player. He contributed on special teams, evidenced by his 24 career shorthanded goals and 27 power-play goals. He played in all 82 regular season games in three seasons (1998-99, 2000-01 and 2006-07); he ranks 74th all-time in NHL games played; and he averaged 16:16 in ice-time per game. Dvorak's skill also was on display in the 24 game-winning goals he scored in his career and the seven seasons he scored at least 15 goals.
Dvorak, 37, resides in Boca Raton, Florida with his wife Irena and their two children, Adam and Alex.
-30-