Wilson Becoming A Peak Performer
Colin Wilson has elevated his play this season and the Nashville Predators are reaping the rewards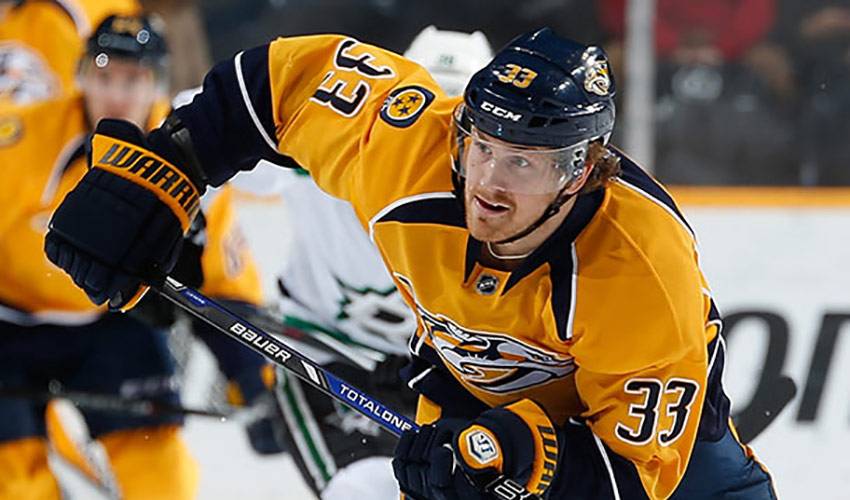 In the midst of a dream season, both personally and team-wise, Nashville forward Colin Wilson has come up with one iron-clad guarantee: he won't be doing an on-ice version of the moonwalk.
Rewind to 2002 and Wilson, age 12, had just netted a hat trick in a minor hockey all-star game. With his father, Carey, a former NHLer, watching in the stands, the young centreman celebrated his third goal in emphatic fashion, executing an on-ice version of the moonwalk, the famous dance move that presents the illusion of the dancer being pulled backwards while attempting to walk forward.
There was at least one person who wasn't pleased with the fancy skatework.
"My dad came down to the bench and told me if I did that again, he would take me off the ice," laughed Wilson. "That was the last time I celebrated like that."
Fast forward to the present, and Wilson, now 25, is enjoying his finest NHL season, playing a major role in the success of a Predators team battling for top spot in the Western Conference.
On January 13, in a game against Vancouver, the seventh overall pick in 2008 registered four points, two goals and two assists, including the game-winning tally, all in 13:09 of ice time.
There was, however, no sign of the moonwalk.
"I am going on record to say that I will never do that again," stated Wilson. "If I did, I wouldn't have to worry about my dad, I'd have to worry about my teammates."
Yet, there is so much for the personable forward to celebrate.
In 47 games, Wilson has 15 goals and 33 points, and an eye-popping plus-21 rating.
What he's most proud of, however, isn't found in those stats.
"I'm shooting the puck more than I ever have before," said Wilson. "I'm over 100 shots on the season. I think my career high was 114 (2011-12), so I'm going to go well beyond that. It's something that's really impacted my game this year. Before, maybe it was a case of trying to look for the perfect shot, waiting for what you interpret as the right moment. You still don't get reckless, but I'm happy with what I would call my shot mentality."
Wilson gave plenty of thought to his career prior to the season, specifically, assessing where he was at, and where he wanted it to be.
"I guess you see it as a way of figuring things out, a mix of being a confident player, but also embracing uncertainty," offered Wilson. "You realize you are getting older, younger players are coming along, and you need to respond to that. It's a privilege to play in the NHL, and I wanted that to show in my game."
His approach has paid off handsomely. Just don't expect him to bust out a dance move any time soon.
"We've always taken pride in being a hard-working team, a group that wanted that as our identity," explained Wilson. "That's carried over to our new coach (Peter Laviolette). After the first few games, you could see we were playing the way we were supposed to, the way that would give us a chance to win every night. And that's the way we expect to be."