Trevor Daley Coming Full Circle
The Stars defenseman has developed his defensive game & this season his offensive production is back in full-swing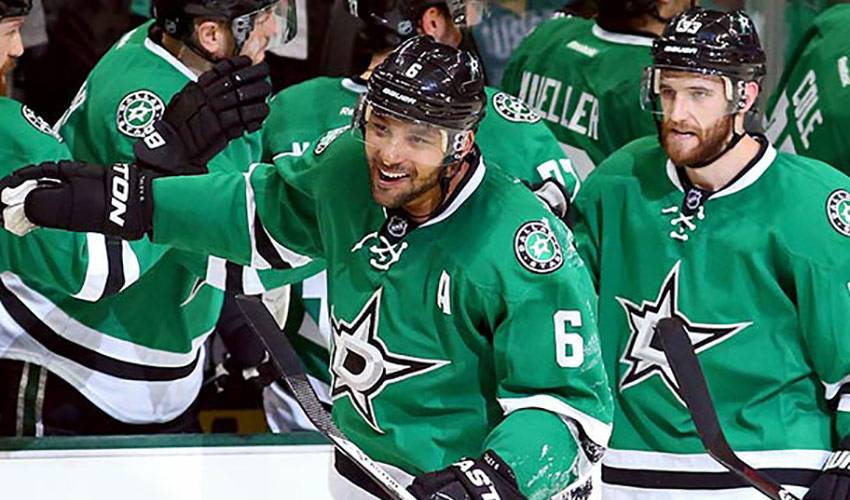 It's turned out to be the best of both worlds for Trevor Daley, the veteran defenceman initially known for his offensive savvy, but from day one of his NHL career, a player who was committed to improving the defensive side of his game.
There was no doubt the Dallas Stars knew what they were getting when they drafted the then 18-year-old kid who had just finished netting 48 points in 47 games with the Ontario Hockey League's Sault Ste. Marie Greyhounds in 2001-02.
The aspiring big leaguer, selected 43rd overall in 2002, was eager to be more than just a one-dimensional player.
"I was able to come into the league as an offensive player and had to learn to play in my own end, which was my weakest point," recalled Daley, who had 20 goals and 53 points in 2002-03, his final junior season. "I've put a lot of time and effort into becoming a good defenceman, defensively speaking, that I think the offence side is now starting to come back."
Coming back to the tune of Daley ranking tied for second in goals scored by defencemen in 2014-15, his 14 tallies just two back of leader Oliver Ekman-Larsson's 16 on the campaign.
Five of Daley's goals have come on the power-play, two while Dallas has been shorthanded and a pair have been game winners.
His goal on the road against the Boston Bruins on February 10, with the Stars down a man, was the winner in a 3-2 final.
That contest marked the 739th regular season game of Daley's NHL career, one that launched in 2003-04.
"I really had no expectations when I first started, other than to play in the NHL," he offered. "I remember my first game being in Columbus, just the lead up to knowing that you were going to be in the lineup was pretty cool in trying to let all my friends and family know it was going to happen. Playing that game was obviously that moment where you felt you had finally made it."
Daley soon discovered staying at the elite level was hardly a given.
"It actually got harder to stay over the next couple of years," he recalled. "I guess the older you get the more you realize how hard it is to stay in the NHL."
Now 31, Daley, one of the team's alternate captains, continues to work hard at his craft, dedicating equal time to both sides of his game.
His 14 goals are already an NHL career-best mark. The end goal, however, is seeing the Stars make the playoff grade.
Having Daley continue his contributions, both offensively and defensively, will certainly increase those chances.