Can't Break A Brotherly Bond
Marco Scandella credits his relationship with his brother Giulio for having a huge influence on all aspects of his career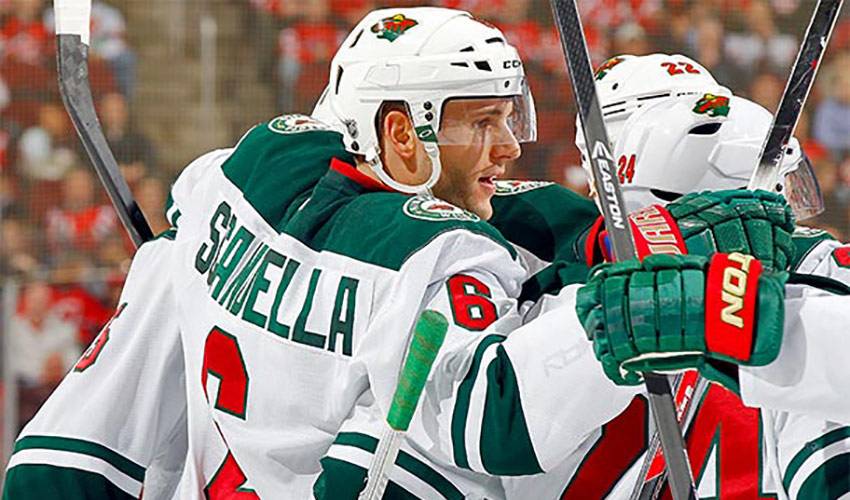 There were times, though not often, when Marco Scandella had to dodge the odd jab from his older brother, Giulio. But, aside from the odd dust-up and disagreement, the two hockey-playing siblings have always had an unbreakable bond.
During their respective hockey seasons, Marco, playing defence in the NHL, Giulio, a forward in the Italian Serie A league, are separated by over 4,600 miles. Yet, despite the distance and demands of their shared sport, the pair is in constant communication with one another.
"We're on Skype all the time," said Marco, who has played in over 215 NHL regular season games since being drafted 55th overall by the Minnesota Wild in 2008. "If not that, then we're on WhatsApp or we're texting. He's had a huge influence on my career and I really trust and respect what he has to say."
Not that it has always been peace and love.
"There were definitely a few little scraps when we were younger," said Marco, who played three campaigns with Val-d'Or of the Quebec Major Junior Hockey League. "But, the one thing I can say is that he had my back. He was always there for me."
That hasn't changed.
When the Wild went through a swoon that saw them drifting down the Western Conference standings this season, one that put a serious dent in their playoff aspirations, Marco and Giulio had long conversations about it.
"My brother is a very positive person," noted Marco, six and a half years younger than Giulio. "When things were going bad, he didn't just provide that pat on the back, he listened, too. That's what you need in those times. It's something you really appreciate."
The Wild have righted the ship, currently finding themselves in the thick of the playoff race, making for more of an upbeat exchange of late between the brothers.
"Even through the tough stretches, there has always been a lot of character and leadership in our room," noted Marco, who celebrated his 25th birthday on February 23. "We didn't give up, we just focused on the next game. Duby (goaltender Devan Dubnyk, acquired in a trade with Arizona) has come in and been lights out for us. But, even though things have turned around, we haven't altered our approach. Every team wants to make the playoffs. Every team wants to be there. That's what we want."
There is still plenty of hockey to play for both Scandellas. They won't see each other, at least in-person, until they head back to Montreal for their respective off seasons.
They'll be no shortage of things to talk about before that time.
"I really do owe him a lot," said Marco. "When he was in junior (Giulio played four seasons in the QMHL), he'd take me with him when he'd train. I like to think I was a little further along than most guys my age. Win or lose, he's always been in my corner."
Did he ever envision the day he and Giuilio would be trading text messages instead of lefts and rights?
"We were just like a lot of siblings," recalled Marco. "You get on each other's nerves, you have a little spat and then it's all good."
He added with a laugh: "I actually might get the upper hand if we did fight now. I'm a lot bigger than him."