Anders Lee: A Triple Threat
Anders Lee was a dominant athlete in baseball, football and hockey, but there was never any doubt in his mind that the ice was where he belonged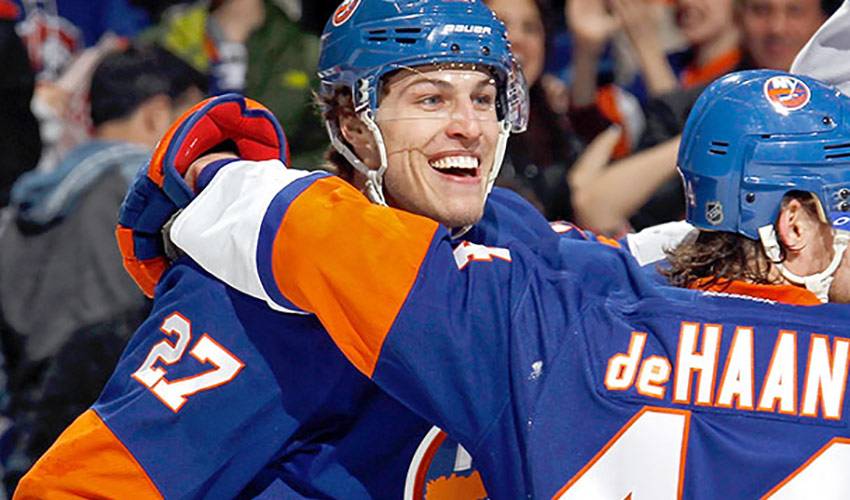 He was a star quarterback and a slick-fielding third baseman during his high school years, but it's on the ice, not the gridiron or diamond, where Anders Lee is at the top of his game.
Throwing darts to receivers in double coverage. Stretching out to snag a line drive smoked down the left-field line. Scoring the game-winning goal with a perfect slapshot.
The kid from Edina, Minnesota has done it all.
By the time Lee reached his junior high school year, he had already turned heads, carrying a reputation as a proven winner in whatever he played.
In that junior campaign, Lee, as the starting quarterback, threw for 2,049 yards and 14 touchdowns for the 10-1 Edina Hornets. At the rink, he finished third in team scoring with 54 points, including 32 goals, named to the Pioneer Press All-State First Team and receiving an honorable mention to the AP All-State team.
He was part of a squad that fashioned a 26-1 regular season record and finished second in the Class AA 2008 state hockey tournament.
In the spring, Lee played varsity baseball, a solid pitcher and starter at third for the Hornets.
His senior football year yielded 2,007 passing yards and five touchdowns, accompanied by 1,105 rushing yards and 32 touchdowns. Lee was chosen as the 2008 Minnesota Gatorade Football Player of the Year, and was a finalist for Minnesota's "Mr. Football."
Lee's impact on Edina's hockey team was just as impressive: 25 goals and 59 assists in 31 games, and a 24-3 regular season record.
Big numbers and big achievements, certainly. But, there was one sport that Lee felt was his true calling.
"I loved playing football and baseball, but it was always hockey for me," he said. "I really believe being involved in those other sports made me a better hockey player."
Lee was selected 152nd overall by the New York Islanders in 2009. After leading the USHL in scoring with Green Bay in 2009-10, he went on to play three seasons at the University of Notre Dame, where he earned All-CCHA Rookie Team and All-CCHA First Team honours.
He appeared in a pair of NHL games in 2012-13, scoring his first big-league goal. In 2013-14, he split time between the AHL with Bridgeport and appeared in 22 games with the Islanders, where he lit the lamp nine times.
This season, Lee has been a major factor in the Isles' resurgence, having already reached the 20-goal mark, including six game-winning tallies.
One pro scouting report noted: a big player who is exceedingly fast…quite mobile with great balance and agility…difficult player to move off of the puck and can power his way through opposition checks...very strong along the boards and in the corners…has a very heavy shot.
Words that speak to Lee's time as both a quarterback and baseball player.
"At quarterback, you are the one that controls the play, and you need to depend on vision and the ability to elude people," offered Lee. "You need to be strong on your feet. In hockey, you need to be strong on your skates, to maintain your balance when you are being checked. In both, you might have a set play, but you need to be able to call an audible at times, to adapt to a situation in a split-second. As for baseball, it's all about hand-eye coordination when you are hitting. In hockey, when things are moving so quickly, you rely on that ability, too."
Any regrets at not wearing the purple and gold of the NFL's Minnesota Vikings, or the blue, red and white of MLB's Minnesota Twins?
"No," said Lee with a laugh. "That wasn't going to happen."
What has happened, though, is just what Lee hoped for.
"Hockey is such a huge part of Edina and I was drawn to it early on," he recalled.
It's something he's reminded of when he heads home during the hockey off-season.
"Edina is a very tight-knit community, a place you take a lot of pride in," said Lee. "When you go home and visit the rink, you see your old coaches and you also see the young kids playing, just loving the game. It's really cool to see all of that."
And it's just as cool for everyone to see their very own making his mark at hockey's elite level.