Welcomed With Open Arms
Devante Smith-Pelly is quickly being embraced by his teammates and Habs fans in the city of Montreal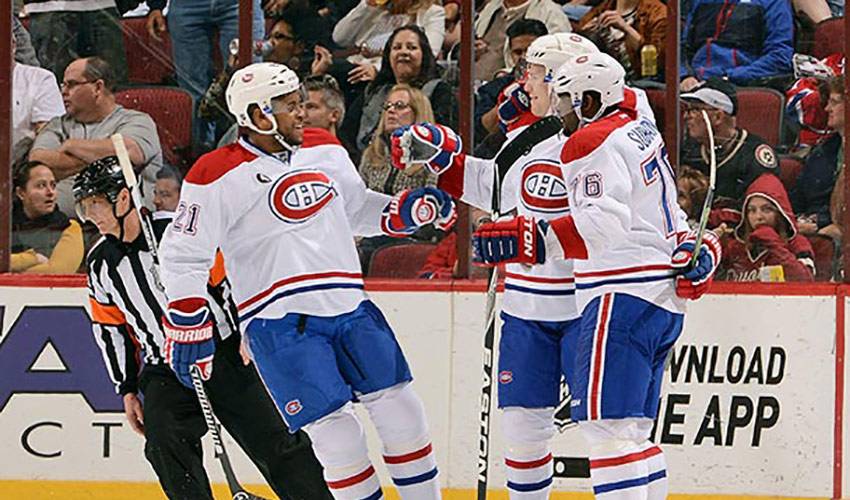 For Devante-Smith Pelly, it was a trade that provided a new opportunity, plenty of optimism and a chance to have an impact in one of hockey's most passionate places. The deal even came with an unexpected perk: not one, but two personal tour guides.
Taking to Twitter, Smith-Pelly wanted to make sure everyone in the hockey world, including his new teammates, knew just how he felt about coming to play in Montreal.
I can't describe how excited I am to join the @CanadiensMTL...and I can't wait to get started

— Devante Smith-Pelly (@smithpelly23) February 24, 2015
When the Canadiens swung the deal on February 24, the one that landed them the 22-year-old winger, it was readily apparent from the moment the trade was announced that the newest member of Les Habitants wasn't the only one thrilled about the move.
Several Montreal players were quick to either text Smith-Pelly or to reach out via social media, extending a warm welcome to the newest addition to the club.
"The moment I met my teammates was really great," he recalled. "They invited me into the family with open arms and made me feel very comfortable from day one."
So, too, have the fans.
"Since I arrived in the city, and I've been out walking around, there has been a lot of 'Welcome to Montreal' from people, which makes you feel great. It's been really nice to experience that."
It's also been nice for Smith-Pelly to have a pair of hosts helping him get familiarized with his new surroundings, teammates eager to ensure he's just as at ease outside of the dressing room.
"My main tour guides have been P.K. (defenceman, Subban) and Nate Beaulieu," noted Smith-Pelly. "They've shown me around and have made sure I know where everything I need is. Everybody has been great to me."
With playoff hockey drawing closer, Smith-Pelly, who scored five goals in 12 post-season games with the Ducks in 2013-14, will be counted on to showcase his physical play and penalty-killing skills for the Habs, seeking their first championship since 1993.
In his first full NHL campaign, the 42nd overall pick in 2010 is ready for the rigors of Stanley Cup action.
"You want to contribute in any way you can, to go out there and be confident in yourself," said Smith-Pelly. "You realize just how important each game is and what you need to do to make a difference when everything is on the line. I just feel very lucky to be here in Montreal."