The Price Keeps Going Up
Nathan Beaulieu & Dale Weise give a glimpse into what makes Carey Price such an elite talent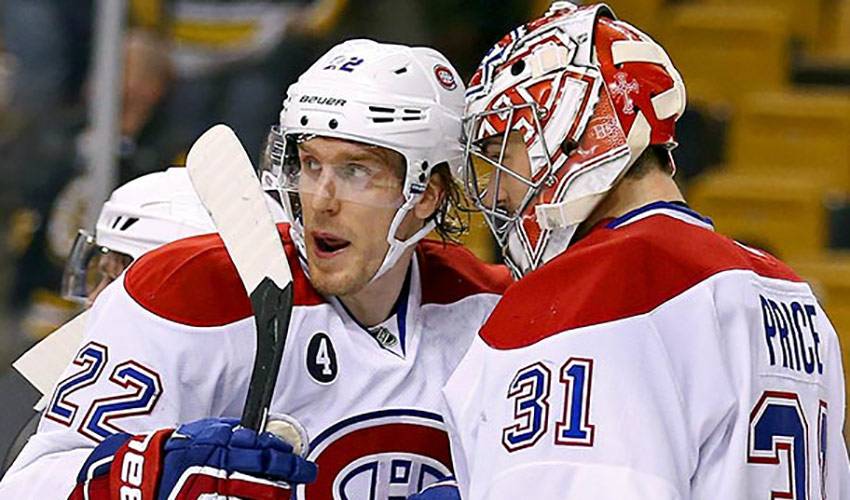 WHAT THE HOCKEY WORLD SHOULD KNOW ABOUT CAREY PRICE
BY NATHAN BEAULIEU AND DALE WEISE
He's in the midst of an MVP season, a world-class goaltender that continues to shine between the pipes for the Montreal Canadiens, while garnering widespread praise from teammates, opponents and hockey fans.
Boasting the most wins, top save percentage and goals against average in the league, Carey Price, also tied for most shutouts, has been nothing short of spectacular in 2014-15. The 27-year-old B.C. native recently surpassed 25,000 minutes played and 425 career regular season games.
Could Price, whose recent selfie with a young fan named Justin went viral, be in line for some of hockey's most sought-after individual trophies, including the NHLPA's Ted Lindsay Award? His teammates certainly think so.
Montreal's Nathan Beaulieu and Dale Weise recently wrote their thoughts on their standout backstopper and shared them with NHLPA.com.
This is what they want the hockey world to know about No. 31, in their own words.
NATHAN BEAULIEU
"The one thing that I've learned about myself as a player and a person from Carey is confidence. He is so calm and collected in the net and he makes the game seem very easy."
"It's definitely better to have Carey as a teammate rather than an opponent because, well, I don't ever want to have to play against him. But, as a teammate, he is a leader by example and a guy young players can turn to because he is so approachable."
"(Laughing) The one thing that the hockey world should know about Carey is that he wears too much camo."
DALE WEISE
"From Carey, I've learned to not let things get to you. Carey has had a tremendous amount of success in the last two years and he's still as humble as ever and continues to be the hardest worker on our team."
"Carey makes a better teammate then opponent because he's the best goaltender in the world! Without him we wouldn't be anywhere. He's the heart of our team."
"The one thing I would really want the hockey world to know about Carey is he's probably our biggest leader. He doesn't say much or say things that often, but when he does, the room is silent and because of that, the boys want to work extremely hard in front of him."