Brodin Steady Beyond His Years
Although just 21, Jonas Brodin has been a steadying & solid force on the blueline for the Wild this season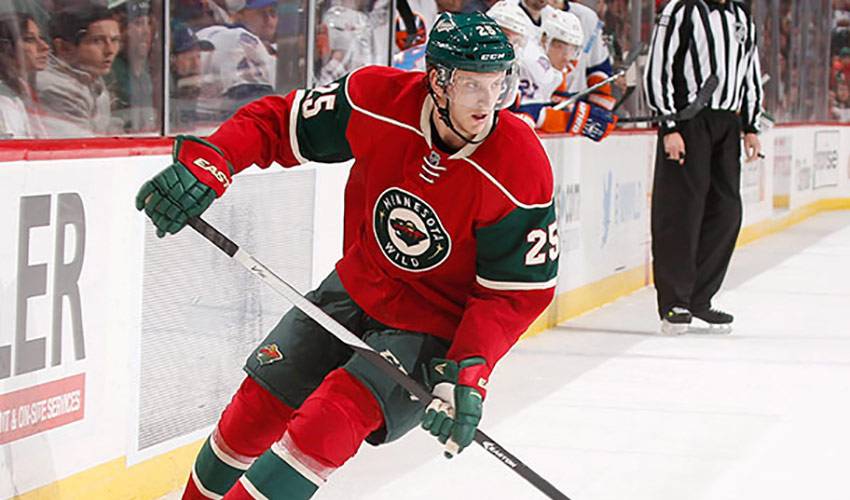 He hails from a small town in the western part of Sweden, but 21-year-old Jonas Brodin has emerged as a big-time star on hockey's greatest stage.
Edsvalla is a shade under a four-hour drive from Stockholm and home to about 1,000 people. It is also the place where one of the NHL's top young defencemen grew up, where as a kid he'd sharpen his skills on the local rink, just 15 minutes from his house.
In a season of highs and lows for the Minnesota Wild, Brodin has been a steadying force on a club that at one point in time appeared destined to be watching the playoffs rather than competing in them, but who eventually found their groove and appear post-season bound.
While it's been a collective effort that has given the Wild a shot at a long playoff run, there's no doubt their 10th overall pick in the 2011 Entry Draft has had a large role in helping right the ship.
So, what exactly do the Wild have in Brodin?
"I'm a mobile two-way defender with good skating and good in both zones," he noted.
Brodin is also a blueliner that plays beyond his years, something noted by several of his teammates, including veteran defenceman Ryan Suter.
Calm and collected when called on, the 6'1", 195-pounder, less than 200 games into his NHL career, is becoming more comfortable with each game and each touch of the puck.
He's also lived up to what his pre-NHL scouting report read.
Said one scout: "Brodin is a very mature defenseman with good mobility, smarts and coolness. He's effective in one-on-one situations."
"I like to bring the puck and follow the rush to the offence," said Brodin. "That's my play."
Just like his role model and fellow Swede did, a seven-time Norris Trophy winner who he tries to pattern his game after.
"I think it would be (Nicklas) Lidstrom," said Brodin, of the four-time Cup winner who played 20 NHL seasons with the Detroit Red Wings. "I think we have the same play, and play easy and he's in the right place and everything."
While a long-term career appears to be a given, Brodin has his sights sets on the short term, namely, in helping Minnesota go deeper in the playoffs than they did in 2013-14, when they were ousted in six games by the Chicago Blackhawks in the Western Conference semifinals.
"It's always about the team," he said. "You go out and do whatever you can to make it a success."