The Toast Of The Town
Chris Thorburn and the Winnipeg Jets are reveling in their first playoff appearance since returning to the Manitoba capital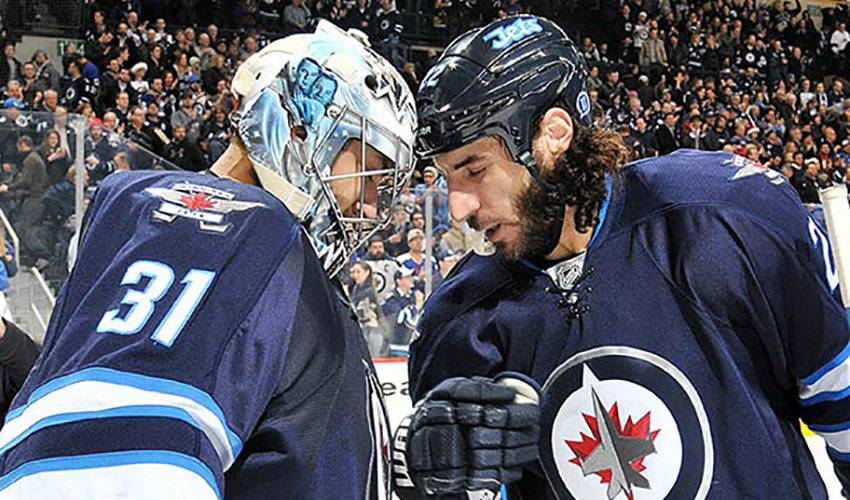 "I guess you could say I'm doing pretty great. I can't believe what a feeling this is. Wow."
It's safe to say that Chris Thorburn was still one happy hockey player the morning after Winnipeg had punched their Stanley Cup playoff ticket.
It was a pretty wild ride for Thorburn and his Jets teammates on April 9, a date that included a little bit of everything: a hard-fought 1-0 shootout loss in Colorado, a 3-1 win by Western Conference rival Calgary, and a prized shot at playing for hockey's most treasured team trophy.
Although Thorburn could have been forgiven for being a little bleary-eyed and a bit gravelly-voiced after an emotional series of events, there was no sign of either. Rather, it was an enthusiastic, near euphoric voice that answered the phone.
"Holy crow," said the 31-year-old forward, who will soon get his first opportunity to skate in an NHL playoff game. "When we got off the ice after our game was done, it was pretty quiet. Then the whisperings started that Calgary was up 3-1 late. After it was over, it got a lot louder. I've never really been happy after a loss, but I can say differently now."
The Jets are set to make their first playoff appearance since the franchise relocated from Atlanta for the 2011-12 campaign.
Not surprisingly, it was a celebratory mood on the streets of Winnipeg once the playoff spot became official.
"There were people waiting for us when we got home very early in the morning," said the Ontario-born winger, selected 50th overall by Buffalo in the 2001 Entry Draft. "It was a great sight to see."
After a brief sleep, Thorburn was still beaming.
"I'm here with my wife, Sara, and son, Bennett, and we're just enjoying a little quiet time right now," said the veteran of over 600 NHL regular season games, "My wife is so happy. She's always been there with me, through all the ups and downs, and her support has never wavered. To be honest, it feels just as good this morning as we all felt last night."
It was hardly an easy path to get to where the Jets find themselves, something Thorburn and his teammates will remind one another of prior to the start of the playoffs.
For a little while, though, none of the players will mind reveling in (and reliving) the moments that got them to this point.
While he hadn't left the house yet since returning from Denver, Thorburn considered what might await him if he did head out.
Like the time a few years ago when he met a Jets fan at a local store.
"I was out with my wife and we were buying some groceries," recalled Thorburn. "A guy recognized me, comes over and asks, 'Could you please sign this?' It was a roll of toilet paper. He didn't have anything else, so that's what he wanted signed."
Always one to oblige, Thorburn took a pen out and signed his name.
"Should I go out and soak it all in?" he laughed. "Maybe I'll do just that."
And why not? After all, Thorburn and his teammates are the toast of Winnipeg right now.