HAL GILL RETIRES FROM NHL AFTER 16 SEASONS
A veteran of 1,108 games played, Hal Gill has announced his retirement from the NHL after 16 seasons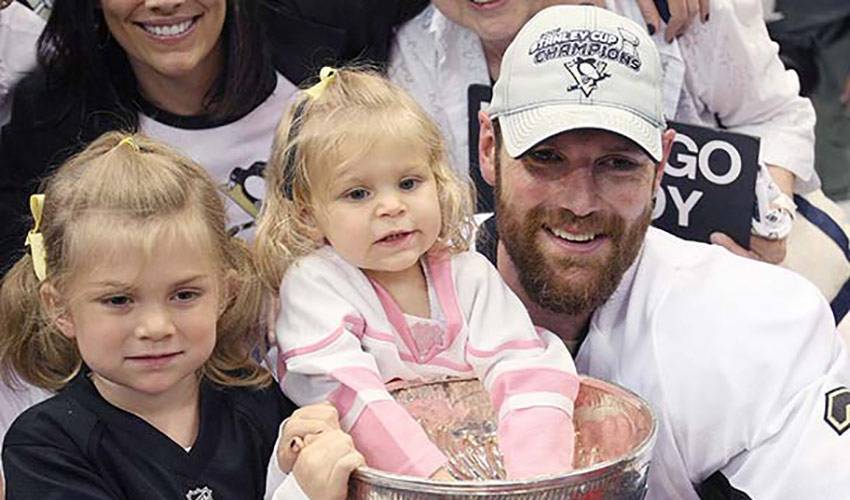 …Defenceman played in 1,108 career games and won Stanley Cup in 2009
TORONTO (April 21, 2015) – Hal Gill has announced his retirement from the National Hockey League (NHL) after 16 seasons.
Gill played in a total of 1,108 career NHL games with six teams: Boston Bruins, Toronto Maple Leafs, Pittsburgh Penguins, Montreal Canadiens, Nashville Predators and the Philadelphia Flyers. He scored 36 goals and 148 assists for 184 points in his NHL career. Gill, a six-foot-seven, 243-pound defenceman, played on the Stanley Cup-winning Penguins in 2009 after reaching the Cup Final in back-to-back seasons.
"I am so thankful to have played for such great organizations. I was lucky to have made amazing friendships throughout my career and live in so many beautiful cities. I would like to thank the fans for their support, the coaches for their direction, the team staffs for their efforts, and most of all, my teammates for their camaraderie (and keeping me in line)," said Hal Gill. "Thank you, as well, to Global Hockey Consultants for their commitment to building my career, and to my family for staying strong through the lows and steady through the highs. I'm very excited for the next chapter of my life."
A native of Concord, MA, Gill was drafted by the Boston Bruins in the eighth round, 207th overall, of the 1993 NHL Entry Draft. Following a four-year college career at Providence where he won the Hockey East Championship in 1995-96, Gill made his NHL debut with the Bruins on October 17, 1997. He recorded his first assist on November 6 and later scored his first NHL goal on November 13th versus the St. Louis Blues.
Gill played in 68 regular season games and six playoff games in his rookie season. In his sophomore campaign, he played in 80 games – starting a streak of nine straight seasons that he played in at least 76 games. In 2001-02, Gill scored 22 points and he also helped Boston reach the playoffs for the first of three consecutive seasons. In 2002-03, Gill led the team in plus-minus (+21) – the best rating in his career. He played for Lukko Rauma in Finland during the 2004-05 owners' lockout and helped the club reach the playoffs.
Following the 2005-06 season when he recorded a career-high in penalty minutes (124), Gill signed as a free agent with the Toronto Maple Leafs on July 1, 2006. In 2006-07, he played in all 82 games and scored 20 points for the Maple Leafs. He set a career-high in points (24) and assists (21) in the 2007-08 season, which he finished in Pittsburgh after he was traded from Toronto in February of 2008. Gill was a key defenseman for the Penguins in the postseason, as he played in 20 playoff games and helped the Penguins reach the Stanley Cup Final. He averaged 3:10 in shorthanded ice-time per game and blocked 112 shots in the 2008-09 regular season, before he played in all 24 playoff games and helped the Penguins win the Stanley Cup.
Gill signed as a free agent with the Montreal Canadiens on July 1, 2009. He was an important defenceman for the Canadiens during their playoff run to the 2010 Eastern Conference Finals, while he added 18 games to his postseason totals and blocked 68 shots – second most in the NHL that spring. Gill played his 1,000th career NHL game on October 20, 2011 in Pittsburgh, becoming only the 12th player to achieve this milestone game as a member of the Canadiens. In February of 2012 he was traded to Nashville where he played parts of two seasons with the Predators, helping them reach the playoffs in 2012-13. In 2013-14, he played his final NHL season with the Philadelphia Flyers after signing in October of 2013, and he played in his last career game during the 2014 playoffs.
Internationally, Gill represented the United States on five occasions in the World Championship (2000, 2001, 2004, 2005, 2006), which included the 2004 tournament when Team USA won the bronze medal.
Throughout his career, Gill was a respected and dependable teammate. He also was a hard-working, shutdown defenceman who utilized his size on the ice to kill penalties and match-up against some of the opposition's top forwards. He recorded 962 penalty minutes, a plus-minus of +44, and he averaged 19:05 in ice-time per game. Gill's durability was displayed by the 11 seasons he played in at least 75 games; he also is tied for 55th all-time in games played among NHL defencemen. He played in 111 career playoff games, averaging 19:50 in ice-time per game, and his teams reached the playoffs in 11 of his 16 seasons.
He served as an NHLPA Player Representative for more than five years while he was a member of the Bruins.
Gill, 40, resides in Lincoln, MA, with his wife Anne and their three children.
-30-