Kreider A Power Ranger
Chris Kreider is known for his blazing speed, but knows a physical investment is what can produce playoff success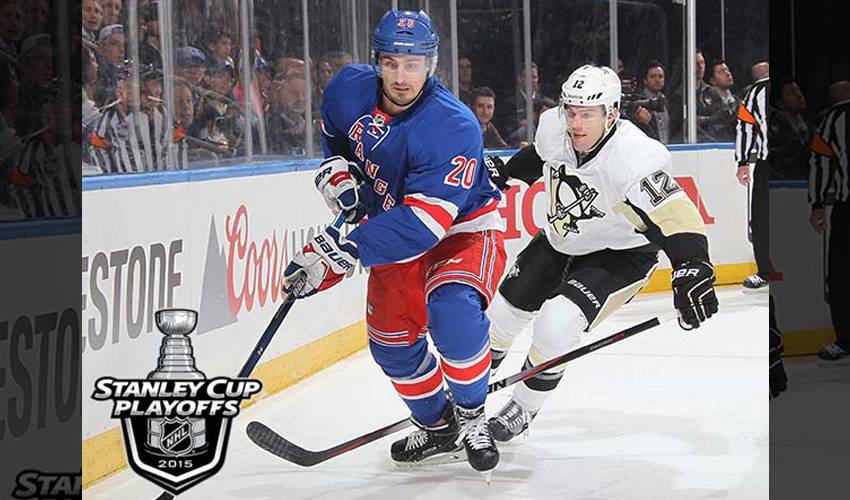 There's no question Chris Kreider is fast. In fact, it would be more accurate to say he's very, very fast. But, that's not the only thing that makes the New York Rangers' speed demon a top-flight performer.
Surf the web and you'll find no shortage of evidence, video, stories, or otherwise, that showcase Kreider's superb skating abilities.
Yet, for all the fanfare surrounding that part of his game, the 24-year-old is much more than a one-skill contributor.
After netting 17 goals and recording 37 points in 2013-14, Kreider boosted his offensive numbers this past season, scoring 21 times and finishing the year with 46 points.
In last year's playoffs, he registered five goals and 13 points in 15 games.
For Kreider, being an impact player, especially during the playoffs, isn't always about speed bursts and seeing his name on the scoresheet.
Being a big hit for his team can be achieved by dishing out a big hit or two.
"Outside of the score sheet, personally, I want to continue to be a physical presence and try and wear down the opposition," said the native of Boxford, Massachusetts. "Every time you finish your check or force your opponent out of position, you're making an investment as the series goes along.
"It also opens up space that you desperately need in an environment where it's so hard to manufacture offence because of how little time and space there is."
In Game 5 of New York's opening-round set against Pittsburgh, Kreider, at 6'3", 225 pounds, was at his battering best, notching a game-high 10 hits in a 2-1 overtime win.
One game later, again in overtime, the Rangers punched their ticket to the second round courtesy of another 2-1 triumph.
"What most impressed me was their poise and resiliency," said Kreider of his teammates. "There are a lot of ups and downs, momentum swings, surges, and peaks and valleys during a playoff run. Staying composed through those sways is a testament to the character and leadership in the room."
A room that includes one of the hockey's bona fide speedsters, who happens to be more than just a player in perpetual motion.