JOHNSTOWN, PA WINS TITLE OF FIRST-EVER KRAFT HOCKEYVILLE USA
Community will host a nationally televised NHL pre-season game between the Pittsburgh Penguins and Tampa Bay Lightning and receive $150,000 in arena upgrades.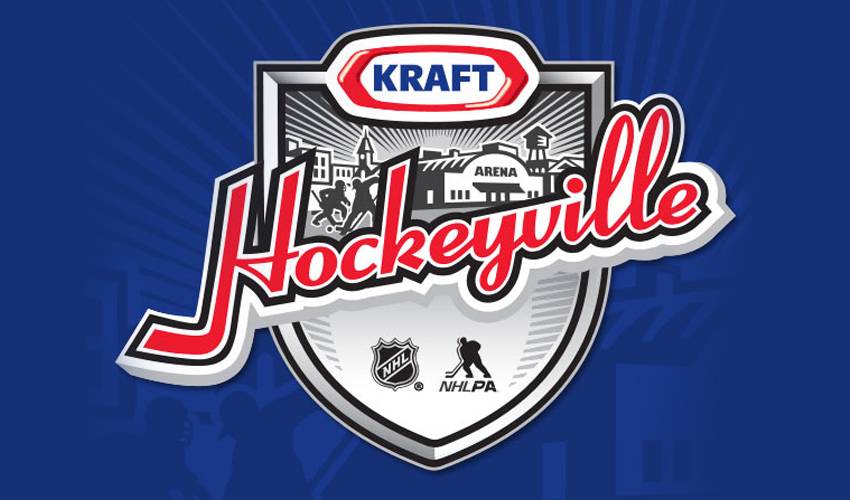 NORTHFIELD, Ill. – May 2, 2015 – In partnership with the National Hockey League Players' Association (NHLPA) and the National Hockey League (NHL®), the inaugural Kraft HockeyvilleTM USA contest captured the nation and ultimately named Johnstown, Pa., as the first-ever "Kraft HockeyvilleTM USA." Johnstown's Cambria County War Memorial Arena will receive $150,000 in arena upgrades and the opportunity to host an NHL® Pre-Season Game between the Pittsburgh Penguins® and Tampa Bay Lightning® televised live on NBCSN on September 29, 2015.
Johnstown has always celebrated its passion for hockey, even serving as inspiration for the popular hockey movie "Slap Shot." Rich in hockey heritage, Cambria County War Memorial Arena will use the winning funds to upgrade its ice-making equipment and scoreboard, providing a better game experience for community members.
"The response we've seen from these communities and their rallying support for each other has been truly inspiring," said Jane Hilk, Chief Marketing Officer and President, Kraft Beverages and Snack Nuts Division. "Since the voting period began, we've received an astounding 20.4 million votes from passionate hockey fans across the country, and are so proud to award the inaugural 'Kraft HockeyvilleTM USA' title to such a well-deserving community."
Johnstown was named "Kraft HockeyvilleTM USA" through public voting at www.krafthockeyville.com. Alongside Johnstown, hundreds of other communities across the country submitted thousands of stories showing their hockey spirit and passion. The nine other finalist communities will share $275,000 in arena upgrades from Kraft, including runner-up Decatur Civic Center in Decatur, Ill., receiving $75,000.
"The National Hockey League is delighted for everyone connected with the winning effort by Johnstown in the inaugural Kraft HockeyvilleTM USA voting," NHL Commissioner Gary Bettman said. "Kraft HockeyvilleTM USA makes a lasting contribution to a community that has come together 'For The Love Of Hockey,' and we are particularly pleased that future generations of Johnstown players will be able to enjoy skating at an upgraded Cambria County War Memorial Arena."
"Kraft HockeyvilleTM USA takes Players back to a local community arena like the one where they began playing hockey," said Don Fehr, NHLPA Executive Director. "It will be great for the Players on the Pittsburgh Penguins and Tampa Bay Lightning to play before passionate local fans in Johnstown this September. We also congratulate these two finalist communities."
"The Pittsburgh Penguins are excited to come to Kraft HockeyvilleTM USA," said Jim Rutherford, Executive Vice President and General Manager of the Pittsburgh Penguins. "The Cambria County War Memorial Arena in Johnstown has a special place in hockey history and will be a unique and iconic setting for an NHL Pre-Season Game. We congratulate the great fans of Johnstown and Cambria County War Memorial Arena for this well-deserved honor and want to thank all of our fans in Pittsburgh for helping to get out the vote. We all look forward to celebrating Kraft HockeyvilleTM USA in September."
"We are pleased to be facing off against the Pittsburgh Penguins in Johnstown this fall as part of Kraft HockeyvilleTM USA," said Steve Yzerman, Vice President and General Manager of the Tampa Bay Lightning. "I played my first-ever professional game in Johnstown on September 17, 1983, and the experience proved to be very memorable for me – so I believe this game will prove to be meaningful not only for the great hockey fans of Johnstown but for the Lightning organization and our Players. We are grateful for the opportunity."
###