Andersen A Pillar For Anaheim
Ducks goaltender Fredrik Andersen notched his first career playoff shutout on Sunday leading his team to a Game 2 win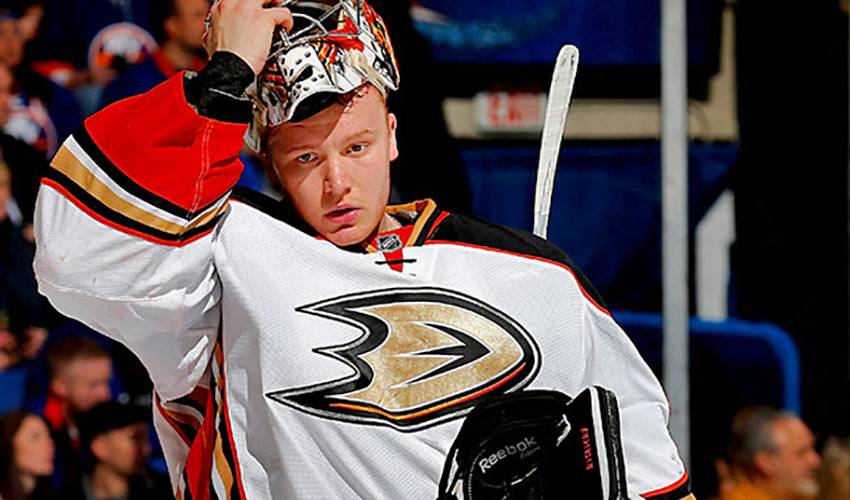 Frederik Andersen wasn't overly busy in the first period of Game 2 against Calgary on Sunday night, but the Anaheim netminder was at his best over the final two frames.
The Ducks fired 20 shots on the Flames in the opening stanza, while Andersen stopped nine. The Danish goaltender faced 21 pucks in the next two periods, turning them all aside in a 3-0 victory.
It marked the first career NHL playoff shutout for the 25-year-old.
Andersen went 35-12-5 in the 2014-15 regular season, posting three shutouts and a 2.38 goals against average.
STAT PACK: Andersen ran his record to 6-0 in this year's post-season, making 162 saves on 172 shots faced, accompanied by a 1.64 goals against average.
NEED TO KNOW: On March 13, 2010, Andersen scored an empty-net goal while playing in the Metal Ligaen (Danish premier league) for the Frederikshavn White Hawks.
HOW'S THAT FOR STARTERS?: Andersen won his Stanley Cup Playoff debut on April 16, 2014, a 4-3 victory over the Dallas Stars.
INTO THE RECORD BOOKS: In netting his 30th victory of the campaign on March 3, 2015, Andersen tied a league record as the fastest goaltender in history to register 50 career wins, reaching the record set by the Montreal Canadiens' Bill Durnan in 1944.
CANADIAN IDOL: Andersen's goaltending idol growing up was Hall of Fame netminder Patrick Roy.
HOMETOWN PROUD: Andersen hails from Herning, Denmark, the same hometown as fellow NHLPA member, Frans Nielsen. Herning has twice (1965 and 2003) been awarded the honour of Danish City of the Year.
HONOURABLE MENTIONS: Steven Stamkos (1G, 2A) offered a jolt to the 'Bolts in their 6-2 win in Game 2 over the Montreal Canadiens. Patrick Kane (2G) had the winning tally in Chicago's 4-1 win in Game 2 against Minnesota. Valtteri Filppula (1G, 2A) also had a big night for Tampa, while Duncan Keith was a plus-four for the 'Hawks.
FRIDAY/SATURDAY STANDOUTS: Ben Bishop stopped 44 of 45 shots as the Lightning beat the Canadiens 2-1 in double overtime on Friday night. Nikita Kucherov scored the game-winner for Tampa. Chicago's Teuvo Teravainen scored the game winner in a 4-3 win over the Wild in Game 1. On Saturday, Derick Brassard had the game-winning tally in a 3-2 win for the New York Rangers over Washington in Game 2 of their series. Henrik Lundqvist made 30 stops in the Blueshirts' victory.