Holtby Halts The Rangers
Braden Holtby is the Playoff Performer of the Night following his 30 save shutout in Game 3 on Monday night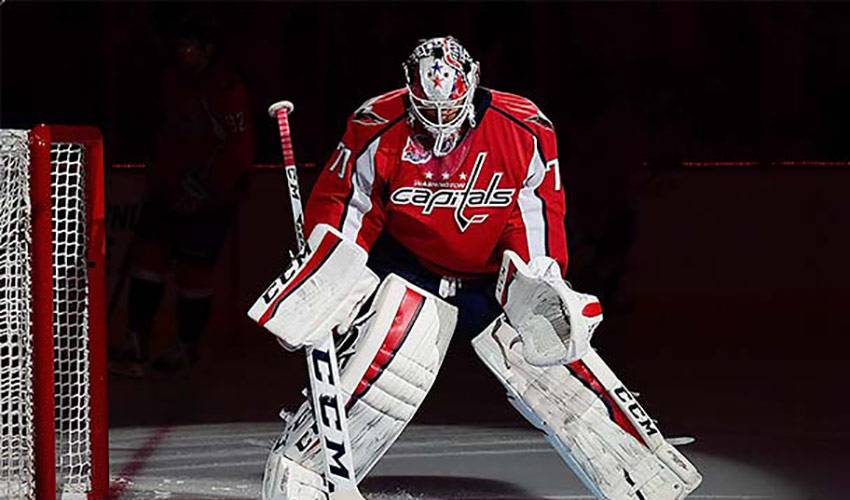 It was all about the numbers for Braden Holtby on Monday night. There's no doubt No. 70 was worthy of First Star honours after making 30 saves in Washington's Game 3, 1-0 win over the New York Rangers.
The victory was the fifth of this year's playoffs for the 25-year-old Saskatchewan native, an effort that saw his goals against average fall to a sparkling 1.54 mark.
Holtby won a personal-best 41 games (second-most overall in the NHL) in 2014-15, and stopped 1,887 shots on 2,004 shots taken, both league-highs.
STAT PACK: 11-9-10. That's the number of saves Holtby made in each period to earn his first shutout of this year's playoffs.
NEED TO KNOW: His father, Greg, was a goaltender for the Saskatoon Blades and the University of Saskatoon.
HAPPY ANNIVERSARY, BRADEN: It was the second career playoff shutout for Holtby, whose first one happened to come two years ago to the day, also a 1-0 win over the Rangers.
NO GOALS FOR YOU: On April 8, 2015, Holtby and the Caps defeated the Boston Bruins, 3–0. Having already blanked Boston in his previous two games in 2014-15, he became the first backstopper to net a season-sweep of three or more games against Boston without allowing a single goal against.
COME ON IN: Holtby made his NHL debut on November 5, 2010, against Boston, replacing Washington's starter with 10 minutes left and the game tied 3-3. He turned aside four shots as Washington went on to win.
WORDS OF WISDOM: The best advice Holtby ever received was a quote by Victor Hugo written on a plaque given to him by his grandparents. "There is nothing like a dream to create the future."
REBEL YELL: Holtby's most embarrassing hockey moment was his first WHL game in Red Deer. "Right before the national anthem, a guy yells out the goalie's name and the whole crowd yells 'sucks' after. I went out to the hash marks and tripped and fell right as the crowd was yelling it."
HONOURABLE MENTIONS: Jay Beagle (1G) scored the game-winning tally against the Rangers. Henrik Lundqvist made 21 saves in another strong performance by the New York netminder.