Bishop Builds His Playoff Resume
Ben Bishop is showcasing his elite talents in leading the Lightning into the Stanley Cup Final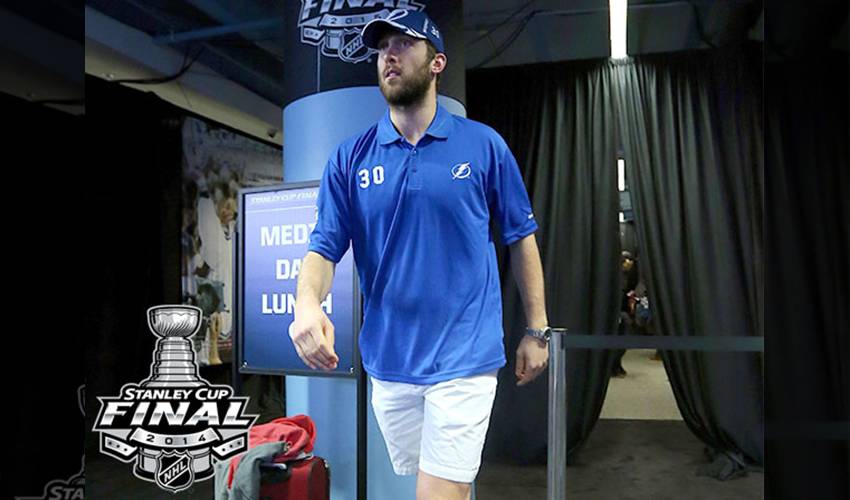 Last year, injury cost Ben Bishop a shot at his first Stanley Cup playoff experience. This year, the towering Tampa Bay netminder finally got the chance to show the hockey world what he's all about.
Late in the 2013-14 NHL regular season, a dislocated elbow sent the 6'7" Bishop to the sidelines, relegating him to spectator status for the Lightning's first-round playoff series with the Montreal Canadiens.
Tampa was ousted by the Habs in their Eastern Conference quarterfinal, which meant Bishop, who also dealt with a torn ligament in his right wrist, would have to wait for his post-season debut.
Fast forward to the present and the 28-year-old, a finalist for the 2014 Vezina Trophy (the league's top goaltender), has made the most of his initial playoff performance and then some.
He's 12-8, accompanied by a 2.15 goals against average and three shutouts, stopping 483 of the 525 shots he's faced.
Prior to the Lightning's Eastern championship series against the New York Rangers, Tampa head coach Jon Cooper was asked about Bishop, specifically, if his goaltender was getting enough credit for his efforts.
"Bishop's resume is being written in this year's playoffs," offered Cooper. "So for him to "not get his due", I think he's slowly going to get his due, and he's writing it right before our eyes; and it's awesome to watch a kid kind of carve out his niche in the greatest league in the world, and I think that's what he's doing."
The Denver-born goalie isn't concerned in the least over how he's perceived.
"No, that doesn't bother me at all," said Bishop. "At this time of the year, every goalie you play is going to be a great goalie. So, I don't try to think about that or watch and look at the headlines. So this time of year, every goalie you play is going to be really good."
His teammates happen to think he's better than really good. His numbers certainly show that he is.
And now, Bishop, one year after a disappointing ending to his campaign, could skate away with hockey's ultimate team honour.
"Anytime you can play for the Stanley Cup it's pretty fulfilling," he noted. "We said after the game (the 2-0 Game 7 win against the Rangers at Madison Square Garden) we still haven't accomplished anything yet. You're four wins away. That's going to be probably the hardest four wins of all of our careers."
It's a challenge he's ready for.
"You're always dreaming about playing for the Stanley Cup when you're on the street, playing in the driveway and all that stuff," recalled Bishop. "Do you think it's going to be a reality? It seems pretty far away when you're that young coming out of St. Louis. But with a lot of help and hard work, we're here."