Vermette Finds The Net
Antoine Vermette has grown into his role with the Blackhawks & was the difference maker in Game 1 of the Stanley Cup Final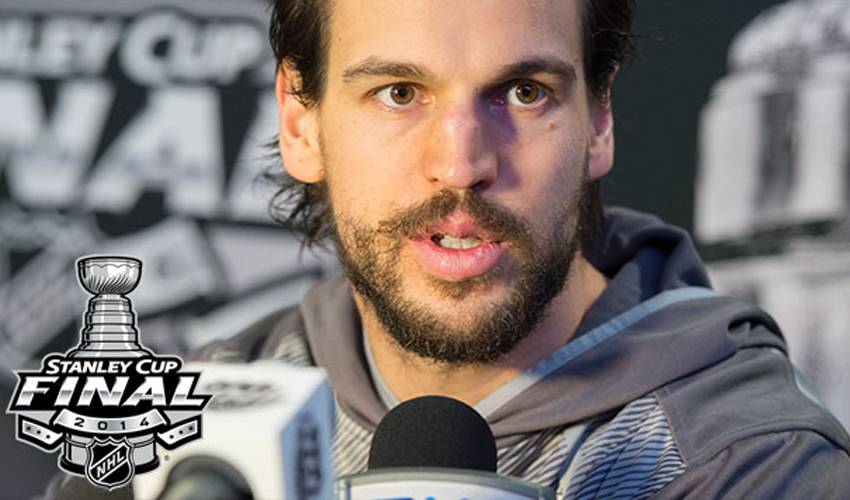 Over the years, Antoine Vermette had seen just what the Chicago Blackhawks were capable of when their backs were against the wall. In Game 1 of the Stanley Cup Final, he was their difference maker.
His career began in Ottawa, where he would play nearly five NHL seasons with the Senators. But, it was during his time with Columbus and Arizona where the centreman became increasingly familiar with a Western Conference rival.
In the aftermath of the Blackhawks 2-1, come-from-behind triumph in the curtain raiser of the Cup final, Vermette, the one responsible for netting the game-winning goal, recalled the times he faced the team he now skates for.
"I played against them quite a bit knowing that there's a lot of pride in this room, a lot of character," said the 32-year-old, who was dealt to Blackhawks from the Coyotes in February this year. "They're going to keep battling no matter what."
On Wednesday evening in Tampa, that's precisely what Chicago did.
Held off the scoreboard for 53 minutes and down 1-0, Teuvo Teravainen and Vermette scored 1:58 apart in the third period, and the Blackhawks silenced the 'Bolts by a 2-1 count.
"He's definitely improved as the playoffs have gone on here," said Chicago head coach Joel Quenneville, of Vermette, whose last two playoff goals have been game winners. "Those two goals were huge goals for us, very timely, as well. I think his play has picked up. He's been better in the faceoff circle.
"That line has been improving as we've gone along here," he continued. "They've scored some big goals, have some offensive zone time. I like his progression here. It seems like the bigger the games, the more he's up to the challenge."
While it was Vermette's late period shot that ultimately decided the contest, the Quebec native didn't view it as an individual success story.
"I think that was a great illustration on that goal with the way we try to play, try to establish our speed and moving our feet, especially in their end," he noted. "I think on that play, it was great work. Teuvo kept it working hard, create a turnover, and we got the puck in the slot."
Vermette didn't really need to finish his thought. Others, however, were happy to do so.
"Nice shot by Vermy," praised Quenneville. "Turned out to be a great third period."
A familiar feeling for a player that knew long ago just what the 'Hawks were all about.