TLA Profile: Jamie Benn
The Dallas Stars captain made a definite impact on his peers with his superb play in 2014-15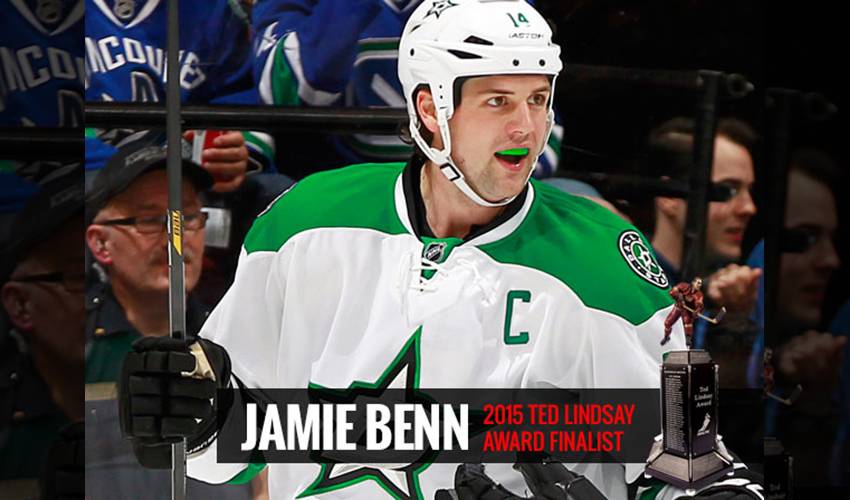 Jamie Benn, of Victoria, British Columbia, Canada, played in all 82 regular season games for the Dallas Stars in 2014-15. Benn captured the Art Ross Trophy for leading the league in points (87), which he won with a four-point game – including his second hat-trick of the season – on the final night of the regular season. He set career highs in points, goals (35) and assists (52). Benn tied for first in the NHL in even strength points (59), tied for third in even strength assists (36), and he finished third in points-per-game (1.06), sixth in the league in assists, ninth in goals and 11th in average ice-time per game among all forwards (19:56). Benn is seeking his first Ted Lindsay Award as a first-time nominee, and he would become the first Stars player in franchise history to be honoured by his fellow NHLPA members.
****
What type of player is it that makes the grade to be a Ted Lindsay Award finalist? For a trio of Dallas Stars, they'll tell you it's someone just like Jamie Benn.
There is a common theme in the responses by teammates of the 25-year-old captain, who finds himself on the shortlist for hockey's most coveted individual honour.
So, what is it precisely that has earned Benn recognition and votes from his fellow players?
"He's such an impact player because there is no one else in the league that does what he does," said veteran forward Shawn Horcoff. "He's the toughest guy on our team and can change the tide of a game with his physicality. No one's even close in our league that puts together finesse and toughness like Benny."
Equal parts skill and sandpaper, Benn has risen up the ranks to stamp himself as one of the NHL's most respected and impactful leaders.
Not bad for a player selected 129th overall in the 2007 Entry Draft.
"The thing I respect most about Jamie is that he has earned everything he has got," said centreman Vernon Fiddler. "He wasn't a top pick or first rounder that was expected to come in the league and be a top guy. He has adapted his game around his strengths and work ethic to become one of the best power forwards in the world."
If Benn was a best-kept secret, Horcoff insists those days are officially over.
"I'm not surprised (that he's a Ted Lindsay finalist) because the word's out now," he said. "I think being selected to the (Canadian) Olympic team last year opened people's eyes and then leading the league in points put him over the edge. If Benny played in Canada, he'd be on the same level as Sidney Crosby or Jonathan Toews. It's just taken a little while for people to realize that playing down here in Texas."
Perhaps the last word should go to someone who is the most familiar with Benn, namely, his brother and Dallas teammate, Jordie, part of the Stars' defensive corps.
"I just relay respect his competitive nature," offered Jordie. "He hates losing like most of us do, but puts a lot on himself as a leader and the captain."
The type of player, his teammates say, that undoubtedly deserves to be in the mix for the "Most Outstanding Player," as voted by his peers.