Free Agent Signing Period Opens
July 1st marks the start of the 2015-16 signing period for NHL free agents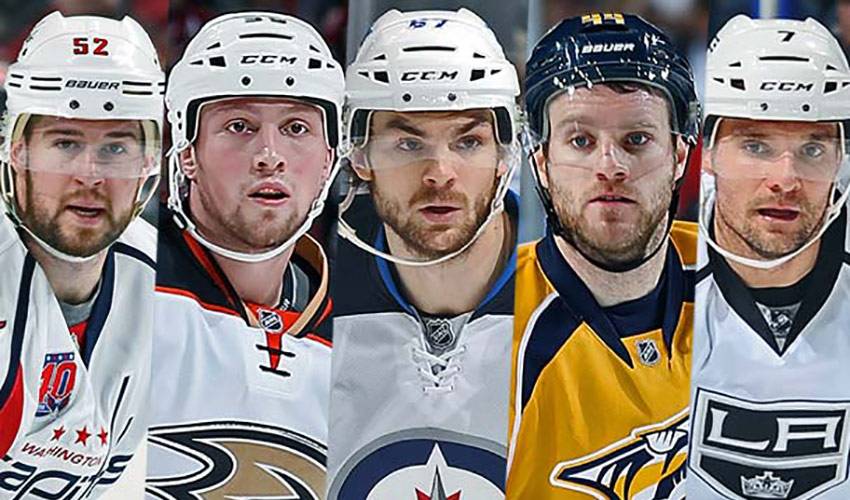 Happy NHL hockey New Year!
While Canadians celebrate their national holiday, NHLPA members and NHL clubs are busy locking in contracts for the start of the 2015-16 season and beyond, as today marks the opening of the free agency signing period.
Players around the league who have reached free agency (restricted or unrestricted) know that July 1st might be one of the most important dates in their careers. With the salary cap set at $71.4 M for the upcoming season, players and clubs know the structure of the marketplace within which they will look to sign.
There will be many signings today and in the early days of July, but by no means is this the end of the process. Over the course of the summer months, players will continue to sign and find their hockey homes for next season and beyond.
Below is the full free agent player list for all 30 NHL clubs, released by the NHL on July 1:
FREE AGENTS SUBJECT TO COMPENSATION AND RIGHT TO MATCH - GROUP 2
ANAHEIM
Carl Hagelin, Michael Sgarbossa, Jakob Silfverberg, Chris Wagner.
ARIZONA
Mikkel Boedker, Klas Dahlbeck, Louis Domingue, Brandon Gormley, Jordan Martinook, Philip Samuelsson, Brendan Shinnimin.
BOSTON
Brett Connolly, Ryan Spooner.
BUFFALO
Jerry D'Amigo, Jerome Gauthier-Leduc, Johan Larsson, Nathan Lieuwen, Mark Pysyk, Tim Schaller, Philip Varone.
CALGARY
Lance Bouma, Paul Byron, Micheal Ferland, Josh Jooris, Max Reinhart, Drew Shore, David Wolf.
CAROLINA
Zach Boychuk, Rasmus Rissanen, Justin Shugg, Brody Sutter.
CHICAGO
Marcus Kruger, Joakim Nordstrom, Dennis Rasmussen, Viktor Svedberg.
COLORADO
Andrew Agozzino, Sami Aittokallio, Mat Clark, Stefan Elliott, Mikhail Grigorenko, Freddie Hamilton, Calvin Pickard.
COLUMBUS
Matt Calvert, Michael Chaput, Brandon Saad.
DALLAS
Curtis McKenzie, Jamie Oleksiak.
DETROIT
Louis-Marc Aubry, Mitch Callahan, Landon Ferraro, Nick Jensen, Tomas Jurco, Gustav Nyquist, Teemu Pulkkinen.
EDMONTON
Brandon Davidson, Tyler Pitlick, Justin Schultz.
FLORIDA
Jimmy Hayes, Quinton Howden, Jonathan Huberdeau, Corban Knight, John McFarland, Greg McKegg, Alex Petrovic, Garrett Wilson.
LOS ANGELES
Andy Andreoff, Andrew Crescenzi, Nic Dowd, Vincent Loverde, Jordan Weal.
MINNESOTA
Jonathon Blum, Brett Bulmer, Mikael Granlund, Johan Gustafsson, Erik Haula, Jared Knight.
MONTREAL
Michael Bournival, Brian Flynn, Alex Galchenyuk, Magnus Nygren, Christian Thomas, Jarred Tinordi.
NASHVILLE
Taylor Aronson, Taylor Beck, Anthony Bitetto, Gabriel Bourque, Magnus Hellberg, Calle Jarnkrok, Craig Smith, Colin Wilson.
NEW JERSEY
Eric Gelinas, Seth Helgeson, Adam Larsson.
NEW YORK ISLANDERS
Kevin Czuczman, Mike Halmo, Brock Nelson, Kevin Poulin, Johan Sundstrom.
NEW YORK RANGERS
Mat Bodie, Emerson Etem, Jesper Fast, Marek Hrivik, Carl Klingberg, Oscar Lindberg, Dylan McIlrath, J.T. Miller, Derek Stepan.
OTTAWA
Alex Chiasson, Mike Hoffman, Shane Prince, Cole Schneider.
PHILADELPHIA
Michael Del Zotto.
PITTSBURGH
Beau Bennett, Brian Dumoulin, Bobby Farnham, Reid McNeill, Dominik Uher.
ST. LOUIS
Jake Allen, Cody Beach, Robert Bortuzzo, Jani Hakanpaa, Magnus Paajarvi, Vladimir Tarasenko.
SAN JOSE
Aaron Dell, Martin Jones, Daniil Tarasov.
TAMPA BAY
Carter Ashton, Vladislav Namestnikov, Philippe Paradis, Luke Witkowski.
TORONTO
Nazem Kadri, Martin Marincin, Richard Panik.
VANCOUVER
Sven Baertschi, Adam Clendening, Frank Corrado, Alexandre Grenier.
WASHINGTON
Chris Brown, Stanislav Galiev, Braden Holtby, Marcus Johansson, Evgeny Kuznetsov.
WINNIPEG
John Albert, Julian Melchiori, Paul Postma.
* * *
The following player is subject to a Club-elected salary arbitration pursuant to Section 12.3(a) of the Collective Bargaining Agreement. He is eligible to negotiate and sign an Offer Sheet with any other Club pursuant to Section 10.3 of the CBA by no later than 5:00 p.m., ET, on July 5, 2015.
Jonathan Bernier, Toronto
----
UNRESTRICTED FREE AGENTS - GROUP 3
ANAHEIM
Francois Beauchemin, Matt Beleskey, Mathieu Carle, Tomas Fleischmann, Korbinian Holzer, Jason LaBarbera, Sheldon Souray.
ARIZONA
Jonas Ahnelov, Alexandre Bolduc, Andrew Campbell, B.J. Crombeen, Martin Erat, Justin Hodgman, David Leggio, Mike McKenna, Patrick McNeill, David Moss, Dylan Reese, Viktor Tikhonov.
BOSTON
Matt Bartkowski, Gregory Campbell, Daniel Paille, Bobby Robins.
BUFFALO
Drew Bagnall, Andre Benoit, Matt Ellis, Philip Gogulla, Patrick Kaleta, Anders Lindback, Andrej Meszaros, Dennis Persson, Tyson Strachan.
CALGARY
Raphael Diaz, Brian McGrattan, Corey Potter, Karri Ramo, David Schlemko, Devin Setoguchi, Brad Thiessen.
CAROLINA
Brett Bellemore, Patrick Dwyer, Jack Hillen, Ben Holmstrom, Oskar Osala.
CHICAGO
Spencer Abbott, Cody Bass, Daniel Carcillo, Kyle Cumiskey, Andrew Desjardins, Pierre-Cedric Labrie, Johnny Oduya, Peter Regin, Brad Richards, Michal Rozsival, Kimmo Timonen, Antoine Vermette, Ivan Vishnevskiy.
COLORADO
Daniel Briere, Bruno Gervais, Jan Hejda, Jonas Holos, Ryan Wilson.
COLUMBUS
Ryan Craig, Brian Gibbons, Mark Letestu, Jack Skille, Frederic St. Denis.
DALLAS
Patrick Eaves, Jhonas Enroth, Shawn Horcoff, Perttu Lindgren, Rich Peverley.
DETROIT
Daniel Cleary, Erik Cole, Jonas Gustafsson, Andy Miele, Kevin Porter, Marek Zidlicky.
EDMONTON
Richard Bachman, Viktor Fasth, Niko Hovinen, Jesse Joensuu, Steven Pinizzotto, Derek Roy.
FLORIDA
Bobby Butler, Dan Ellis, Dany Heatley, Tomas Kopecky, Shane O'Brien, Scottie Upshall, Greg Zanon.
LOS ANGELES
Justin Azevedo, Bud Holloway, Jamie McBain, Robyn Regehr, Andrej Sekera, Jarret Stoll, David Van Der Gulik, Justin Williams.
MINNESOTA
Keith Ballard, Sean Bergenheim, Stu Bickel, Kyle Brodziak, Ryan Carter, John Curry, Devan Dubnyk, Josh Harding, Jordan Leopold, Nate Prosser, Joel Rechlicz, Chris Stewart, Stephane Veilleux.
MONTREAL
Bryan Allen, Davis Drewiske, Andreas Engqvist, Sergei Gonchar, Joey MacDonald, Manny Malhotra, Mike Weaver.
NASHVILLE
Matt Cullen, Atte Engren, Cody Franson, Kevin Henderson, Teemu Laakso, Joe Piskula, Juuso Puustinen, Mike Ribeiro, Mike Santorelli, Mark Van Guilder, Anton Volchenkov.
NEW JERSEY
Steve Bernier, Scott Clemmensen, Mark Fraser, Scott Gomez, Peter Harrold, Martin Havlat, Cam Janssen, Michael Ryder, Bryce Salvador, Tim Sestito, Joe Whitney, Darcy Zajac, Vladimir Zharkov.
NEW YORK ISLANDERS
Eric Boulton, Matt Carkner, Dustin Jeffrey, Tyler Kennedy, Mark Louis, Tomas Marcinko, Colin McDonald, Kael Mouillierat, Michal Neuvirth, Rhett Rakhshani, Lubomir Visnovsky, Harry Zolnierczyk.
NEW YORK RANGERS
Chris Bourque, Joey Crabb, Matt Hunwick, Michael Kostka, Chris Mueller, James Sheppard, Martin St. Louis, Pavel Valentenko.
OTTAWA
Erik Condra, Aaron Johnson, Brad Mills, Patrick Mullen.
PHILADELPHIA
Carlo Colaiacovo, Ray Emery, Andrew Gordon, Blair Jones, Jay Rosehill, Zack Stortini, Rob Zepp.
PITTSBURGH
Craig Adams, Taylor Chorney, Blake Comeau, Steve Downie, Nick Drazenovic, Andrew Ebbett, Christian Ehrhoff, Thomas Greiss, Maxim Lapierre, Pierre-Luc Letourneau-Leblond, Paul Martin, Daniel Winnik.
ST. LOUIS
Chris Butler, Patrick Cannone, Adam Cracknell, Benn Ferriero, Colin Fraser, Marcel Goc, Barret Jackman, Olli Jokinen, Jonas Junland, John McCarthy, Zbynek Michalek, Chris Porter.
SAN JOSE
Taylor Fedun, Micheal Haley, Scott Hannan, Matt Irwin, John Scott.
TAMPA BAY
Mike Angelidis, Matthew Corrente, Jean-Philippe Cote, Brenden Morrow.
TORONTO
Troy Bodie, David Booth, Eric Brewer, Joakim Lindstrom, Frazer McLaren, Colton Orr, Zach Sill, Trevor Smith.
VANCOUVER
Will Acton, Shawn Matthias, Cal O'Reilly, Brad Richardson, Bobby Sanguinetti, Tom Sestito.
WASHINGTON
Chris Conner, John Erskine, Eric Fehr, Tim Gleason, Curtis Glencross, Mike Green, Tim Kennedy, Jon Landry, Mike Moore, Kris Newbury, Steve Oleksy, Aaron Volpatti, Joel Ward, Casey Wellman.
WINNIPEG
Julien Brouillette, Peter Budaj, Michael Frolik, T.J. Galiardi, Matt Halischuk, Will O'Neill, Adam Pardy, Jim Slater, Lee Stempniak, Jiri Tlusty.
UNRESTRICTED FREE AGENTS - GROUP 6
ANAHEIM
Colby Robak.
ARIZONA
None.
BOSTON
Chris Breen, Paul Carey, Justin Florek, Jeremy Smith, Niklas Svedberg, David Warsofsky.
BUFFALO
Matt Hackett.
CALGARY
Mark Cundari.
CAROLINA
Greg Nemisz.
CHICAGO
Drew LeBlanc.
COLORADO
None.
COLUMBUS
Sean Collins, Will Weber.
DALLAS
Cameron Gaunce.
DETROIT
Tom McCollum.
EDMONTON
Kellan Lain.
FLORIDA
Blake Parlett.
LOS ANGELES
Andrew Bodnarchuk.
MINNESOTA
Cody Almond.
MONTREAL
None.
NASHVILLE
None.
NEW JERSEY
Scott Timmins.
NEW YORK ISLANDERS
Matt Donovan, Brett Gallant, Aaron Ness.
NEW YORK RANGERS
Danny Kristo, Jason Missiaen.
OTTAWA
Carter Camper, Alex Grant, Derek Grant.
PHILADELPHIA
Jason Akeson, Oliver Lauridsen.
PITTSBURGH
Jayson Megna.
ST. LOUIS
Philip McRae, Brent Regner.
SAN JOSE
Travis Oleksuk.
TAMPA BAY
Allen York.
TORONTO
Brandon Kozun, Kevin Marshall.
VANCOUVER
Darren Archibald, Brandon Defazio.
WASHINGTON
Tomas Kundratek, Cameron Schilling.
WINNIPEG
Patrice Cormier, Eric O'Dell.
UNRESTRICTED FREE AGENTS
The following players were not tendered a qualifying offer and are therefore Unrestricted Free Agents not subject to a right to match or draft choice compensation.
ANAHEIM
Igor Bobkov, Ryan Faragher, John Kurtz, Antoine Laganiere, Louis Leblanc.
ARIZONA
Mark Arcobello, Greg Carey, Darian Dziurzynski, Philip Lane, Michael Lee, Tye McGinn, John Moore, Mark Visentin.
BOSTON
Rob Flick, Matt Lindblad, Adam Morrison.
BUFFALO
Zac Dalpe, Jordan Samuels-Thomas, Kevin Sundher.
CALGARY
Sena Acolatse, Ben Hanowski, John Ramage.
CAROLINA
Austin Levi, Riley Nash, Beau Schmitz, Jared Staal.
CHICAGO
Matt Carey, Mac Carruth.
COLORADO
Jordan Caron, Mitchell Heard, Markus Lauridsen, Tomas Vincour.
COLUMBUS
Luke Adam, Thomas Larkin, Dana Tyrell.
DALLAS
Scott Glennie, Ludwig Karlsson.
DETROIT
None.
EDMONTON
Keith Aulie, Tyler Bunz, Matt Fraser, Curtis Hamilton, Brad Ross, Frans Tuohimaa.
FLORIDA
Jesse Blacker, Michael Houser, Ryan Martindale, Joshua McFadden, Shayne Taker, Andrew Yogan.
LOS ANGELES
None.
MINNESOTA
Curt Gogol, Colton Jobke.
MONTREAL
Drayson Bowman, Eric Tangradi.
NASHVILLE
Zach Budish, Josh Shalla.
NEW JERSEY
Maxime Clermont, Corbin McPherson.
NEW YORK ISLANDERS
Jason Clark, Thomas Hickey, Alexandre Mallet, John Persson, Kent Simpson.
NEW YORK RANGERS
Conor Allen.
OTTAWA
Darren Kramer, Garrett Thompson.
PHILADELPHIA
Andrew Johnston, Matthew Konan.
PITTSBURGH
Nicholas D'Agostino, Eric Hartzell, Adam Payerl.
ST. LOUIS
David Shields, Sebastian Wannstrom.
SAN JOSE
Jon-Paul Anderson, Taylor Doherty, Eriah Hayes, Rylan Schwartz.
TAMPA BAY
Mark Barberio, Danick Gauthier, Cody Kunyk, Dan Milan, Dalton Smith.
TORONTO
Eric Knodel, Andrew MacWilliam.
VANCOUVER
Peter Andersson, Cory Conacher, Joacim Eriksson, Brandon McMillan, Ryan Stanton, Yannick Weber, Michael Zalewski.
WASHINGTON
Brandon Anderson, Edward Pasquale, Patrick Wey.
WINNIPEG
Keaton Ellerby, Patrick Holland, Juho Olkinuora.