Martin St. Louis Announces Retirement from the NHL
The 16-year veteran played in 1134 regular season games with Calgary, Tampa Bay & New York, capturing the Stanley Cup and the Lester B. Pearson Award in 2003-04.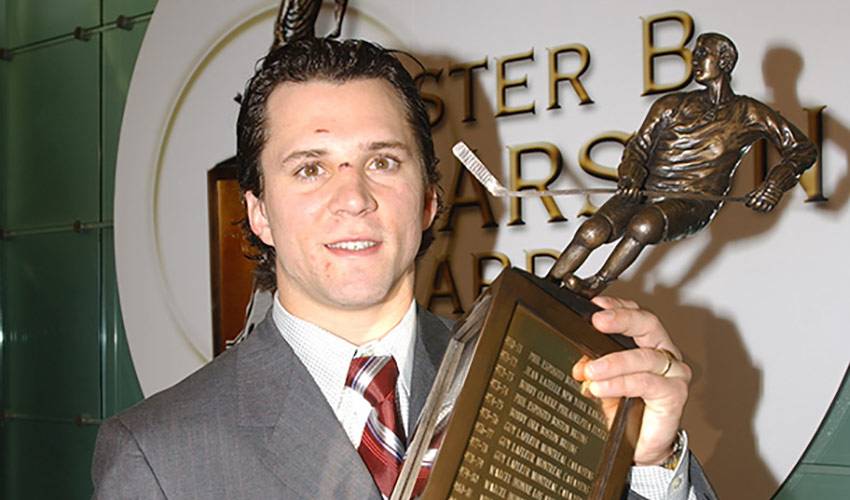 Martin St. Louis, who totaled 391 goals and 642 assists for 1,033 points in 1134 regular season games spread over 16 National Hockey League seasons, announced his retirement from professional hockey today. St. Louis, who played right wing for the Calgary Flames (1998-2000), the Tampa Bay Lightning (2000-14), and the New York Rangers (2014-15), leaves the game having been named to seven NHL All-Star Games, while earning All NHL Second Team honors four times and All NHL First Team honors once.
"I have been blessed to play for 16 years in the NHL; it has been an amazing ride," said St. Louis in making the announcement. "I would like to thank the Tampa Bay Lightning and New York Rangers organizations and owners for providing me the opportunity to play the sport I love for so many years. I could have never played for so long or accomplished all that I have without the unwavering love and support from my wife, Heather, our three sons, Ryan, Lucas, and Mason, and my parents.
"I have had the good fortune of working with some incredible players and trainers throughout my career who I am grateful to also call good friends. I am also thankful to all of the fans who have supported me through the years; it has meant so much to me. I have dedicated my life to being the best player I could be and now want to turn more of my focus to my three boys. I look forward to this next chapter of my life and the time I will have with my family."
St. Louis, who started his NHL career as an undrafted free agent with the Calgary Flames in 1998, had his best year in 2003-04, leading the Tampa Bay Lightning to the Stanley Cup, while leading the NHL with 94 points in 82 games to win the Art Ross Trophy. He also won the Hart Memorial Trophy as the NHL's Most Valuable Player, and the Lester B. Pearson Award as the National Hockey League Players Association's Most Outstanding Player that same season.
He totaled eleven 20-goal seasons and seven 30-goal seasons en route to his 391 career goals and he totaled 80 or more points in six of his 16 seasons played, posting a career high 102 points in 2006-07. St. Louis played 80 or more games nine times in his career, playing in all 82 regular season games possible in seven of eight seasons from 2002-03 through 2010-11.
St. Louis won two Art Ross Trophies as the league's leading scorer (2003-04 and 2012-13) and he won three Lady Byng Memorial Trophies (2009-10, 2010-11, 2012-13) for his "sportsmanship and gentlemanly play combined with a high standard of playing ability." He also led the league in assists in 2003-04 (56) and 2012-13 (43 in 48 games played).
A native of Laval, Quebec, St. Louis played college hockey for the University of Vermont, leading the Catamounts to the NCAA Frozen Four in 1996 while earning All America status in three of those years (1994-95 through 1996-97).
Internationally, St. Louis has played with Team Canada on several occasions. He was a member of the team that won the 2004 World Cup of Hockey and is a two-time silver medalist at the World Championships; he was named a tournament all-star after leading the 2009 event in scoring with 15 points. A two-time Olympian (2006, '14), St. Louis was a member of Canada's gold medal-winning team at the 2014 Winter Games.
He and his wife Heather, reside in Connecticut with their three sons Ryan (12), Lucas (10) and Mason (7), all of whom are aspiring hockey players themselves.