Bruins To Host 2016 Bridgestone NHL Winter Classic
Players from the Bruins and Canadiens will be centre stage on New Year's Day as they take this historic rivalry outdoors at Gillette Stadium in Foxborough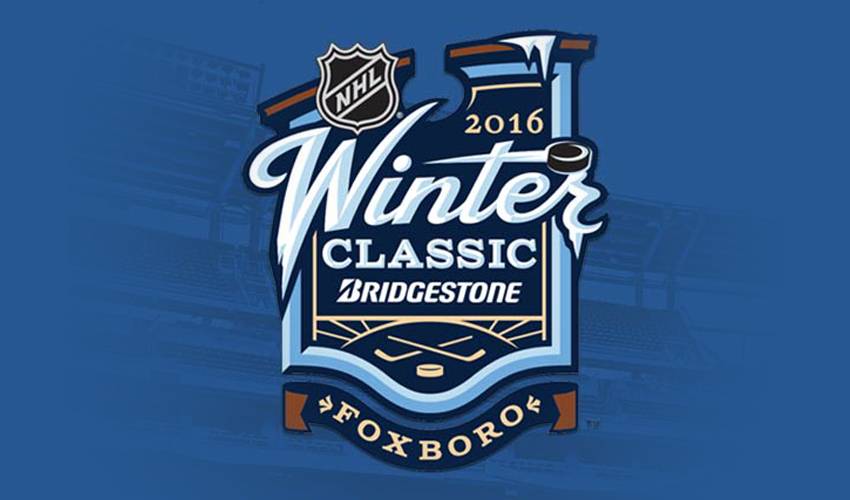 ONE OF THE NHL'S MOST-HISTORIC RIVALRIES TAKES CENTERSTAGE AT THE 2016 BRIDGESTONE NHL WINTER CLASSIC® AT GILLETTE STADIUM
Information on Exclusive Ticket Pre-Sale to Be Released in the Coming Days
A Special Alumni Game Featuring Legends from the Bruins and Canadiens to be Played at Gillette Stadium Dec. 31
NEW YORK (July 29, 2015) – Representatives from the National Hockey League, Boston Bruins, Montreal Canadiens, New England Patriots, National Hockey League Players' Association and Bridgestone gathered today at Gillette Stadium to detail plans for the 2016 Bridgestone NHL Winter Classic®. In January, the NHL announced that the 2016 Bridgestone NHL Winter Classic® will feature the Bruins and Canadiens at Gillette Stadium in Foxborough, Mass., on New Year's Day, 2016. The event will be televised live on NBC, Sportsnet and TVA Sports at 1 p.m. ET.
When these long-time rivals meet, Boston will become the first Club to host the Bridgestone NHL Winter Classic® for a second time, after defeating the Philadelphia Flyers 2-1 in overtime of the 2010 Bridgestone NHL Winter Classic® at Fenway Park. It will mark the first time the Canadiens will play in the Bridgestone NHL Winter Classic®, and just the second time a Canadian-based NHL team will play in the game, following the Toronto Maple Leafs' appearance in 2014.
"After more than nine decades and more than 900 regular-season or playoff games between these great rivals, the Boston Bruins and Montreal Canadiens will add to the legend of their competition in a unique way," National Hockey League Commissioner Gary Bettman said. "We couldn't be happier that our third Bridgestone NHL Winter Classic® between 'Original Six' teams will take place at Gillette Stadium, home of the Super Bowl champion New England Patriots."
Information on an exclusive ticket pre-sale for Bruins season-ticket holders, Canadiens season-ticket holders and Patriots season-ticket holders will be sent to those groups by each club in the coming days. This opportunity is for a limited number of tickets to the 2016 Bridgestone NHL Winter Classic® and will be available on a first-come, first-served basis, while supplies last. Information regarding ticket availability for the general public will be released at a later date.
Additionally it was announced today that legendary players from both the Bruins and Canadiens will participate in a special alumni game at Gillette Stadium on Thursday, Dec. 31, a day prior to the 2016 Bridgestone NHL Winter Classic®. Fan-favorites will return to the ice to represent these historic organizations one more time and revive the history this great NHL rivalry.
The special pre-sale package offering is a ticket to the 2016 Bridgestone NHL Winter Classic® and a ticket to the Dec. 31 alumni game.
"The Boston Bruins are honored to once again host the Winter Classic," Delaware North Chairman and Boston Bruins Owner Jeremy Jacobs said. "Gillette Stadium is a magnificent setting for this storied rivalry between the Bruins and Canadiens, and the NHL could not have delivered a better matchup for our fans. We look forward to a great game."
"The Boston Bruins are one of our oldest rivals and the history between our two clubs is unparalleled," said Canadiens Owner, President, and CEO, Geoff Molson. "They were our logical opponent for our Centennial game in December 2009, and to make history together once more by returning to hockey's roots in an outdoor setting is something everyone throughout our organization is greatly anticipating. That the setting for the game will be Gillette Stadium, home to an iconic franchise like the New England Patriots, only adds to what we're certain will be an incredible and memorable atmosphere for players and fans alike."
The Bruins and Canadiens have faced off 729 times during the regular season, tied for the most head-to-head meetings by any two teams in NHL history (Chicago-Detroit). Their 177 head-to-head playoff games and 34 postseason series also are the most in League history, while their nine head-to-head Game 7s lead all teams in North American major professional sports (includes MLB, NBA and NHL).
The 2016 Bridgestone NHL Winter Classic® will showcase a number of the top players in the NHL.
Four Bruins players remain from the team that faced off against the Flyers at Fenway Park in 2010: captain Zdeno Chara forward David Krejci, goaltender Tuukka Rask and forward Patrice Bergeron, who at the 2015 NHL Awards won the Frank J. Selke Trophy as the League's top defensive forward for the third time in four years. Canadiens goaltender Carey Price was an historic four-time winner at the 2015 NHL Awards, capturing the Hart Memorial Trophy, Ted Lindsay Award, Vezina Trophy and a share of the William M. Jennings Trophy. Price, who became the first goaltender ever to sweep these four awards in the same season, will be joined by teammates P.K. Subban, and Max Pacioretty as well as Lynnfield, Mass.,-native Brian Flynn.
"Showcasing this great rivalry between two Original Six clubs with the Bridgestone Winter Classic® on New Year's Day, will make for a very memorable game for the players as well as the many sports fans in attendance at Gillette Stadium and those watching on TV," said Steve Webb, NHLPA Divisional Player Representative.
Gillette Stadium, home of the Super Bowl champion New England Patriots, is New England's premier sports, entertainment and event venue. Since it opened in 2002, the 68,756-seat stadium has regularly hosted marquee sporting events, including three of the last four AFC Championship games, as well as the largest concert tours in the U.S.
"It is a true honor and privilege to host the 2016 Bridgestone NHL Winter Classic®," New England Patriots owner Robert Kraft said. "Since Gillette Stadium opened in 2002, we have been fortunate to host many special and memorable events. We are thrilled that the NHL and the Bruins wanted to bring a Bruins-Canadiens NHL Winter Classic to our stadium."
The Bridgestone brand, the Official Tire of the NHL and NHLPA, returns as title sponsor for the seventh consecutive event. In less than a decade, the Bridgestone NHL Winter Classic® has become a major event on the North American sporting calendar, with a tradition of excellence, passion, excitement and fun for those in attendance and watching from home. Five of the six most-watched NHL regular-season games in the U.S. since 1975 are Bridgestone NHL Winter Classic® games. The 2014 Bridgestone NHL Winter Classic® remains the largest audience ever for an NHL regular-season game in Canadian broadcast history.
"The 2016 Bridgestone NHL Winter Classic® at Gillette Stadium marks the seventh year the Bridgestone brand will serve as title sponsor of this great event, and with each passing year it continues to excite and impress all of us at Bridgestone," said Phil Pacsi, Vice President of Sports/Events Marketing and Training at Bridgestone Americas. "This game is something every hockey fan looks forward to, and Bridgestone is proud to be involved with this year's Original Six match up."
The NHL today also released the official event logo and special team logos for the 2016 Bridgestone Winter Classic®.
NHL Network™ and NHL.com will provide extensive coverage live from the event leading up to and after the game. NHL Social™ will have exclusive coverage on all social platforms, including the use of the hashtag #WinterClassic.
Additionally, the 2016 Bridgestone NHL Winter Classic® will be available live via NBC Sports Live Extra and Rogers NHL GameCentre LIVE.
### (7/29/15)