Mathieu Schneider Named to USA Hockey Hall of Fame
The 21-year NHL veteran and current NHLPA executive joins Ron DeGregorio, Chris Drury and Angela Ruggiero as the 2015 induction class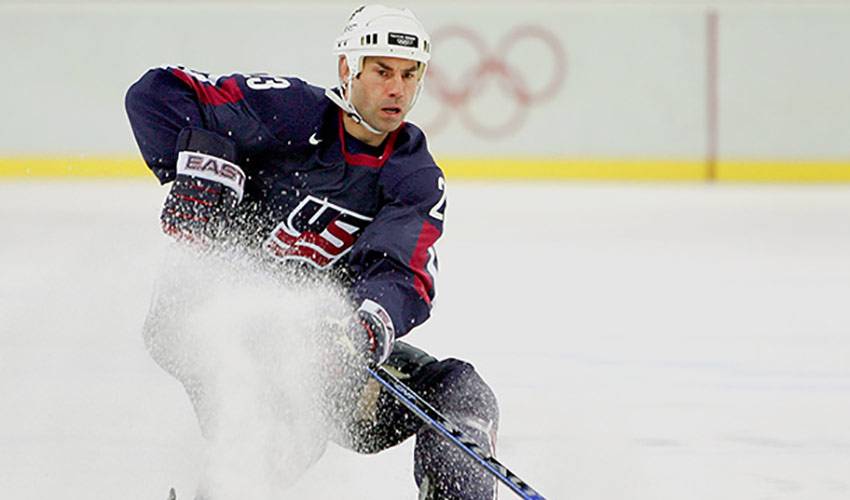 Ron DeGregorio (Salem, N.H.), Chris Drury (Trumbull, Conn.), Angela Ruggiero (Simi Valley, Calif.) and Mathieu Schneider (New York, N.Y.) have been selected to the United States Hockey Hall of Fame as the Class of 2015, it was announced today by USA Hockey.
The formal induction of the Class of 2015 is set for Thursday, Dec. 17, in Boston at the Renaissance Boston Waterfront Hotel.
"This class is extraordinary and has had an extremely positive and wide-ranging impact on our sport," said Jim Smith, president of USA Hockey. "The members of this Class represent the very best of our sport and we look forward to welcoming them as the 43rd class of the U.S. Hockey Hall of Fame officially in December."
ABOUT MATHIEU SCHNEIDER
Mathieu Schneider won a Stanley Cup with the Montreal Canadiens in 1993, helped the U.S. earn the inaugural World Cup of Hockey title in 1996, and is among the top five American defensemen all-time in the NHL in nearly every statistical category.
Schneider was drafted 44th overall by the Canadiens in the 1987 NHL Entry Draft, and began his 21-year professional career with Montreal in 1987-88.
Over the course of his NHL career, he played with Montreal for parts of eight seasons and had stints with nine additional franchises including the New York Islanders, Toronto Maple Leafs, New York Rangers, Los Angeles Kings, Detroit Red Wings, Anaheim Ducks, Atlanta Thrashers, Vancouver Canucks and Phoenix Coyotes.
A year after helping the Canadiens win the Stanley Cup in 1993, Schneider led all Montreal defensemen with 52 points, including 20 goals. He was traded during the following season to the Islanders where he spent nearly two seasons before being moved to Toronto in the midst of the 1995-96 campaign.
Following time with the Rangers and Kings, Schneider joined the Red Wings during the 2002-03 season. In the course of his four campaigns with the Red Wings, he surpassed 1,000 games played and 100 postseason appearances. He also recorded single-season career-highs in points (59) and goals (21) during the 2005-06 season and tied his single-season mark for assists (41) in 2006-07. After leaving Detroit, Schneider spent the following three seasons in Anaheim, Atlanta, Montreal and Vancouver before finishing his NHL career with Phoenix in 2009-10.
A two-time NHL All-Star Game participant (1996, 2003), Schneider completed his career with 743 points (223-520) in 1,289 NHL games. He is among the top five American defensemen of all-time in nearly every statistical category, including games played (3rd, 1289), points (5th, 43), goals (4th, 223), power play goals (3rd, 100), and game-winning goals (4th, 36). He is also sixth in assists (520).
Schneider put on the Team USA sweater at four international events, highlighted by helping the U.S. earn the inaugural World Cup of Hockey title in 1996. He also participated in two Olympic Winter Games (1998, 2006) as well as the IIHF World Junior Championship (1988).
The Class of 2015 will be formally enshrined at the 2015 U.S. Hockey Hall of Fame Induction Celebration on Thursday, Dec. 17, at the Renaissance Boston Waterfront Hotel. More details, including ticket and venue information, will be released in the upcoming weeks.
The 2015 U.S. Hockey Hall of Fame Induction Celebration will also include the presentation of the Lester Patrick Trophy.
ABOUT RON DeGREGORIO
Ron DeGregorio has helped shape American hockey for more than 40 years as one the most prominent volunteers in the history of USA Hockey and has conceived programs that have resulted in acclaim from around the world.
While DeGregorio's ingenuity is evident in many areas, perhaps his most significant concept was starting USA Hockey's National Team Development Program in 1996. A lightning rod for criticism when it was established, the NTDP has evolved into a revered program that has significantly enhanced elite player development and U.S. success in international competition.
DeGregorio currently serves as co-chair of the USA Hockey Board of Directors following his retirement as president of USA Hockey in June 2015 after a 12-year span. His influence was instrumental in the establishment of USA Hockey's American Development Model, which was launched in 2009 and has been widely acclaimed, including today being used as the basis for the U.S. Olympic Committee's athlete development program. Among other signature programs, DeGregorio also championed the implementation of USA Hockey SafeSport as well as USA Hockey's Progressive Checking Skill Development Program. His leadership is also evident in the insurance and risk management arenas and in use of technology, including the push to online player registration and online education modules in coaching and officiating education.
His first appointment with USA Hockey came in 1973 when he was named registrar for the New England District where he oversaw the reorganization of the district into several smaller, more manageable affiliates and appointed associate registrars to help increase USA Hockey's efficiency and visibility at the local level. DeGregorio was first elected to the USA Hockey Board of Directors in 1975 and was the organization's first vice president of youth hockey. In the 1980s, he served as treasurer of USA Hockey. In 1995, he was elected as a vice president and the international council chairperson, positions he held until being named president.
A former Middlebury (Vt.) College goaltender, DeGregorio is known throughout Massachusetts as the originator of the "Mini One-on-One," a youth hockey competition that is broadcast through the Boston Bruins' television network.
DeGregorio, who is a former co-owner of the AHL's Kentucky Thoroughblades, was distinguished with the National Hockey League's Lester Patrick Trophy in 2002 in recognition of his outstanding service to ice hockey in the United States.
ABOUT CHRIS DRURY
Chris Drury won a Stanley Cup with the Colorado Avalanche in 2001, is a three-time medalist in international competition, is the only player ever to capture the Calder Memorial Trophy and Hobey Baker Memorial Award and helped Boston University earn the NCAA title in 1995.
A third-round pick (72nd overall) of the Quebec Nordiques in the 1994 NHL Entry Draft, Drury registered 615 points in 892 games over 12 seasons in the NHL with the Colorado Avalanche, Calgary Flames, Buffalo Sabres and New York Rangers. During his career, Drury notched 255 career goals, including 47 game-winning tallies.
He started his professional career with Colorado in 1998-99 and earned the Calder Memorial Trophy that season as the league's top rookie. The forward spent three more campaigns with the Avalanche and helped the team win the Stanley Cup in 2001 by contributing 11 postseason goals, the second most in that year's playoffs.
He was dealt to Calgary for the 2002-03 season where he put up 53 points in 80 games before moving on to Buffalo the following season. In 2006-07, his third of three seasons with the Sabres, he set professional career highs for goals (37), points (69) and power-play goals (17). Drury signed as a free agent with the Rangers in 2007-08 and spent the final four seasons of his career in New York, serving as team captain of the Blueshirts from 2008-11.
During his four-year collegiate career at Boston University (1994-98), Drury amassed 214 points in 155 games and is still today the school's all-time leading goal scorer with 113. He helped the Terriers to the 1995 NCAA National Championship his freshman year and was a two-time Hockey East Player of the Year (1997, 1998). Drury captured college hockey's ultimate individual honor his senior season as the recipient of the Hobey Baker Memorial Award and is also a two-time recipient of USA Hockey's College Player of the Year award (1997, 1998).
He represented Team USA at eight major international events, including three Olympic Winter Games (2002, 2006, 2010), three IIHF Men's World Championships (1997, 1998, 2004), one World Cup of Hockey (2004) and one IIHF World Junior Championship (1996). Drury collected two Olympic silver medals (2002, 2010) and one IIHF Men's World Championships bronze medal (2004).
ABOUT ANGELA RUGGIERO
A four-time Olympic medalist, Angela Ruggiero was a dominating force on the blueline throughout her 15-plus-year career with the U.S. Women's National Team.
She has played more games (256) in a Team USA uniform than any other ice hockey player in the country's history.
Ruggiero helped the U.S. claim the first-ever gold medal awarded in women's ice hockey in the Olympic Winter Games in 1998 as the youngest member of the team and went on to win three other Olympic medals (silver-2002, 2010; bronze-2006). She was named the top defenseman in the Olympic Winter Games in both 2002 and 2006.
Ruggiero competed at 10 IIHF Women's World Championships and was honored as the tournament's top defenseman four times (2001, 2004, 2005, 2008). In 2005, she scored the tournament-winning shootout goal to lead the U.S. to its first-ever gold medal at a Women's World Championship. She was also part of gold medal-winning teams at the world championship in 2008, 2009 and 2011 and helped the U.S. capture silver medals in 1997, 1999, 2000, 2001, 2004 and 2007. Ruggiero also competed at eight Three/Four Nations Cups, the 1996 Pacific Women's Championship and was a three-time member of U.S. select teams.
She accumulated 208 points (67-141) during her time in a Team USA sweater. In 2003 and 2004, she was named USA Hockey's Bob Allen Women's Player of the Year.
Ruggiero made history in 2005 when she and her brother, Bill, competed for the Central Hockey League's Tulsa Oilers and became the first brother-sister pair to play together in a professional hockey game in North America. That game also represented Ruggiero becoming the first non-goalie to play in any men's professional hockey game in North America.
Ruggiero played college hockey for four seasons at Harvard University. There, she contributed 243 points (91-152) in 127 games, was a four-time NCAA All-American, an Academic All-American, helped Harvard win the 1999 national championship and was awarded the Patty Kazmaier Memorial Trophy in 2004 as the top women's ice hockey player in the NCAA.
She played professionally for the Montreal Axion of the National Women's Hockey League in 2004-05, and joined the Minnesota Whitecaps of the Western Women's Hockey League in 2007-08. The Whitecaps won the league championship in 2008-09. She was also a member of the Boston Blades of the Canadian Women's Hockey League in 2010-11.
Ruggiero, who was recently named to the Hockey Hall of Fame, retired from the U.S. Women's National Team in December of 2011.