GD 15: Smith Treks To the Yukon
Mike Smith was a driving force behind the recent NHLPA Goals & Dreams donation in Watson Lake, Yukon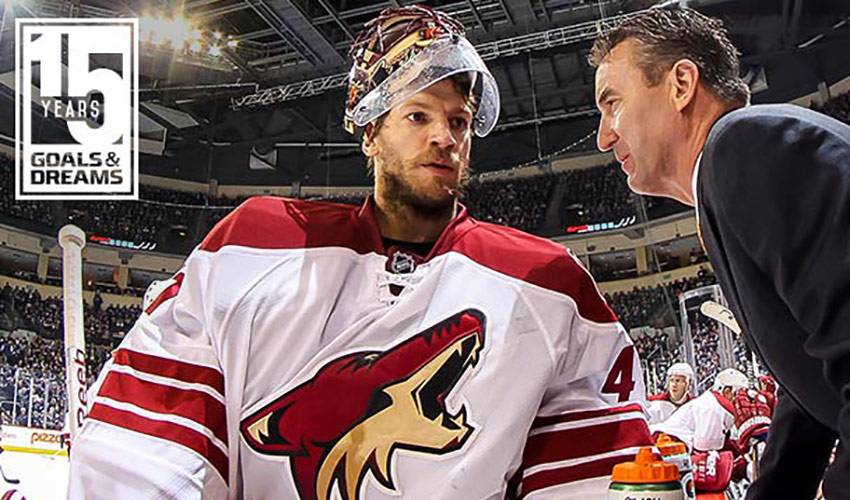 Mike Smith has earned a reputation for his ability to frustrate the best hockey players on the planet. But, recently, the veteran goaltender was only too happy to let the odd one get past him.
A two-day trip to the Yukon Territory as part of the NHLPA's Goals & Dreams 15th Anniversary Tour netted the 33-year-old netminder an opportunity to see the game of hockey in a way he never had.
Interacting with the kids in a variety of activities – hockey camps, fishing and plenty more – brought Smith back to the days long before he ever played an NHL game.
"They were like kids in a candy store," said the native of Kingston, Ontario, who took part in the Goals & Dreams event that also brought $20,000 worth of hockey equipment to the town of Watson Lake. "Any time you see smiles like that, you can't help but have memories of what it was like to get your first set of skates."
The trip down memory lane will soon be replaced by NHL training camps, exhibition games and the 2015-16 season, one Smith hopes will produce a better showing than the previous one for the Arizona Coyotes.
In 2014-15, the Western Conference club posted a 24-50- 8 record and finished seventh in the Pacific Division.
Arizona will no doubt count on Smith, who won Olympic gold with Canada in 2014, to help them rebound from their tough season.
The former 161st overall pick (Dallas Stars) in 2001 is feeling reenergized and ready to get back into game mode.
The Watson Lake experience certainly helped get him pumped for the new campaign.
"It was one of those things that you won't ever forget," said Smith, who has 161 career NHL wins. "Being in Watson Lake, you really got a sense of how much the game of hockey can impact people in a positive way. Kids that have played hockey or those who have never even been on skates, it didn't really make a difference – you could see how happy they were to take part in everything."
Fellow NHLers B.J. Crombeen and David Booth also participated, along with former players, Brent Gilchrist and Crombeen's father, Mike, who played 475 big-league games with Cleveland, Hartford and St. Louis.
"I think one of the truly great aspects of the trip was the opportunity to talk about other aspects of hockey, the hard work that's required to make it a success, and the importance of teamwork."
Messages that Smith remembered from his formative years in the game.
"It really does bring you back to those days, the times when you were starting out and how quickly you fell in love with the game," he recalled. "To have that opportunity to share your passion for hockey is a big privilege."