The Penguins New Pet
After being traded to Pittsburgh Nick Bonino let his dog Kali model his new jersey, to much fanfare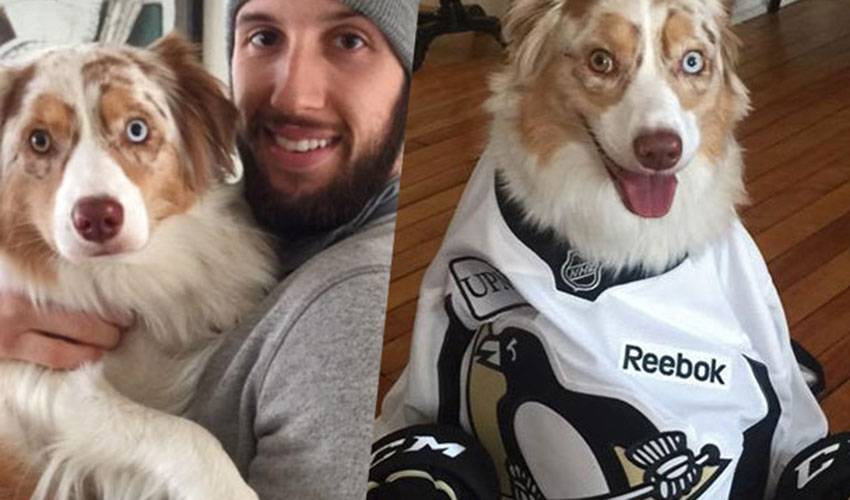 It was a spur of the moment decision, a funny photo Nick Bonino decided to snap, and one he had no intention of posting on Twitter. Then he did. And that's when the hockey world took notice.
If you haven't seen the picture of Kali, the miniature Australian Shepherd wearing a Pittsburgh Penguins home jersey along with a pair of hockey gloves, then you might be in the minority.
The photo, which went viral on the afternoon of August 4, has proved to be a big hit on social media, 'favourited' nearly 1.5 thousand times on Twitter.
Penguins gear is in and yep...it gets the Kali stamp of approval #swag pic.twitter.com/pKPOkZIDbl
—

Nick Bonino (@NickBonino) August 4, 2015
"I thought it be funny to dress her up and have her model some of the new gear," said Bonino, who was dealt to the Penguins from the Vancouver Canucks on July 28. "I didn't take it with the idea of putting it on Twitter. Then, I thought, 'Why not?' The next thing you know, it's getting a lot of eyes on it. The Pittsburgh fans really loved it. Maybe I should start milking it."
As of now, there are no plans for future photo sessions featuring the unofficial Penguins mascot that Bonino and his wife Lauren brought into their lives two and a half years ago.
"I really wanted a dog," recalled the Connecticut native. "I got an itch. And when that happens, I'm pretty relentless. My wife thought it might not be right at the time, so I decided to give the cold shoulder for a couple of days. Then, we decided to go look and we found a great place.
"There were five or six puppies, but only two were left that you could buy," he continued. "One was very calm and there was Kali…she was crazy, jumping around, nipping. I just remember thinking that was the cutest puppy I've ever seen. I turned to Lauren and said, 'This is it.' She rolled her eyes. We went out, ate some lunch and then went back and got her. Lauren absolutely loves her."
The trio recently had plenty of time to spend together, specifically, a cross-countries trek, from British Columbia to Connecticut.
"It's a long drive, one we've done from Anaheim (his former team) to Connecticut as well," noted Bonino. "Kali loves the car. She can go 12 hours and sit perfectly still."
Just like she did when it came to her crowd-pleasing photo op.
Bonino, in the midst of making his daily breakfast of toast, tomato, avocado, mayonnaise and a fried egg on top, has no desire of trying to rival his dog for Twitter bragging rights.
"No chance," he said. "Like Lauren said to me yesterday, everyone seems to love pictures of pets on Twitter."
While that means no 'Breakfast with Nick Bonino' photos hitting the Internet, another appearance by Kali is not out of the question.
Maybe one of her in a Pittsburgh away jersey, wearing a helmet? You just never know.