Winnik Wants To Win in Toronto
Dan Winnik returns to the Maple Leafs this season excited about helping his hometown team succeed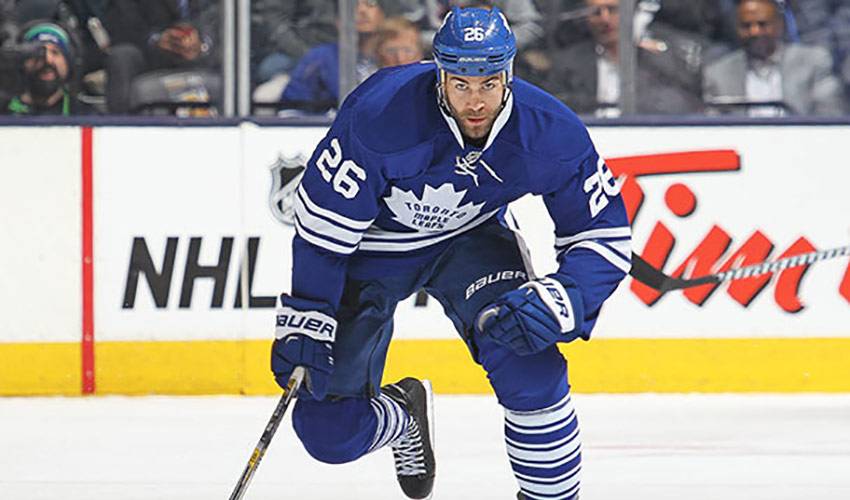 What type of player would a team that's in rebuild mode hope to have in the fold? A player just like Dan Winnik.
He possesses any number of qualities that would make him a popular addition to any NHL lineup – solid at both ends of the rink, hard working, big body, no shortage of determination.
But, when the opportunity came to sign as a free agent this summer, Winnik returned to Toronto, inking a deal with the team that dealt him to the Pittsburgh Penguins in February.
"If I can be a guy who can help some of the younger guys, and contribute in whatever way I can, I'm happy to do it," said the 30-year-old winger, who played in 21 regular season games and five playoff contests with the Pens.
Happy is an apt way to describe how Winnik, who originally signed with the Leafs as a free agent in 2014, feels about wearing the blue and white jersey once again.
Although the team is in rebuild mode, the veteran of nearly 600 NHL games isn't giving up on the idea of netting short-term success.
Whether it's hometown pride or the competitor within coming to the surface, Winnik isn't waving the white towel on the 2015-16 season.
Last year, Toronto was very much part of the Eastern Conference playoff picture, before a second-half swoon left them on the outside looking in when the puck dropped on the post-season.
"I don't see us in full rebuild mode," said Winnik. "I don't think it's going to be, 'This will be extremely painful, we're going to lose a lot of games.' What happened post-December I don't know. But I like that challenge."
Prior to his trade to Pittsburgh, Winnilk recorded 25 points in 55 games, and was a plus-15. Add his stout penalty kill skills into the mix, and he was one of the team's most notable performers in 2014-15.
"You want to be a team that competes right until the final buzzer," he said. "I'm sure everyone is still trying to figure out what went wrong last year. I don't think we're a bad hockey team.
"Leadership is going to be a key thing," he continued. "I'm really looking forward to contributing in that way. I've been fortunate in that I've played with a lot of great leaders over my career. So, hopefully, I can bring what I've learned over time and help here."
There's no doubt Winnik wants to be in Toronto, sincere in his desire to see the Maple Leafs be a team that can compete for a playoff spot this season.
And, there's no denying the credentials he brings – solid two-way play and strong leadership – will be a significant factor in the team attaining that goal.
No wonder Leafs fans think Dan's the man.