Simmonds Is Committed To HIs Community
'Wayne's Road Hockey Warriors' & NHLPA Goals & Dreams partner to help the Flyers forward give back to his hometown of Scarborough, Ontario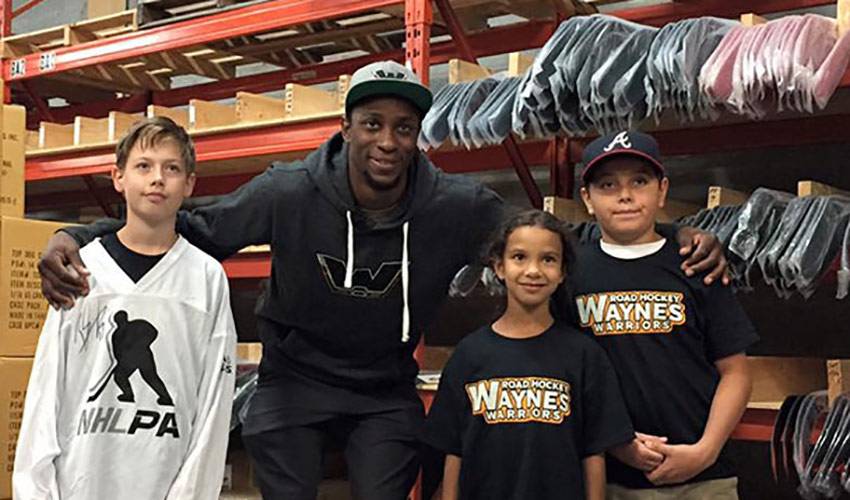 "You see much more than just a game. You see a real sense of community and togetherness."
Wayne Simmonds thinks about those days a lot - the days long before he skated in his first NHL game, and years before he was drafted in 2007.
For as much as hockey was a big part of his life growing up, so too was an understanding and appreciation of community.
"You always felt fortunate that you had the opportunity to do what you loved, but I was always taught about the importance of giving back, even if it wasn't a big gesture, and how that could make a difference."
Simmonds has never forgotten that.
In fact, it was what prompted he and a friend to create Wayne's Road Hockey Warriors (WRHW), an annual charity event launched in 2012 that takes place in Scarborough, Ontario, his hometown, and the place where his path to an NHL career began.
Every summer, a mix of professional hockey players and kids share the same space, joining together for a ball hockey tournament that continues to grow in profile and popularity.
Now in its' fourth year, WRHW is 'committed to helping underprivileged youth pursue their hockey dreams.'
Committed is indeed an apt word to describe the man behind it all.
"Growing up, I had so many people that were there for me, giving me that chance to play the game I love," recalled Simmonds. "You never forget the unselfishness, the way people stepped up and helped you. As you get older, you appreciate more and more what that means."
So, while hockey is indeed the showcase of his charitable endeavor, Simmonds will tell you it's much more than just a celebration of the game.
"Hopefully, it brings people together and instills the importance of community," he said. "You also want to see every kid have an equal opportunity to enjoy sports."
The WRHW tournament affords kids between the ages 8 and 12 the chance to participate in a sport they may not have had the ability to play before. Playing the game since he was five, Simmonds wanted to reciprocate the support he received as a kid from the local hockey community.
Over the years, he's worked with the NHLPA's grassroots hockey initiative, Goals & Dreams, in an effort to connect more Scarborough kids to the game.
Recently, in partnership with Goals & Dreams, he helped outfit kids with new equipment.
.@Simmonds17 is helping outfit some young hockey players today with equipment through the @NHLPA Goals & Dreams fund. pic.twitter.com/TLNe7WbOGF

— NHLPA (@NHLPA) August 27, 2015
"To have that helping hand, to see what it means to these kids, it's just amazing," said Simmonds. "The support from the people of Scarborough, the sponsors, the players that come out each year for the tournament – it is unbelievable. It's really a great community. I still have a lot of support, like I did when I was growing up, and I always wanted to repay the kindness that I was given.
"Every year, I look forward to coming back home," he continued. "And you know you are going to see big smiles from the kids. You don't get tired of seeing that."
And, if you're Wayne Simmonds, you don't forget where it all started.
"I was lucky enough to realize my dream, but it wouldn't have happened if it wasn't for so many people," he said. "I always wanted to make sure I could give back to my community."