NHLPA/NHL Launch STEM Education Course
The NHLPA and the NHL have officially launched Hockey Scholar™, a new hockey-themed STEM education course that is part of the NHL & NHLPA Future Goals™ Program.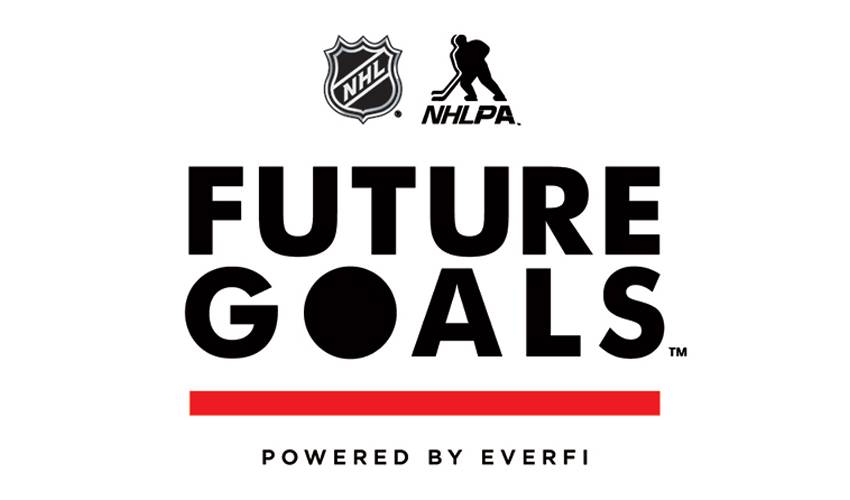 Toronto, ON (September 8, 2015) – The National Hockey League Players' Association (NHLPA) and the National Hockey League (NHL) have announced the launch of Hockey Scholar™, a new hockey-themed STEM education course that is part of the NHL & NHLPA Future Goals™ Program. Since its launch in September 2014, Future Goals™ has reached more than 375,000 students throughout the United States and Canada across 3,500 schools, generating more than 1.5 million hours of STEM learning opportunities.
The Hockey Scholar course takes students on an exciting educational journey with the goal of winning a virtual Stanley Cup®. As they guide their team, students complete 12 learning modules that educate them and test their knowledge on core STEM concepts covering data analysis, geometry, life science, and physical science. These topics come to life through real hockey examples that include the dynamics of the ice surface, equipment design, athletic performance, and geometric and energy considerations, all relating to how the game is played.
"The Future Goals initiative – which reaches hundreds of thousands of children in schools across North America – helps us demonstrate to today's youth that there are many different ways to participate in sports," said Bill Daly, NHL Deputy Commissioner. "The free Hockey Scholar online course is a great way to engage and educate youth, pairing the excitement of hockey with the importance of STEM skills."
"Hockey not only provides children with an opportunity to learn about fitness and sportsmanship, but also the STEM topics through the Future Goals program," said Mathieu Schneider, NHLPA Special Assistant to the Executive Director. "This Hockey Scholar course will allow our players to support teachers in helping these subjects come to life by making it fun and engaging for their students to learn."
Hockey Scholar is developed in accordance with state and provincial math and science standards, as well as the national U.S. NGSS and CCSS Math standards. The course is available to elementary and middle schools across North America for free. It was developed by Washington, D.C.-based EverFi, the critical skills education leader that has certified more than 12 million learners.
The Future Goals program is planning significant expansion this academic year and is on target to reach well over 1 million students within three years.
"The level of engagement in this program from the League, the players, and their clubs is unprecedented in the sports world," said EverFi Co-Founder and Chief Strategy Officer Jon Chapman. "What's most important is how this partnership is making a difference for hundreds of thousands of students and teachers across North America."
To celebrate the launch of the new Hockey Scholar course, NHL Chief Marketing Officer Brian Jennings, NHLPA Divisional Player Representative Joe Reekie, and a host of marquee NHL players introduced the course with students at Toronto's Glen Ames Sr. Public School on Tuesday, September 8. NHL players in attendance included Calgary Flames forward Sean Monahan, Toronto Maple Leafs Captain Dion Phaneuf, Toronto Maple Leafs defenseman Morgan Rielly, Vancouver Canucks Alternate Captain Daniel Sedin, Vancouver Canucks Captain Henrik Sedin, and Dallas Stars forward Tyler Seguin. Also joining were Canadian Women's Hockey team members Natalie Spooner and Kelly Terry.
More information on Future Goals can be found at futuregoals.nhl.com. To watch a video about the program, click here.