Subban Makes Montreal Proud
PK Subban pledges $10 million to Montreal Children's Hospital in largest philanthropic donation by an athlete in Canadian history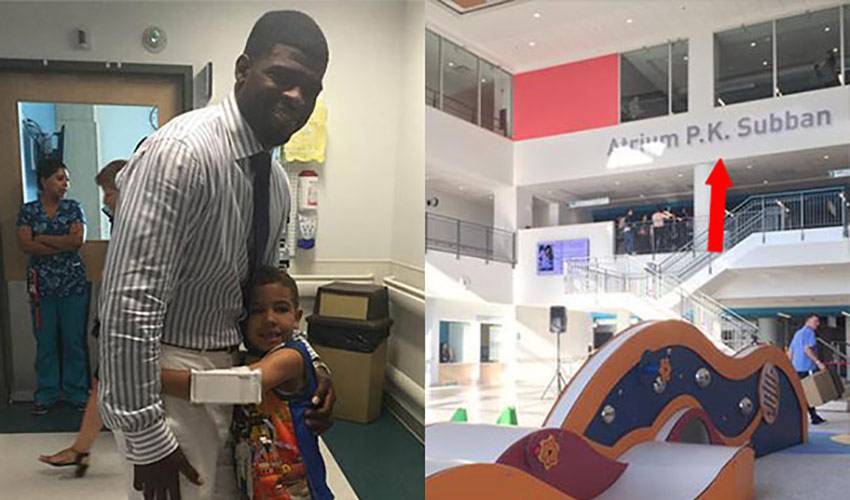 He might have been late to the game, so to speak, but P.K. Subban still managed to receive a standing ovation for his heartfelt and generous contribution of $10 million to the Montreal Children's Hospital.
Traffic delayed his arrival, but it mattered little to those who were on-hand Wednesday to welcome Subban as he announced this massive donation to a hospital that offers and provides so much to the children of Montreal who need it.
In honour of the donation, the hospital named its atrium after Subban, who according to the health-care facility provided "the biggest philanthropic commitment by a sports figure in Canadian history."
"Sometimes I try to think, 'P.K., are you a hockey player, or are you just someone who plays hockey?'" he said to Montreal media during his press conference. "I just play hockey. Because one day I won't be a hockey player anymore, I'll just be someone who played hockey. So what do I want people to remember me for other than being a hockey player? Well, every time you walk into this hospital, you'll know what I stand for."
#GottaSeeIt - P.K. Subban's $10-million "biggest philanthropic commitment by a sports figure in Canadian history" http://t.co/tWUYQkPeRe

— Sportsnet (@Sportsnet) September 16, 2015
Subban was joined by his parents and sisters, as well as Élise Béliveau, widow of Canadiens legend Jean Béliveau, at the press conference.
"P.K. is a person of character, who strives for success, always working at new ways to stay on top of his game and he understands the value of teamwork," said Martine Alfonso, Associate Executive Director of the Montreal Children's Hospital, in a press release. "He is an outstanding role model for our patients and personifies the excellence for which the Children's is world-renowned."
The 26-year-old has earned rock star status during his time playing in Montreal since 2009-10, not only for his immense on-ice talents, but also for his close ties to the community.
From hospital visits, often on his own time, to other charitable endeavors and fan-themed events, Subban is a beloved figure in the city.
This June, he surprised a group of kids playing road hockey, grabbing a stick and joining in the game.
While the dollar amount of his donation might be grabbing the headlines today, there's much more to the story.
Seeing my name in the atrium gave me goosebumps! It's an honor to be able to partner with #MontrealChildrensHospital. pic.twitter.com/MlG0hS10ny

— P.K. Subban (@PKSubban1) September 16, 2015
The relationship between Subban and the hospital extends beyond just a monetary commitment. It will also see the creation of P.K.'s Helping Hand, a fund that will aid families financially impacted by a child's illness.
He will also join the Montreal Children's Hospital Foundation (MCHF) Board of Directors.
"We are thrilled to partner with P.K., whose energy, drive and philanthropic vision make him a great asset to our board," says Greg Rokos, MCHF board chairman. "He's a game changer, both on and off the ice, and I am convinced his presence will bring a new level of excitement and community support."
None of it will come as a surprise to Habs fans or those closest to Subban.
Stepping up to help others, in the most thoughtful and meaningful way, just seems to come naturally to him.