MIKE WEAVER RETIRES FROM NHL AFTER 11 SEASONS
Steady defenceman played in 633 career games with Atlanta, Los Angeles, Vancouver, St. Louis, Florida and Montreal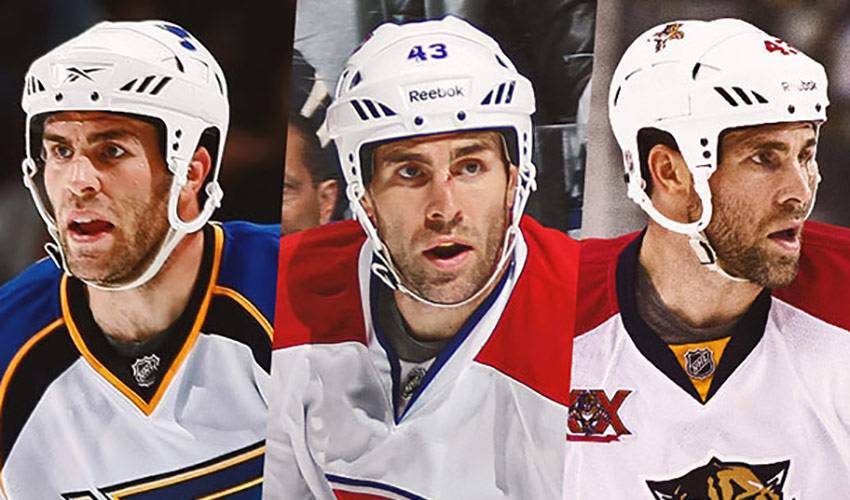 TORONTO (October 5, 2015) – Mike Weaver has announced his retirement from the National Hockey League (NHL) after 11 seasons.
Weaver played in a total of 633 career NHL games with six teams: the Atlanta Thrashers, Los Angeles Kings, Vancouver Canucks, St. Louis Blues, Florida Panthers and the Montreal Canadiens. The 5'10", 183-pound defenceman scored eight goals and 89 assists for 97 points in his NHL career. Weaver also played in 28 playoff games and helped the Canadiens reach the Eastern Conference Final in 2014.
"What an enjoyable experience to do something you love for 11 years in the NHL and 15 years in professional hockey. I could never have imagined this. Hockey is more than just a game to me. Thanks to the Atlanta Thrashers, Los Angeles Kings, Vancouver Canucks, St. Louis Blues, Florida Panthers and the Montreal Canadiens," said Mike Weaver. "I would also like to thank the fans who brought the energy and excitement every night to the arenas. When the game starts, your teammates are who you trust, rely on and respect the most. Thank you to all my teammates for all the memories that will last a lifetime.
"To my parents Ron and Pat, and my extended family, thank you for the love and support over the years. My sisters Kristen & Jennifer, thanks for letting me strap goalie pads on you to help me work on my shot. I would also like to thank my youth hockey coaches Pete Seessle, Steve Mercer and Lindsay Hofford for your teaching and support. Lastly, thanks to my team at home for all your love and support, which is the most important to me – my wife Rhianna and my kids Owen and Ella."
A native of Bramalea, ON, Weaver signed with the Atlanta Thrashers as a free agent on June 15, 2000. He enjoyed a four-year college career at Michigan State where he scored 48 points in 163 games, and in his final two seasons he received several accolades as he was named to the CCHA First All-Star Team, CCHA Best Defensive Defenseman Award and the NCAA West Second All-American Team (1999, 2000). His professional career began in 2000-01 by helping the Orlando Solar Bears win the Turner Cup in the International Hockey League, while the following season he helped the Chicago Wolves win the Calder Cup in the American Hockey League (AHL).
On November 27, 2001, Weaver made his NHL debut when Atlanta visited Montreal, and he recorded his first career point on December 1, 2001 at Florida. Weaver played in 16 games with the Thrashers in 2001-02 before playing in 40 NHL games in 2002-03. He signed as a free agent with the Los Angeles Kings on July 16, 2004. After playing for the AHL's Manchester Monarchs during the 2004-05 owners' lockout, he played 53 games with the Kings in 2005-06, and on January 19, 2006 versus Atlanta he recorded the primary assist on teammate Luc Robitaille's franchise record 551st goal. Weaver played in 39 games in 2006-07 with the Kings before he signed with the Pittsburgh Penguins on August 8, 2007. Shortly prior to the beginning of the 2007-08 season, he was claimed on waivers by the Vancouver Canucks. Weaver played in 55 games and recorded 33 penalty minutes with the Canucks.
He signed as a free agent with the St. Louis Blues on July 10, 2008 where he played the next two seasons. In 2008-09, Weaver played 58 games and helped the Blues reach the playoffs. He played in 77 games and recorded 10 points and 29 penalty minutes in the 2009-10 season.
On August 3, 2010, Weaver signed a two-year contract with the Florida Panthers. In each of his first two seasons in Florida, he played in all 82 regular season games and he also helped the Panthers to the playoffs in 2011-12. On December 30, 2011, Weaver re-signed for an additional two seasons with the Panthers. In 2012-13, he played in 27 games and missed games due to injury during the lockout-shortened season. Weaver played in 55 games for the Panthers in 2013-14 before he was traded to the Montreal Canadiens on March 4, 2014. He played 17 regular season games for the Canadiens before he made a strong defensive contribution during the 2014 playoffs when he played in 17 games and recorded four points while helping lead Montreal to the Eastern Conference Final. In 2014-15, his final season in the NHL, Weaver played 31 games.
Throughout his career, he provided strong defensive play and was well-known for his penalty-killing ability. Weaver played a physical, hardworking game as a defenceman who was valued by each of his teams.
In his post-playing career initiatives, Weaver plans to stay active with his defensive hockey school Defense First, along with the website MyDrillbook.com that he created for hockey coaches.
"I look forward to a continued involvement in hockey through my defensive hockey school, where we are expanding to beautiful Westmount, Quebec next summer. Working with young future NHL players allows me to share my experiences and teach the thinking part of the game. I have also been involved in the creation of a website where coaches will be able to create, save and edit drills in a browser; as well as share drills with an association or coaching staff without any plugins. I am really excited about working with coaches to help bring organization and conversation into associations on how we can improve the current way of running practices."
During his career, Weaver also served as an NHLPA Player Representative for five seasons while playing for the Canucks, the Panthers, and the Canadiens.
-30-