ANNUAL HOCKEY FIGHTS CANCER AWARENESS CAMPAIGN BEGINS OCT. 19
The 17th annual Hockey Fights Cancer™ campaign, a joint initiative between the NHL and NHLPA, invites fans to join the fight, Oct. 19 – Nov. 13, 2015.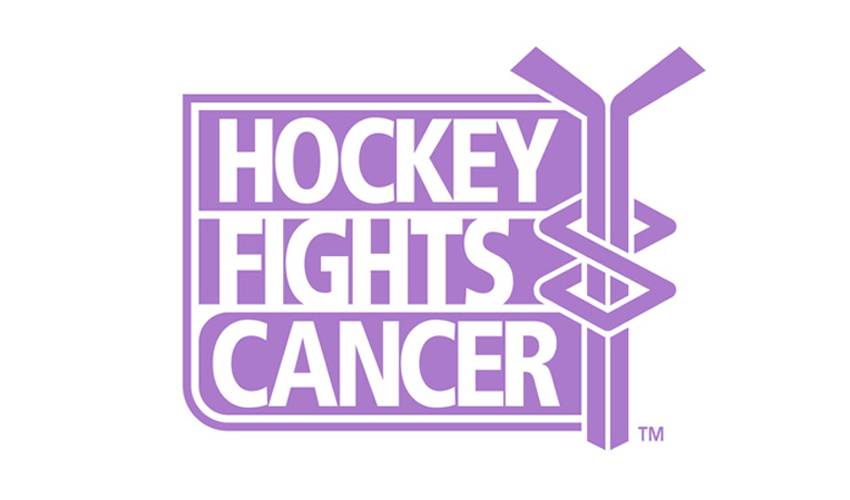 NEW YORK/TORONTO (October 19, 2015) – The 17th annual Hockey Fights Cancer™ campaign, a joint initiative between the National Hockey League (NHL) and National Hockey League Players' Association (NHLPA), invites fans to join the fight, Oct. 19 – Nov. 13, 2015. Since its inception in 1998, through the charitable initiative, more than $15 million has been donated, and it has been dedicated to supporting national and local organizations involved in cancer care and research. Together, the NHLPA and NHL will distribute more than $200,000 in grants to local cancer organizations in all 30 NHL® markets and nationally to the following five cancer organizations:
• The Leukemia & Lymphoma Society will use its donation to invest in research to advance therapies and save lives, including targeted therapies and immunotherapies.
• Movember which has earmarked its grant to fund its men's health initiatives, specifically in the areas of prostate cancer, testicular cancer, poor mental health, and physical inactivity.
• Pancreatic Cancer Action Network will allocate its donation to its Community for Progress professional development and mentorship program for its scientific researchers, which fosters collaborations and is designed to strengthen the pancreatic cancer research community.
• Prostate Cancer Canada will use its grant to help fund its PCC Personnel Awards program, which provides financial support and mentorship for promising, young prostate cancer researchers.
• ZERO – The End of Prostate Cancer will use its donation to provide an online database of free testing sites for men at risk for prostate cancer and promotion for free mobile testing in select markets.
CAMPAIGN HIGHLIGHTS
• National Broadcasts: In the U.S., NBCSN will broadcast division rivals St. Louis Blues at Chicago Blackhawks on November 4 at 8:00 p.m. ET. In Canada, Sportsnet will feature Winnipeg Jets playing host to Philadelphia Flyers on November 7 at 7:00 p.m. ET. Both broadcasts will highlight lavender – the official color of the campaign representing all cancers – and will include sportscasters wearing the exclusive Hockey Fights Cancer™ tie; players with exclusive decals on their helmets, including some with lavender stick tape; and lavender rink boards.
• In-Arena Awareness Nights: All 30 NHL Clubs will designate one home game as its Hockey Fights Cancer Awareness Night and will include fan engaging events and activities. Visit each NHL Club website for more information.
• EA Sports: Throughout the campaign, this initiative will be featured in NHL® 16 and integrated into the game's Hockey Ultimate Team game mode. EA SPORTS also will donate $10,000 to Hockey Fights Cancer.
HOW TO GET INVOLVED
• Online Donations: visit the official website HockeyFightsCancer.com to donate. • In-Store Donations: During the campaign, fans can stop by the NHL Powered by Reebok Store to make a donation, no purchase necessary. The National Hockey League Foundation and Reebok will each match every $1.00 donated by fans (up to $5,000 in total donations).
• NHL Social™: Fans are encouraged to visit the official website to download and share a personalized "I Fight For" sign and post using the official hashtag #HockeyFightsCancer. All social platforms will embrace the lavender campaign color.
• Commemorative Merchandise: Exclusive Hockey Fights Cancer items are available for purchase online at Shop.NHL.com, select NHL Club stores and the NHL Powered by Reebok Store in New York City by Old Time Hockey, Sportin' Styles, Zephyr, Reebok, Levelwear, Sunbeam Canada, and Fan Fever, LLC.