Bozak Gives Back in Toronto
Tyler Bozak showed off his skills in the kitchen preparing meals for kids at the Yonge Street Mission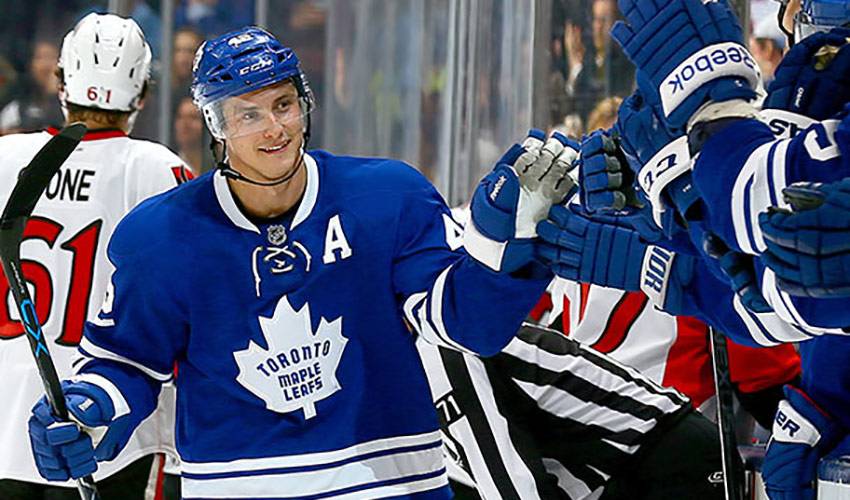 It undoubtedly had some key hockey elements to it – preparation, teamwork, and a goal – but the events at the Yonge Street Mission had nothing to with the game, and everything to do with giving back.
For 100 street-involved youth, the meal they were served on October 13 at the Toronto-based mission will likely be one they'll remember for a long time.
Tyler Bozak certainly won't forget it either.
The Maple Leafs forward was joined by Molly Robinson, teammate Dan Winnik and his wife Taylor, along with former Maple Leafs great Wendel Clark, as they all teamed together to prepare dinner for the kids.
And while Bozak might be more comfortable holding a hockey stick rather than cutting carrots, he managed to hold his own throughout the day.
The most rewarding part, however, was the chance the forward was given to engage in some one-on-one conversations with kids.
"It was an amazing experience," said the 29-year-old. "It was nice to help prepare the food for everyone and most importantly, spend some with the kids. All of the kids we met were extremely nice and you appreciated the chance to get to interact with them."
Being immersed in the Toronto community is nothing new to Bozak.
Visits to SickKids Hospital, charity gold tournaments, participating in autograph signings, meeting with young fans after games – he's done it all, happily.
Earlier this year, he was an ambassador for an initiative that helped raise $50,000 to help prevent Type 2 Diabetes.
Bozak also took to Twitter and Instagram in March to post a heartwarming photo of himself and a young Maple Leafs fan who was granted his wish of meeting his favourite team and players.
My buddy G-man getting the boys ready for the match 👊👊
"I try and give back as much as possible because the city of Toronto has given me so much for the last six years," said Bozak, who volunteered his time to various programs throughout his high school days in Saskatchewan. "I've been able to create a lot of good relationships with people. Toronto really has become a home away from home for me."
And home is just how the Regina-born Bozak felt during his time at the mission.
"These experiences are the best, just having the opportunity to be doing things like this," he offered. "It's great to spend time with everyone and see how an establishment like that works. They really do an unbelievable job with all the services they offer. I was really amazed."