Visa and Movember put 'Mo fun' in unique fundraising campaign
Digital campaign puts fundraisers in the game with NHL players; Visa will donate $10 for donations made with Visa Checkout.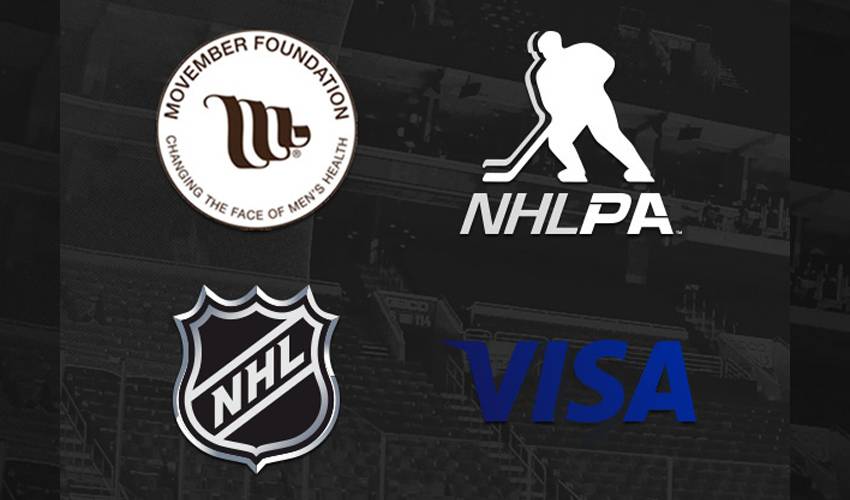 Toronto, ON, October 29, 2015 – Visa Canada announced today that it is partnering with The Movember Foundation to support fundraisers and bring 'Mo fun' to this year's Movember campaign. Leveraging its sponsorship of the National Hockey League (NHL) and the National Hockey League Players' Association (NHLPA), Visa has developed a unique digital campaign to help 'Mo Bros' raise more funds for men's health. The campaign offers fundraisers the opportunity to enlist the support of NHL® players Patrice Bergeron, Jonathan Bernier, Duncan Keith and James van Riemsdyk in their fundraising efforts through customizable videos, memes and audio clips. Visa is also donating an additional $10 to Movember for donations at Movember.com using Visa Checkout.
Additionally, every person who donates to Movember using Visa Checkout, during the campaign period, will be entered into a contest for a chance to win a trip for four to the 2016 NHL Bridgestone Winter Classic® or one of six Movember hockey jerseys signed by all four of the participating NHL players – Bergeron, Bernier, Keith and van Riemsdyk. For complete terms, visit https://ca.movember.com/terms.
"This year, Movember participants can power up their fundraising with the help of our digital fundraising tools," said Brenda Woods, Head of Marketing, Visa Canada. "With a few clicks, you can have an NHL® star help you appeal to your friends and family to support your campaign. It makes fundraising that much easier – and if your supporters donate to your campaign using Visa Checkout, we'll add $10 to their donation."
Mo Bros can create their own video, meme and audio message at ca.movember.com/hockeytools. Participants can simply upload their photo to quickly generate a 45 second commercial, a meme or an audio message featuring Bergeron, Bernier, van Riemsdyk or Keith, creating an easy fundraising tool that can be shared with friends and family.
"We are excited to have Visa, along with the NHL® and NHLPA, help Mo Bros with a cool new way to engage potential donors," said John Wilkie, Partnerships Manager, The Movember Foundation. "We've always driven fundraising online, so we are thrilled to offer customizable social and mobile tools to help our fundraisers maximize their efforts online this year. Visa Checkout offers donors a seamless, easy and secure online donation experience. We encourage all our Mo Bros to use the tools, and ask their supporters to use Visa Checkout."
Visa Checkout: An Easier Way to Pay Online
Last year, Visa launched Visa Checkout, the online check out service that allows consumers to securely store their shipping and payment information without ever having to re-enter the information when shopping online. With Visa Checkout, consumers can simply enter their username and password, and click a button to complete the purchase. For more information on Visa Checkout, please see www.visacheckout.ca.
A recent report from comScore found that Visa Checkout shoppers convert to online buyers at a rate of nearly 70 per cent and that enrolled Visa Checkout customers were 66 per cent more likely to complete a transaction than customers who must enter billing and card information in the traditional online checkout path.
Visa Checkout is now available in 16 countries around the world and more than seven million customers have signed up for Visa Checkout accounts. More than 250,000 large and small merchants and over 470 financial institution partners now offer Visa Checkout globally.
Canadians who support charities like The Heart and Stroke Foundation, SickKids, and The Princess Margaret Cancer Foundation can also use Visa Checkout when making donations.
NHLPA and the NHLPA logo are trademarks of the National Hockey League Players' Association. © NHLPA. All Rights Reserved.
NHL, the NHL Shield and the word mark NHL Winter Classic are registered trademarks and the NHL Winter Classic logo is a trademark of the National Hockey League. © NHL 2015. All Rights Reserved.
About the Movember Foundation
The Movember Foundation is a global charity raising funds and awareness for men's health. These funds deliver breakthrough research and support services to allow men to live happier, healthier, longer lives. Since 2003, millions have joined the men's health movement, raising more than $676 million and funding over 1,000 projects through impact investments, focusing on prostate cancer, testicular cancer, poor mental health and physical inactivity. The Foundation runs awareness and fundraising activities year-round, with the annual Movember campaign in November being globally recognized for its fun and innovative approach to raising money and getting men to take action for their health. During Movember, we challenge men to grow a moustache or to make a commitment to get active and MOVE, both of which are about real action for health and are done to spark conversation and raise vital funds and awareness. The Foundation's vision is to have an everlasting impact on the state of men's health. Movember is a registered charity in Canada - BN 848215604 RR0001. For more information visit Movember.com.
About Visa
Visa Inc. (NYSE: V) is a global payments technology company that connects consumers, businesses, financial institutions, and governments in more than 200 countries and territories to fast, secure and reliable electronic payments. We operate one of the world's most advanced processing networks — VisaNet — that is capable of handling more than 65,000 transaction messages a second, with fraud protection for consumers and assured payment for merchants. Visa is not a bank and does not issue cards, extend credit or set rates and fees for consumers. Visa's innovations, however, enable its financial institution customers to offer consumers more choices: pay now with debit, ahead of time with prepaid or later with credit products. For more information, visit corporate.visa.com and @VisaNewsCA.