Byron Rings in 2016 in Style
Inspired by the outdoor setting at Gillette Stadium, Paul Byron made the most of his Winter Classic experience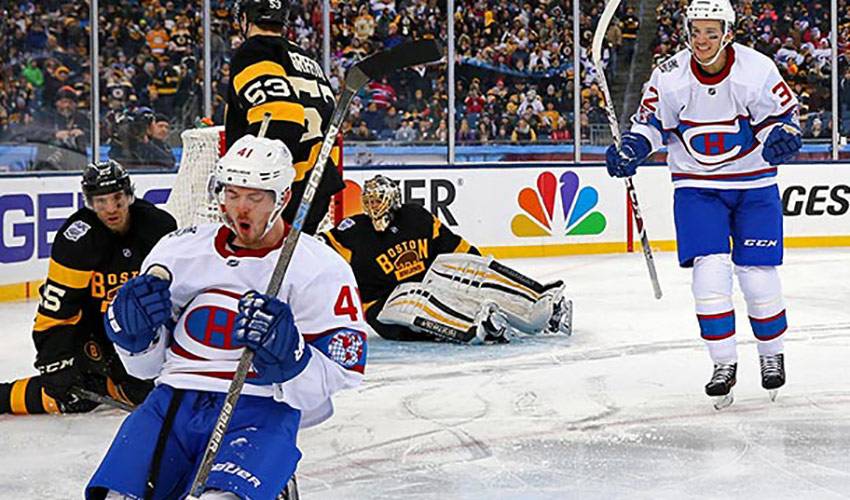 Paul Byron didn't need party hats, party favours or a glass of champagne to ring in the New Year. All the Montreal Canadiens forward needed was 11:25 minutes of outdoor ice time, two goals and a win in front of 67,000-plus fans to make the start of 2016 memorable.
One day removed from the NHL Winter Classic, an authoritative 5-1 Habs win over Original Six rival Boston in the annual outdoor contest, Byron was still in the midst of fielding a flood of texts, phone calls and emails.
It's what happens when you net a pair of goals (on two shots) and play a big role in one of sport's most unique events.
"I've gotten about 40 or 50 texts, emails or messages after the game so far," Byron told NHLPA.com. Family, friends, old teammates and coaches - a lot of nice messages from people you haven't heard from in a long time. I'm very thankful and lucky to have such great support."
Nabbed by the Habs on waivers in early October, Byron's tallies gave him seven on the campaign.
For the native of Ottawa, Ontario his performance in the New Year's Day game brought back a number of fond recollections of his pre-NHL days, times when he'd hone his skills outdoors.
"My biggest memories are just the countless amount of days and hours spent playing with my best friends and everyone in the neighbourhood on the outdoor ice," recalled Byron, who was drafted 179th overall in 2007 by Buffalo. "Games of 40 or 50 people at a time, sticks in the middle for teams, the pain of your feet, thawing out after four or five hours of playing - it was hockey at its simplest and most fun."
It was something Byron was reminded of leading up to and after the Canadiens decisive triumph at Gillette Stadium.
"Walking out onto the ice for warm-up in front of the sold-out crowd and just feeling the energy was incredible," said the 26-year-old forward, who skated in eight games with the Sabres and 130 games with the Calgary Flames. "It was a surreal feeling looking up and seeing all the fans who have been waiting all morning for you."
Byron and his teammates didn't let the ones wearing bleu, blanc et rouge go home disappointed.
"It was really special," he said. "The whole event just felt like a surreal dream and brought back so many memories as a kid on the outdoor rink dreaming about playing in the NHL."